There are often times when we want to look stylish and comfortable at the same time, and Line Knitwear has that subtle balance of being pulled together and being casual locked down. Created in 2000 by designer duo John Muscat and Jennifer Wells, Line has always worked towards creating must-have essentials in a woman's closet that are not only beautiful in their simplicity but feminine at the same time. From John and Jenn's do-or-die moment to now being able to control their own destiny, Muscat gave us the details about Line's past as well as its future focused on expanding its diffusion brand, John & Jenn.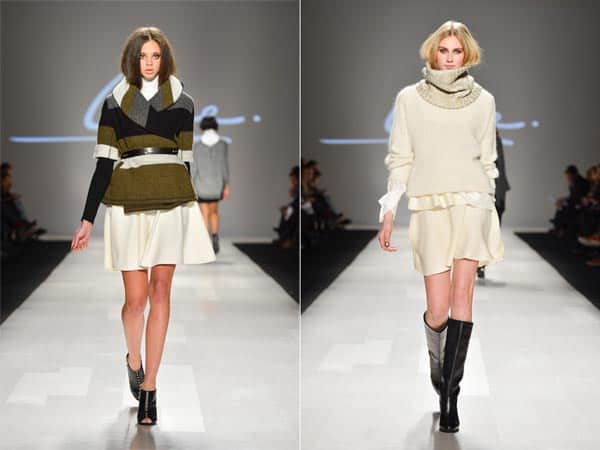 SheDoesTheCity: When did you start your clothing collection and why?
John Muscat: We started in 2001. Jenn and I had worked together by that point for about eight years. Originally we had a collection of menwears and then we decided to take a break and go into the industry. When Jenn and I both turned 30 we decided it was now or never, so we started again.
SDTC: How would you describe Line Knitwear in three words?
JM: Must-have essentials.
SDTC: If you could have one celebrity wear Line, who would you want? Why?
JM: Anna Wintour. She is the single most important person in the fashion industry, and I'm a big fan of her work and personal style.
SDTC: What do you think distinguishes Line from other collections?
JM: Our collection is easy to wear and multi-functional.  Pieces from our collection can work back to a woman's weekly wardrobe routine or be dressed up and worn to events. I love that.
SDTC: What inspires you to create?
JM: Once the process gets going and I see the samples come to life, I get very inspired by both the garment at hand what it will end up turning into.
SDTC: What are some of your favourite places to go in Toronto? Parks, coffee, boutiques, spas, bars, restaurants? Where are we likely to find you?
JM: I love the local eateries. I think that Toronto has some of the best small restaurants, especially in the west end. If I'm not in the west end then I'm usually in Yorkville at Equinox or at Soho House having a drink.
SDTC: What's your favourite thing about the fashion community in Toronto?
JM: I started in the industry when I was 22 and have been back and forth to NYC for the past two decades, but Toronto is home. We started our business here. What's great about the fashion community in Toronto is the support that the local and national media gives its designers.
SDTC: What's a great tip you can provide to anyone looking to get into the industry?
JM: Work for someone else first and hone your craft. A lot of young designers get discouraged when they try to start out on their own and then realize that their dream needs to earn them money in order for them to survive. Jenn and I both worked for the same company in different roles for about eight years; when we were ready to start again [on our own], we didn't have to use our money.
SDTC: What's next for you?
JM: Our continued focus is to fine tune LINE's distribution and continue to expand our diffusion brand John and Jenn.
SDTC: What's the best part about going to work every day?
JM: I love the fact that it's our business and that we have control of our own destiny. That's huge for me as a motivating factor.