If every garment of clothing we wear could tell its own story, most of us would be horrified. The Western boom in fast fashion and cheap, disposable clothing often spells unsafe working conditions and untenable wages for factory workers in developing nations. Most of us pick up a $10 t-shirt and don't give a second thought to the sweatshop it was born in, but one Toronto-based brand allows you to buy a t-shirt (or kimono or leggings or even an iPhone case) and know exactly where it was made and who made it.
"So, today maybe it feels a bit like a sweatshop," jokes Dawn Laing, Director of Communications and Marketing at Nuvango, as she shows me around Nuvango's bright and airy West End studio. She's referring to the unseasonably hot September sunshine. Nuvango's headquarters could not feel any less like a sweatshop. The old redbrick building sits on the corner of Dundas and Dupont in Toronto's Junction neighbourhood. Company co-founders Drew Downs and Jamie Pichora bought the building in 2009 and, while renovating it, discovered it had once homed a macaroni factory. On entering the building you can even spot a weathered old macaroni advert that still fits the building's aesthetic today as vintage signs, rough-hewn wood floors and exposed brick jostle for space alongside rows of iMacs and space-age printing machines.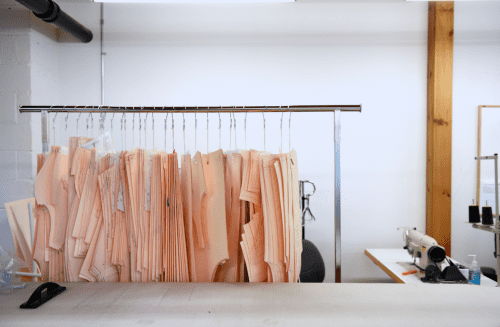 Home to Nuvango's offices, manufacturing plant, photography studio and everything in between, the space is an organic mix of new and old that illustrates the company's very essence: here we have a thoroughly modern brand—their beautiful artist-led products range from hardshell iPhone cases to odour-resistant activewear—but there's something of the past in hearing the hum of sewing machines, and seeing rows of workers drafting patterns, cutting fabric, overlocking hems.
We leave the studio and head up to the building's rooftop, which looks out across Toronto's beloved skyline. Here weekly yoga classes are hosted for staff, and Baroness Von Sketch Show will be shooting in the coming weeks. Sweatshop, it is not.
In 2012, two garment factories in Pakistan went up in flames killing 257 people and seriously injuring more than 600. Just over six months later, a garment factory in Bangladesh collapsed and 1,229 men and women lost their lives. While these events prompted widespread discussions about corporate responsibility across global supply chains, little has changed in international garment manufacturing.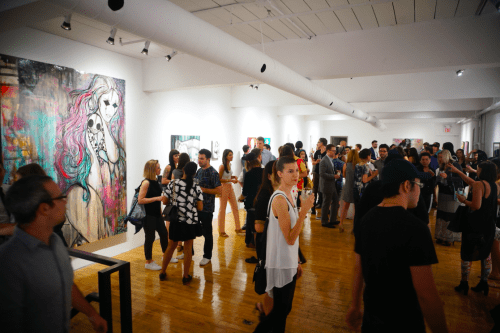 "Producing our products in house means that we have control over our manufacturing and can guarantee safe working conditions and above industry-standard wages," says Hillary Sampliner, Fashion Director at Nuvango. Each item of clothing is a collaboration between Nuvango and artists from around the globe. For every article that sells, the artist receives a commission.
While the team designs, constructs and photographs everything in house, they source a lot of their fabric internationally: from the US, Northern Europe, Korea and China. Like other Canadian clothes brands, the supply-chains must remain predominantly international because Canadian-based fabric mills seem to be becoming a thing of the past. Nuvango is one of less than 3000 companies that manufacture clothes in Canada's garment industry and the number is declining. As garment exports dwindle, imports are on the rise. Bangladesh sent $330 million worth of garments to Canada in 2003 and by 2012 that figure had grown to $1.2 billion.
While Nuvango is boosting the local economy and bringing trade jobs home to Canada, co-founder and CEO Drew Downs feels the business doesn't receive the kind of governmental and funding support that many tech-based start-ups do. "Access to capital that isn't based purely on financial growth [would help]," he said. "Some indication that somewhere out there people, whether they be government officials or investors, are actually listening to the ideas and the potential for achieving them, rather than just tying their wagons to spreadsheets that fit their pre-defined formulas for success."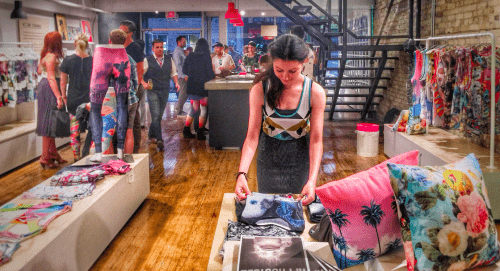 At the core of Nuvango's business model is on-demand manufacturing. As we wander through the studio, I spot a freshly sewn t-shirt. I ask when it was ordered and Laing unfurls a tag to investigate: it was bought online two days before. This print-on-demand model makes good business sense: if a style isn't selling well, Nuvango is not left sitting on a pile of unwanted stock, but it also makes sense from an environmental standpoint as it leaves little to no waste. Similarly, the dyeing process Nuvango uses to create their signature bold prints uses no water, unlike other printing processes, and creates zero waste.
"Ethical and sustainable fashion does not have to be made of hemp," says Sampliner, and Nuvango certainly blows the hippy connotations of ethical and sustainable clothing out of the water. You can see for yourself in their online store or at their gallery space at Queen and Bathurst.
"People visit our brick and mortar store downtown and are always so surprised to know that the goods contained within our retail space are not only designed and made by us, but done so only a twenty-minute bike ride up the street," says Laing.
Long may this local, sustainable fashion last.