May is Asian Heritage Month in Canada, and what better way to celebrate than by reading some great books by Asian and Pacific Islander authors!
Nationally, Canada celebrates Asian Heritage Month in May, however, many other countries celebrate it as Asian and Pacific Islander Heritage month, so they can also highlight the unique experiences and struggles of Pacific Islanders.
While Canada has always had a legacy of racism and colonialism, over the course of the pandemic, there has been a huge surge in anti-Asian hate crimes, discrimination, and violence. While I definitely believe that a book list is not the same thing as activism, I am also a firm believer in the power of reading diverse perspectives, from diverse authors. Storytelling is an incredible tool for building empathy, creating connections, or just finding joy, adventure, or escape.
From steamy romance, to heartfelt contemporary stories, to stunning fantasy, to incisive non-fiction — there's a little something for all tastes in this list. I hope you find your next favourite book here, and if you do, we'd love to hear from you!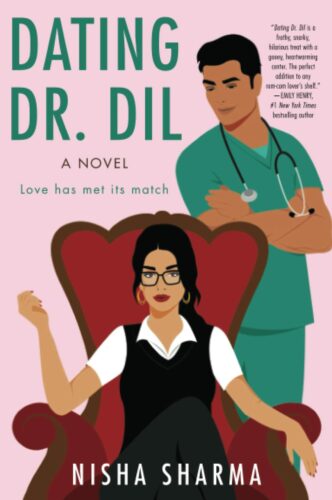 Dating Dr. Dil — Nisha Sharma
Dating Dr. Dil is a steamy and delightful romance, featuring a love-phobic TV doctor who must convince a love-obsessed homebody that they are destined to be together.
Kareena is a romantic, but she prefers restoring her classic car over swiping right on dating apps. When her father announces he's selling her mother's home, she makes a deal with him: He'll gift her the house, if she can get engaged in four months — but her search for a soulmate becomes impossible when her argument with Dr. Prem Verma, host of The Dr. Dil Show, goes viral.
Prem wants to build a local community health center but needs donors with deep pockets. Unfortunately, his argument with Kareena leaves him short-changed, until Kareena's meddling aunties present him with a solution: If he convinces Kareena he's her soulmate, they'll fund his clinic. Even though they have conflicting views, the more time they spend together, Prem begins to believe that Kareena is the woman he wants to spend the rest of his life with. But in order to move forward and find their happily ever after, they have to confront that their hate may be turning into fate.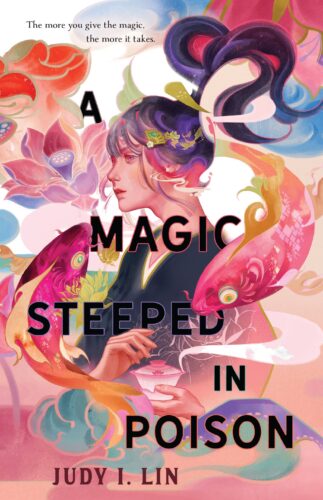 A Magic Steeped In Poison — Judy I. Lin
A gorgeous, vivid, lush, and un-put-down-able YA fantasy, full of beautiful imagery, political intrigue, and a fascinating system of magic — A Magic Steeped In Poison is tea-rific!
When Ning loses her mother, she can't help but blame herself. She was the one who unknowingly brewed the poison tea that killed her mother, and now threatens to take her sister, Shu. When she hears about a competition to find the kingdom's greatest shennong-shi (masters of the ancient and magical art of tea-making) she travels to the imperial city to compete for a chance to win a favour from the princess, and try to save her sister's life. The competition may be more than she signed up for, full of court politics, backstabbing competitors, and a mysterious (but handsome) boy with a shocking secret.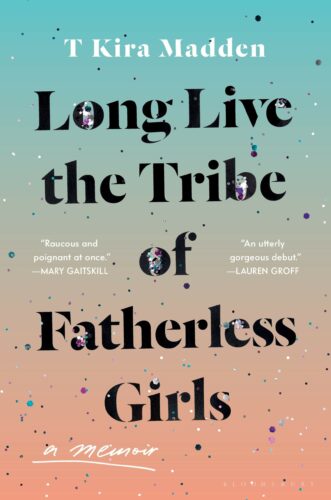 Long Live the Tribe of Fatherless Girls — T Kira Madden
This raw and stunning memoir is a coming-of-age story that reckons with desire as a queer, biracial teen in Boca Raton's world of cult-like privilege, racial disparities, and white-collar crime. This book is a powerful story about trauma, forgiveness, and what family really means.
Madden recollects her childhood filled with extravagance — from her exclusive private school, to her designer shoe-brand name, and her equestrian trophies. However, under the surface was instability and loneliness, as the only child of parents continually battling drug and alcohol addictions. As she faces assault, objectification, and loss, she finds lifelines in the desperate and loving friendships of fatherless girls. Part eulogy, part love letter, this book spans from 1960s Hawai'i to the present-day struggles of a young woman mourning the loss of her father.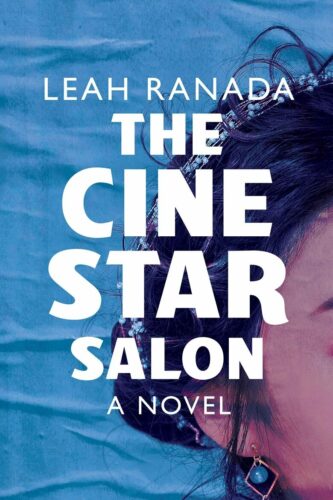 The Cine Star Salon — Leah Ranada
The Cine Star Salon is a powerful and fascinating story about the importance of women's work, and the things that connect us.
Filipino-Canadian Sophia is most grateful for two things: her fiancé Adrian, and her modest hair salon. She is eager to get married and move away from her parents and their demanding expectations. Then, her estranged friend reaches out from Manila, desperate for help. After a dubious accident, her fiery Aunty Rosie is on the verge of losing the Cine Star Salon — the place where Sophia first felt a calling to become a hairstylist and salon owner. Coming to her aunt's aid is not easy, and she worries about reopening old wounds, threatening the bright future she has planned.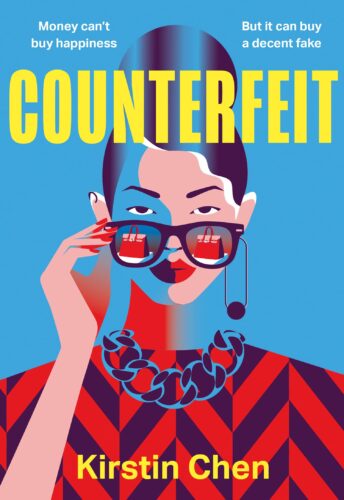 Counterfeit — Kirstin Chen
Money may not be able to buy happiness, but it can buy a decent fake.
Counterfeit is the story of two Asian-American women who band together to grow a counterfeit handbag scheme into a global enterprise. Ava is a straight-laced Chinese-American, who — with her surgeon husband, young son, and beautiful home — has what appears to be a perfect life, but underneath this veneer, her life is crumbling. Winnie, her former college roommate, who had abruptly dropped out under mysterious circumstances, re-enters her life, looking to reconnect. But the shy, awkward girl Ava once knew has been replaced with a confident woman, dripping in luxury. The secret to her success? A counterfeit scheme where she imports near-exact replicas of luxury handbags. However, she needs a new partner, someone with a US passport, who would never be suspected of wrongdoing. This novel is a fast-paced, searing, and glittering blend of fashion, crime, and friendship, that interrogates the model minority myth, and what it means to be hungry for more.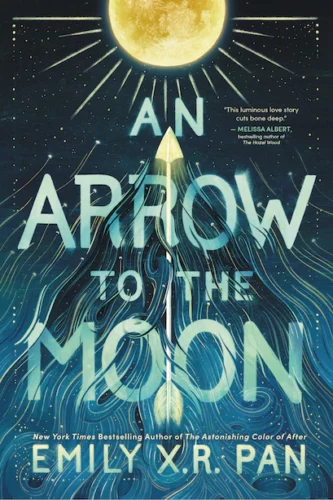 An Arrow to the Moon — Emily X. R. Pan
Unexpected and beautiful, this young adult novel is an urban fantasy that melds together magic and myth, with a coming-of-age love story reminiscent of Romeo and Juliet.
Hunter Yee has perfect aim — he never misses with a bow and arrow. Meanwhile, the rest of his life is veering off track. Haunted by his family's past mistakes, and the pressures placed on him, the only things stopping him from running away are his younger brother, a supernatural wind, and the beautiful girl at his new school. Luna dreads the future — graduation is looming, and her parents' expectations are stifling. When she starts to break the rules, she finds her life upended by the new boy in class, an ominous crack spreading through town, and unearthly fireflies that seem to follow her wherever she goes. Their love is powerful, but time is running out, and fate seems intent on having its way.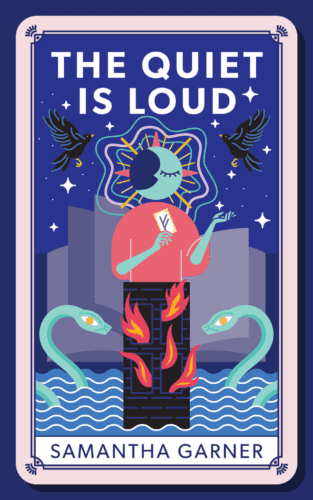 The Quiet Is Loud — Samantha Garner
Samantha Garner's debut is a stunning blend of literary and speculative fiction, that explores themes of racial identity, belonging, love, betrayal, and magic.
When Freya was ten, she dreamed of her mother's death ten days before it happened, realizing she's a veker — someone with enhanced mental abilities, who is scorned as a result. Her adult life has largely been spent in hiding from the scrutiny of society (where vekers are often met with violence), and her father's troubled literary legacy. When her prophetic dreams take a dangerous turn, she finds herself torn between the security of her anonymity, and her duty to protect those around her. Full of themes from Norse and Filipino mythology, and credit card symbolism, this is a beautiful tale of love and betrayal, and the power of telling your own story.
ACE: What Asexuality Reveals About Desire, Society, and the Meaning of Sex — Angela Chen
ACE is an engaging exploration of what it means to be asexual in a world obsessed with sexual attraction. Through interviews, essays, cultural criticism, and memoir, ACE explores the things we can learn about desire and identity through an "ace lens."
Journalist Angela Chen uses her own journey of self-discovery as an asexual person in order to educate and vulnerably connect with readers, putting together an analysis of sexuality, societal norms, and the ways ace people move through the world. This book features great intersectional representation, as it asks how our society can make room for asexual people.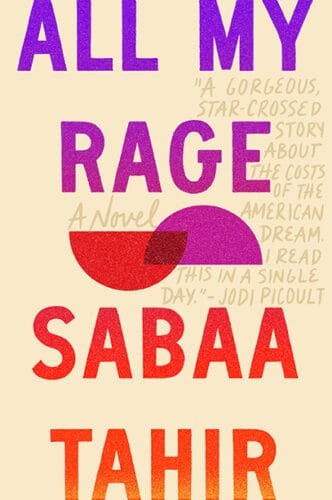 All My Rage — Sabaa Tahir
A sweeping, heart wrenching contemporary YA story about family, forgiveness, love, and loss, this story crosses generations (and continents), weaving together stories from the past and the present, All My Rage is tender, tragic, and ferocious.
The story set in the past takes place in Lahore, Pakistan, following newlywed Misbah, and her husband Toufiq, whose lives are shaken with tragedy, prompting them to move to the United States for a fresh start, where they open Cloud's Rest Inn Motel.
The present-day story follows Salahudin and Noor, who are more than best friends — they're family. They understand each other in a way no one else does, until their fight. Now Sal spends his time trying to run the family motel, as his mother Misbah's health fails, and his father loses himself to grief. Meanwhile, Noor works at her wrathful uncle's liquor store, while hiding the fact that she's applying to college, so she can escape him and this town.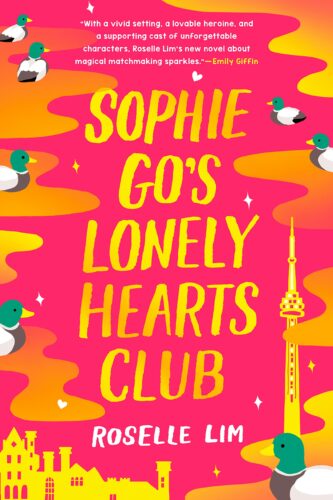 Sophie Go's Lonely Hearts Club — Roselle Lim
Coming this August is a heartfelt story about the power of loneliness, and the strength of love.
Professional matchmaker Sophie Go has returned to her hometown of Toronto after three years in Shanghai. Her job is made quite difficult when it's revealed that she never actually graduated from matchmaking school, and in the competitive environment of Toronto, no one wants to take a chance on an inexperienced, unaccredited matchmaking fraud. Now an outcast, Sophie is desperate for clients when she stumbles onto a secret club within her condo complex. The Old Ducks are seven septuagenarian Chinese bachelors who never found love, and her matchmaking skills are put to the test after she somehow convinces them to hire her. This book is a journey through the depths of love, loneliness, and heartbreak, as Sophie attempts the hardest matches of her life.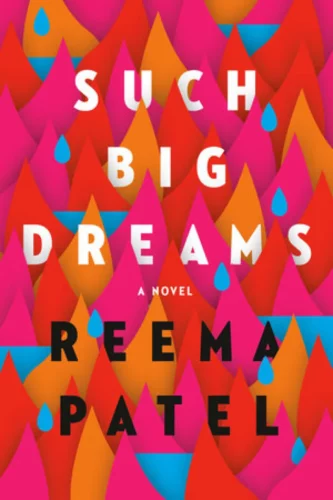 Such Big Dreams — Reema Patel
Such Big Dreams is a smart, fresh, and funny tale of power, ambition, and reclaiming your story.
Rakhi is a former street child haunted by the loss of her best friend eleven years ago. She lives alone in a Mumbai slum, working as an office assistant at Justice for All, a struggling human rights office. Constantly underestimated by the people around her, her life isn't much, but she's managing, at least until a fading former Bollywood starlet tries edging her way back into the spotlight by becoming a celebrity ambassador for Justice for All, and demands an internship for her family friend from Canada. Alex persuades Rakhi to show him "the real India", in exchange for helping her achieve her dreams. As the stakes get higher and higher, she faces moral compromises and difficult choices, as people do whatever it takes to survive — no matter the cost.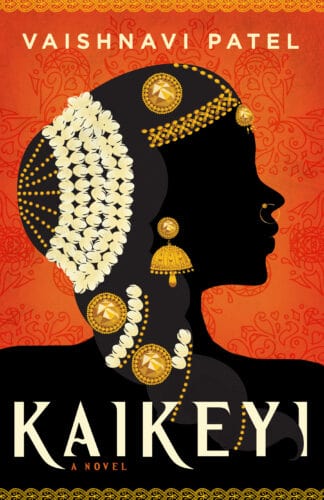 Kaikeyi — Vaishnavi Patel
A mesmerizing debut about fate, family, heartbreak, and courage – this is the story of an extraordinary woman, determined to leave her mark in a world dictated by gods and men.
Kaikeyi is the only daughter of the kingdom of Kekaya, raised on epic stories of good versus evil, about the might and benevolence of the gods, their wisdom and their devotion. However, she watches as her father unceremoniously banishes her mother, and is constantly forced to listen as her own worth is reduced to her marriage prospects, all the while, the gods never seem to listen to her calls for help. Desperate for some measure of independence, she turns to the texts she used to read with her mother, and discovers a magic that is hers alone — transforming herself from an overlooked princess, to a warrior, diplomat, and queen, determined to carve out a better world for herself and the women around her. When evil threatens the cosmic order, the path she has forged clashes with the destiny the gods have chosen for her, and she has to decide if resistance is worth the potential destruction, and what legacy she wants to leave behind.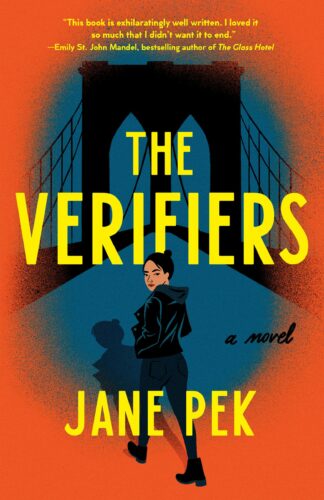 The Verifiers — Jane Pek
Part literary mystery, part family story, The Verifiers is a sharp and witty detective story about love, technology, and murder — and the ways technology shapes the way we live our lives.
Claudia is used to disregarding her family (and society)'s model-minority expectations. She has no interest in finding a conventional career, or a nice Chinese boy. She is used to keeping secrets from them, such as the fact that she prefers girls, and that she has been recruited by Veracity, a referrals-only online-dating detective agency. As a lifelong mystery reader, she believes she's landed her dream job, but when a client goes missing, she breaks protocol to investigate, uncovering a web of personal and corporate deceit.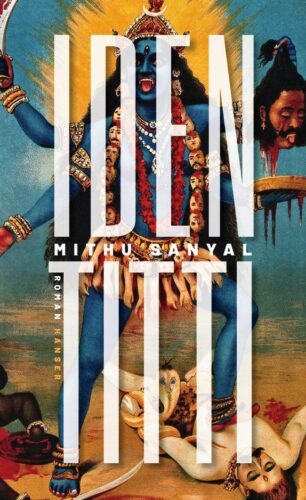 Identitti — Mithu Sanyal
First published in German, and publishing in English this Summer, Identitti is a thought-provoking, genre-bending, satirical debut that comments on the power of social media, identity politics, and the power of claiming your own voice.
Nivedita (aka Identitti) is a well-known blogger and doctoral student, who is in awe of her supervisor — postcolonial and race studies professor Saraswati. However, her life is turned upside down when it emerges that Saraswati is actually white — just hours after Nivedita praises Saraswati during a radio interview, calling to question her own reputation as a young activist. In the aftermath, she is forced to reflect on key moments in her life where she doubted her identity and her place in this world. As the scandal rages on social media, in blogs, and among her friends, her assumptions are called into question, as she is forced to reconsider the lessons she learned from her adored professor.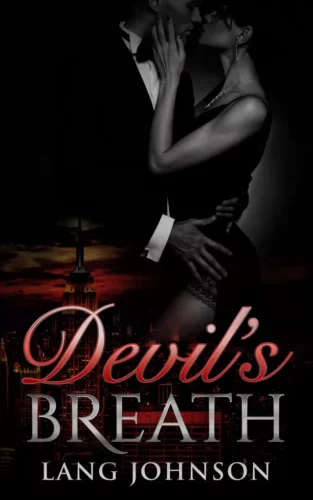 Devil's Breath — Lang Johnson
Devil's Breath is a sexy, suspenseful debut that follows Sera, a brilliant chemist and deadly assassin, who will stop at nothing to expand her family's empire. With her criminal father's guidance, they're set to dominate the drug industry with her creation: Devil's Breath. There's just one problem: Handsome, smooth-talking Cassius Batista, the billionaire unknowingly funding their venture — and Sera's next hit. Sera plans the job, anticipating every outcome but one: falling in love.
As the line between truth and fiction blurs between them, and as the stakes get more and more lethal, this courtship is a dangerous game, forcing Sera to choose between two men: The one who raised her, and the one she's fallen for… is love really worth risking it all?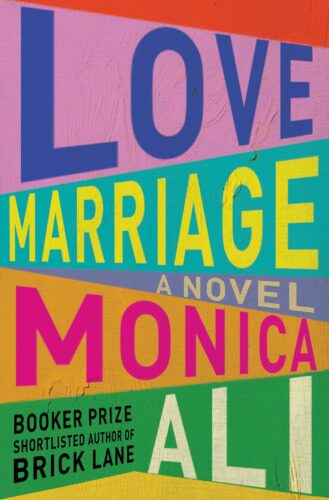 Love Marriage — Monica Ali
Another must-read book this month is Monica Ali's Love Marriage. Ali was born in Dhaka, Bangladesh, and grew up in England. Love Marriage is a sharp-witted and immensely pleasurable read about complicated family dynamics, cultural differences, and classism. We loved it so much, that we made it our May Book Club read.
Ameema Saeed (@ameemabackwards) is a storyteller, a Capricorn, an avid bookworm, and a curator of very specific playlists, customized book recommendations, and cool earrings. She's the cohost of the podcast High Low Brow, and the Books Editor for She Does the City. She enjoys bad puns, good food, dancing, and talking about feelings. She writes about books, unruly bodies, and her lived experiences, and hopes to write your next favourite book one day. When she's not reading books, she likes to talk about books (especially diverse books, and books by diverse authors) on her bookstagram: @ReadWithMeemz