I think we can all agree that when it comes to Christmas party swag, the present day has nothing on the glitzy past. In that spirit, the Leslieville Flea whipped up some sexy, sassy vintage outfits for three Toronto women that are perfect for the holidays.
First up is Tiska Wiedermann, who works in Business Development at Raindance Canada.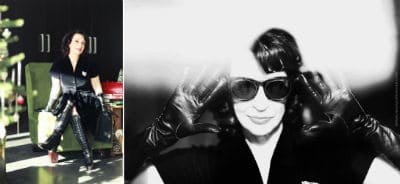 The Look:
Black Velvet Dress with Rhinestone Buttons, 1940's – $250.00
Sherman Clear Rhinestone Fern Leaf Earrings – $50.00 By Ma Ptite Chouette Vintage
Leather Gloves, 1940's (stylist's personal collection)
Lace Up Platform Boots, 1970's (model's own)
Leslieville Flea: What are your plans for the holiday season?
Tiska Wiedermann: Trying to wrangle a trip to New York…
LF: How would you describe your fantasy Christmas?
TW: My fantasy would be to spend Christmas in New York, Berlin or London, roaming the fun parts of the city, visiting vintage shops. I spent time in the UK recently in London's Shoreditch neighborhood, visiting the historic Spitalfield's Market and vintage shops along the famous Brick Lane. The market changes their 'vintage focus' on a daily basis. I picked up a proper 1940's men's Bowler, and a 1960's Mary Quant-style brimmed hat. Loads of fun."
LF: How do you feel about your vintage makeover?
TW: OMG What fun! Clothes were fab. Makeup was exquisite. Larissa (from Blonde Moxie Makeup) is super talented."
Nitsa Staikos, Director of Trade Marketing, Rogers Media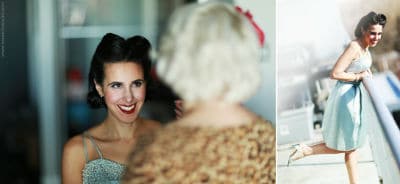 The Look:
Double Strapped Baby Blue Wiggle Dress with Faux Pearl and Glass Beading,1950's – $350.00 by Partners in Crime Vintage
Clear Rhinestone Necklace, 1950's – $75
Silver Shoes, 1960's – $45
Hair Fascinator Made from Vintage Holiday Repurposed Materials – $20.00 by Ma Ptite Chouette Vintage
LF: What are some of your Christmas Traditions?
Nitsa Staikos: My husband and I and our 3 children ages 6, 4 & 1.5 do a lot of family entertaining as well as visiting back and forth between Toronto and Trenton. We also rent a hall every year with our university friends and invite all of our mutual friends and their kids. Donations from the event go towards various charities each year; this year our charity of choice is helping a family in need through the Sick Kids hospital. The event takes place during the day; and even Santa Clause pops by to say hello! At night, the adults go to a local restaurant and have a big party!
LF: Will you be wearing vintage this holiday?
NS: Absolutely! I love vintage clothing! Any time I have a special event I raid my friend Jacquie Jeffrey's closet. Jacquie collects and sells vintage clothing online and at the Leslieville Flea market under the banner of Ma Ptite Chouette Vintage.  It's fun to change it up with statement pieces and I can be sure no one else will have the same fabulous dress.
LF: How did you feel about your vintage transformation?
NS: I fell in love with 2 of the three dresses I wore, so the fashion part of it was a wonderful vintage surprise! My makeup was amazing –it felt classic and pretty–I felt like Christmas came early for me!
Louse Griew, Make Up + Hair/Beauty Writer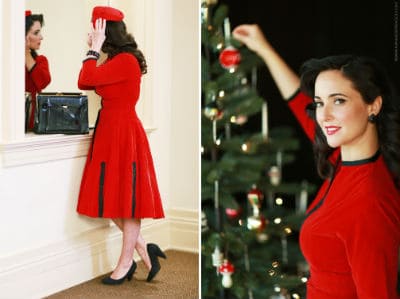 The Look:
Red Velvet Swing Dress with Black Piping, 1950's – $250.00
Red Felted Wool Hat Topper, 1960's – $75
Black Purse, 1960's – $40.00 by Ma Ptite Chouette Vintage
Brooch and Earrings, 1950's (stylists personal collection)
Black Suede Shoes (model's own)
LF: Plans for the holidays?
Louise Griew: My mum, who lives in New Brunswick, will be visiting my husband and I over the holidays. My mother is Swedish so we always celebrate Christmas on Christmas eve with traditional Swedish foods such as köttbullar and risgrynsgröt (meatballs and rice pudding).
LF: What would be your fantasy Christmas?
LG: A house on the Maldives, lying in a hammock staring at beautiful turquoise water. Sorry, not very Christmasy but I hate the cold.
LF: Would there be a vintage vibe in the Maldives?
LG: I am a big vintage thrift shopper, so yes! I would be wearing an amazing one-piece vintage bathing suit and floppy-brimmed '70s sun hat.
Choose your vintage outfit at the next Leslieville Flea, Sunday December 15th from 10am to 4pm at the Jimmy Simpson Recreation Centre, 870 Queen Street East.