After setting numerous records as captain of Yale's swimming team, Meg Gill's career took an unlikely turn: she became a craft brewer.
Gill is the beer-loving force behind Golden Road Brewing, which she founded in 2011. It's since become Los Angeles' largest craft brewer and is available across the US. Now, she hosts VICELAND's new series, BEERLAND, which premiered this week.
In BEERLAND, Meg searches for the best home brewers across the country, explores beer's role in shaping the culture of a community, and offers an opportunity for one standout home brewer to win the distribution deal of a lifetime.
Here's what we learned.
Great beer = invisible: "When you have drank a full beer without noticing it was gone, and ordering the next one right away – that's when you know it's an amazing beer. There are very few beers where I finish one quickly and don't realize its gone and order my second one without even thinking about it."
The biz has changed: "The craft beer industry has gotten younger. It was an old man sport when I got into it. It's gotten more diverse; more females and people from different backgrounds. But the first five years I was in the business, people would look at me funny if I said I was in the beer business. People still do, but it happens less often."
Brewers are ingenious: "In New Mexico, one of the brewers was a cowboy who just did everything himself. He and his wife built a self-sustaining ranch where most of their food and what they consumed comes from within their own land, which was pretty amazing.
In New York, there was this self-proclaimed anarchist. He got into brewing for his own philosophical desire to brew and consume on his own. He was brewing his beer with all wild stuff…he found moss growing on a log in a park in Brooklyn, took the log home and started brewing with it."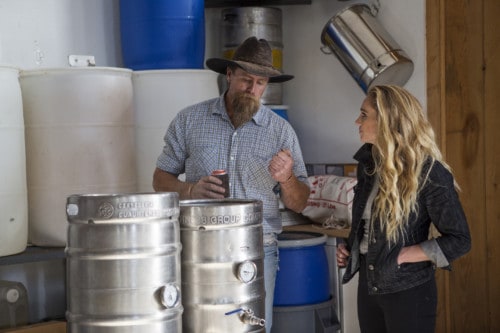 Freshness is key: "They [home brewers] know where it's being brewed because they're brewing it themselves. They know the story behind it and how it's made. And the freshness. That's another reason behind home brewing; the beer is brewed fresh and consumed fresh. A lot of beers out there on the market – there are no dates on them and you don't even know when they were brewed."
Prohibition created competition: "I think beer is more competitive here than anywhere else in the world due to some of the regulatory matters that happened after prohibition. The government put in place a distribution system that was meant to protect the consumer from the supplier, the brewer. What that ended up doing was giving way for more independent brewers to come to the forefront. With more independent brewers came more flavours, more innovation."
Catch BEERLAND on VICELAND, Thursdays at 10 p.m.