It may have been blazing hot outside, but the winter preview from Aldo and Call It Spring was enough to put us in the same headspace as tobogganing, salty sidewalks, and hot chocolate. Actually, there was frozen hot chocolate being served in little mason jars and I may have gotten so distracted by how good it was that I missed a detail about fabric or stitching from the new line of holiday shoes and accessories.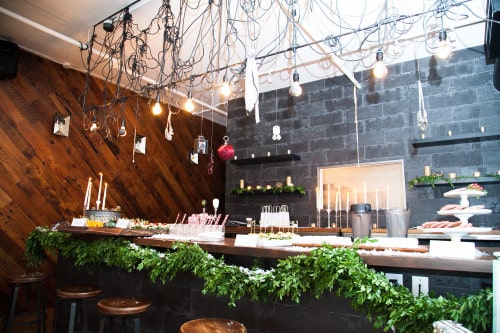 Aldo (and playful daughter company Call It Spring) is proud of its Canadian roots – the headquarters are still in Montreal where the company was founded as a footwear concession within Le Château. Today the designers take everything they know from more than four decades in the business and produce shoes that start trends, rather than simply reacting to them.
The space itself was an oasis from the sweltering concrete outside, high in a King West loft in the One Method event space – kitted out with a bar and (tasteful) wood paneling. Sparkly faux-snow covered tables and windowsills while Christmas carols filled the August air. To top it all off, there was a white tinsel tree with presents underneath, and I will fight anyone who says that they prefer a natural tree to their plastic cousins. Greenhouse Juice Co. rounded out the celebratory vibe, with one green bottle (kale) and one red (beet).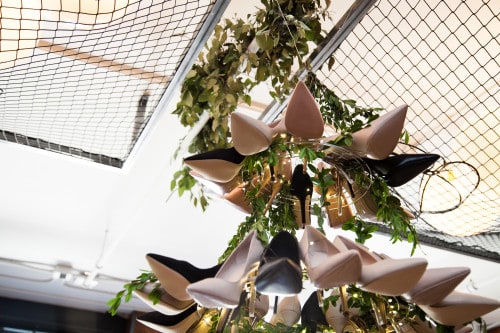 We were treated to a preview of men and women's styles from each brand. The model off-duty informed both genders, with streamlined styles and continuing athleisure influences. Think Gigi Hadid leaving the gym in spandex and some killer boots. Heels, having been blocky for some time now, are returning to their true stiletto form. Just don't walk over any grates in them, unless you're Rihanna.
Purple satin and sparkles popped up in the women's collections, proving that we can all wear colour if given the opportunity. I saw a couple of clear purses with sparkle fluid inlays that would make perfect gifts for that elusive hard-to-buy for person on your gift list.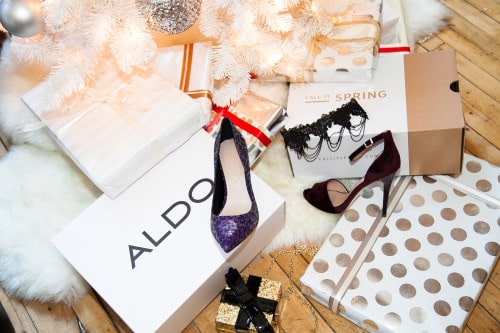 Would it be winter without black velvet? Unsure, as I wrap myself in layers of the stuff between November and February. I spotted a pair of black velvet creeper shoes (they also come in crimson) that I mentally added to my list right away. For those of you who prefer something a little more dainty, Aldo has quite a lot of lace-up heels to choose from.
I don't know about you, but I'm excited to get out of sandals and into something that actually encloses all of my foot. What are you planning for your accessory game for the fall?