One is never too young or too old to learn about anti-racism and inclusivity, which is why ByUs Box offers toolkits specifically designed for babies, preschool, and elementary school-aged children, as well as a 'GrownUp Book Club' for teens and adults who want to learn how to be better allies.
Co-Founders Nicole Stamp and Ashley Baylen created the ByUs Box to help dismantle bias and provide families with books, activities, and toys that have been carefully curated to bring a positive lens to learn from. "Our approach is to empower parents to realize that raising equity-minded kids is a process, not a destination. It doesn't happen in one big conversation where you impart the history of oppression onto your blinking 4-year-old!"
She reminds us that educating our kids—and ourselves—about equity never stops: "Raising an anti-racist and inclusive child is an ongoing approach that encompasses the way parents talk about other groups, the way parents respond to kids' questions, the kind of books and shows kids are exposed to, the kind of ongoing learning we encourage."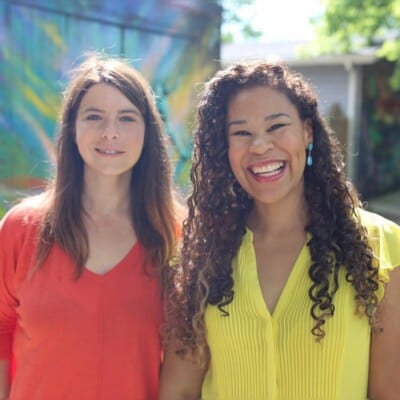 The Toronto duo bring different backgrounds and experiences to their newly-founded company, and both have expertise in children's programming.
Nicole is a well-known TV host, actor, and writer who hosted the Gemini-winning show TVOKids, and had acted on numerous popular kids television programming, including the mega-hit queer web series Carmilla, which has over 70 million YouTube views. Nicole is also in the process of developing a Media Literacy TV show for kids.
Like Nicole, Co-Founder Ashley Baylen is likewise an activist and community organizer. She is also the host-producer of parenting podcast Baby=Puppy, which she is currently turning into a children's book. Ashley lives in Toronto with her wife, Lee, and their 3-year-old son.
Determined to do what they can to build a better world for the children of today and tomorrow, they created ByUs Box to provide families with beautiful educational tools to help guide them through necessary conversations. "Conversations about equity are important, and they have to happen often. And they should NOT be a big scary deal! Feelings of discomfort and resistance around equity topics are a learned response. We can unlearn it, too! As the child grows, our Learning Guides give parents age-appropriate ways to introduce each community, then layer in ideas of fairness, and then discuss historical oppression, and we support that with books and terminology. Then we take that one step further with action."
There are many ways that kids will learn from the toolkits, and parents will undoubtedly learn alongside them, be it from noticing our own biases to equipping ourselves with the appropriate language and responses for everyday life. "When a kid says 'Why is that man sitting in a wheelchair' or 'Why does that person have brown skin', so many parents panic and snatch the child away as if the word 'wheelchair' or 'brown' is rude! But those are absolutely ok words to say, and those are totally valid questions," Stamp says, and she wants parents to be ready to handle those situations properly, and with confidence. "It's not hard for a parent to be ready to respond in an open, non-shameful way: 'That person is using a wheelchair to get where they want to go! Look they're smiling at you, let's say hello!' or 'That person's skin is brown because they have lots of melanin in their skin- remember we talked about how your freckle is made of melanin? Can you wave hi?'"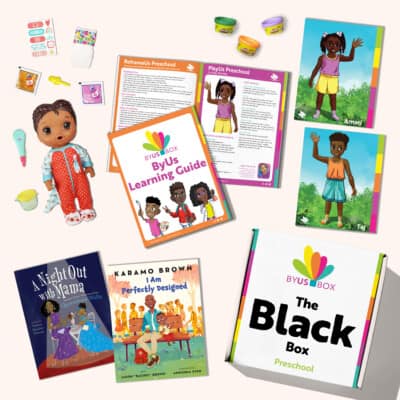 "The ByUs Box's goal is NOT to increase 'tolerance' – nobody wants to be tolerated!", is one thing that Stamp wants to make very clear. "Our goal is to empower people to work towards true equity and safety for every person in their community. And that can happen in really easy ways that actually empower children to become changemakers!" It's what we should all want for our kids.
The ByUs Box launches this week, and we're happy to offer Shedoesthecity followers a promo code to receive 10% off. Three boxes are ready to ship now: The Black Box focuses on anti-racism and the science of skin colour; The LGBT2SQ+ Families Box spotlights diverse queer families; The Gender-Expansive Box educates families about trans and non-binary identities, and expansive gender IDs. The Indigenous Box is currently being organized and will begin shipping in early spring, but you can pre-order now.
The Kids ByUS Boxes contain:
2-3 Books: beautiful and engaging
A Toy: ideal for each development level
An Activity for hands-on learning
Learning Guide: 20 page magazine with:
Glossary: Simple terminology
EngageUs: Conversation prompts
PlayUs: Educational play tips
ReframeUs: Choosing positive media
MeetUs: An inspiring family interview
Illustrations by equity-seeking artists
Take Action: Family-friendly activism tips
The GrownUP Book Club includes:
A thought-provoking book on an equity topic.
A journal with journaling prompts and chapter questions
Curated media list
Guidelines for positive media representation
A beautiful self-care item, made by a small-business owner from the featured group.
A percentage of proceeds from every ByUs Box sold will be donated to an organization that supports that community's call for justice.
Everything about ByUs Box has been carefully considered, and it's exactly what the world needs right now, and something that kids of all ages will enjoy exploring. Order your family a ByUs box now, and use SDTC10 to receive 10% off.