Sponsored by Penguin Canada
Some novels take you on epic journeys that span decades, cross continents, and involve colossal events, like a shipwreck, diamond heist, or treacherous war. The Three of Us, by British Nigerian author Ore Agbaje-Willams, is the opposite to that kind of book, mostly taking place in a kitchen, where a bottle of wine and a bag of chips are the main props in a seriously heated drama. Yes, it's as delicious and petty and wry as it sounds.
The Three of Us is a quiet but impressively enthralling character study of three individuals: a wife, a husband, and the wife's best friend, Temi, who sparks all sorts of tension. It's a deftly written and deliciously sardonic read—the perfect smirk-inducing page-turner to devour poolside this summer.
Always curious to know the origin story of a good novel, and find out how a writer writes, we connected with Agbaje-Williams to get the backstory behind her wickedly clever debut novel.
We'd love to know how the idea for The Three of Us first came to you? What's the origin story of your incredible novel?
A conversation! I was telling my friend about a guy I liked and she joked that I'd get a boyfriend and that she'd never see me – I reassured her that he would have to understand that she comes first and then I thought… wait a minute!
Did you have a specific reader in mind when you wrote the book? Who did you imagine writing it for?
I think one of the best parts of the writing process was knowing that I was writing it for myself, that really helped me given that I'd tried writing other books before with other people's tastes in mind. Finally deciding that this was a kind of book I wanted to read and writing for myself ultimately helped me to tap into the kind of humour I like and storytelling and made for a really enjoyable writing experience, so I'm really glad a wide range of people have enjoyed it!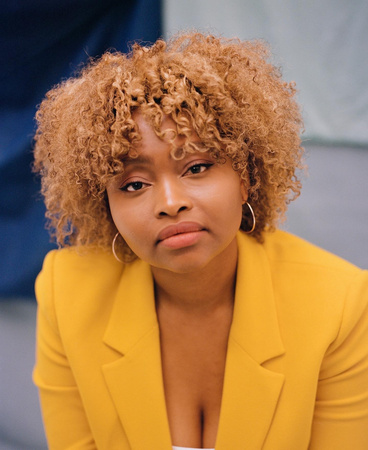 You have a very unique writing style – how you don't use quotations for dialogue—can you share the intention behind this creative choice?
I love writers like Sally Rooney who don't use quotation marks either and it just looks great on the page so I definitely took inspiration from that. Then I also thought about the fact that each section is essentially a monologue, and I didn't want anything to take me or the reader outside of that experience of almost being inside a person's head.
How has your background in journalism and book publishing helped you as a writer? We'd love to know specifics.
I think it's helped me in terms of trial and error because my publishing background meant I knew what was selling well so I tried to write those kinds of books and failed because it wasn't really me, so when I found my storytelling style it was such a relief! The journalism aspect helped me to challenge myself and step out of my comfort zone which is how it definitely felt writing The Three of Us at some points!
We're always curious to know how writers write. Can you paint us a picture of what writing The Three of Us looked like?
Ha! It was mostly me sitting down at the end of a long work day to open my personal laptop and stare at the screen and hope something interesting would come out! Sometimes I had already thought of something during the day and that helped me to have something to write when I sat down in the evening, and sometimes I would read through what I'd written the previous day to give me a bit of inspiration!
Now that the book is out in the world, can you share with us some of the feedback you've had that has really impacted you?
Honestly it's been hilarious to receive feedback, mostly because of people's opinions of Temi, or of what happens in the book as a whole. Some of my favourite comments about Temi have been that she's a 'witch' or 'chaotic', and my favourite comment so far about the whole book is that it is 'some of the most deranged drama' that someone had ever read and that they were glad they didn't wait to read it! Seeing anyone read and enjoy the book and recommend it to their friends or family or followers is the best kind of feedback though and reminds me how grateful I am to have been able to publish this book with the best teams!
What conversations do you hope/imagine the book to inspire?
I've been asked this question before and honestly my answer is that I don't have any in mind! I really want this book to belong to the reader and for them to enjoy the experience of reading it and for it to kick start them reading again or keep them on a great reading streak! I hope the book itself – its existence – is a talking point though, and that people keep spreading the word about it.
The Three of Us is available wherever you buy books. Head to the Penguin Random House Canada site for more info. We think it's an excellent book club pick that will inspire all sorts of fun chatter.