Why is it that some Canadian fashion designers make it, while others fail?
On February 27th, After The Ball will open in theatres across Canada. The film tells the story of Kate Kassel (Portia Doubleday), a recent grad trying to break into the cutthroat fashion industry. It was shot in Montreal and produced by Don Carmody (Chicago, Good Will Hunting) & Gabriela Martinelli (Romeo and Juliet, M Butterfly). In anticipation of the film's release, we asked Canada's top fashion bloggers, from coast-to-coast, to share their thoughts on personal style, the finicky world of fashion, and, since After The Ball is the cutest fashion fairy-tale ever, what their ultimate fashion dream would be.
Meet Alex Grant of Vancouver's To Vogue or Bust.
She Does The City: When trying to break into the fashion industry, what's the best way to make a first impression?
Alex Grant: To be as authentic and true to you right out of the gate. The biggest failing of so many beginner bloggers or fashion designers is trying to replicate the success to formula that has worked for their predecessors, but really, what catches people's eyes and creates a sense of loyalty is being unique and completely you.
You've watched a lot of talented designers succeed and fail. Why do some emerging fashion designers rise above the rest?
Definitely authenticity but also a commitment to creating and maintaining connections with bloggers, editors and other key influencers. With my experience as a blogger, I've seen very clearly that there are brands and designers that just "get it" when it comes to the value in these connections and those that don't. More often than not, it's the ones who get it who end up having supporters who push their success on as they grow!
30 years from now, when trying to describe the fashion trends of 2015 to the next generation, what do you think you will say?
I think that 30 years from now, people will be able to see a very noticeable turn from fast fashion obsessions to a more minimalist, pared-down approach to style and shopping. I know myself that the minimalism and athleisure trends have been such a blessing because a) I dressed in a pretty simple, classic, sporty way to begin with and now have a wide range of amazing brands/pieces to pick from and b) it's been really exciting to see how people are focusing on mixing and matching pre-existing, classic pieces rather than constantly springing for a new fast fashion take on a seasonal designer trend.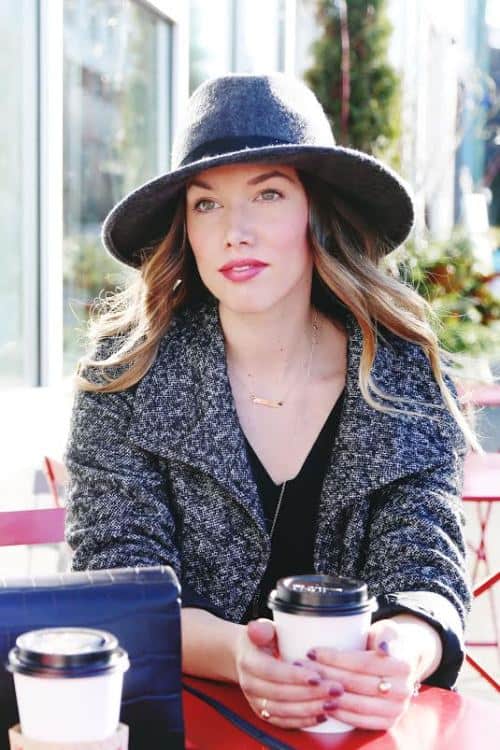 How does one figure out their own unique style? Is it something that you can work on?
Absolutely! My style evolved immensely over the years, gravitating towards a more classic aesthetic. Looking back, that was always the style that I felt the most "me" in even before I was able to identify it as being something that was uniquely fitting. In music, they say "play what you want to hear" – I think it's the same as fashion. Wear what you'd like to see styled together and what you feel most comfortable and you in and you'll slowly start seeing patterns emerge!
If someone asked you to describe your Fairytale Fashion story, what would it be? 
My ultimate goal is to evolve my current blog (which currently houses fashion, travel and well-being content) into a more far-reaching digital destination for my unique take on lifestyle content (think heavy on the West Coast influences, i.e. music, surfing, fitness, the outdoors, grassroots fashion labels, etc) and to work with brands and labels as a creative consultant.
What are you most happy wearing?
Depends on the season but in the summer, a linen T-shirt or silk camisole with my favourite denim cut-offs that I've had since I was 15 with flats, sandals or Chucks. During the cooler months: a leather jacket with a T-shirt, skinny jeans and maybe a pair of brogues (this incidentally was my travel uniform when I was away in Europe for a few months earlier this year!).
Who are your style icons? 
Françoise Hardy is undoubtedly my biggest style icon, but I also love Charlotte Casiraghi, Catherine Deneuve, Jane Birkin and classic Americana types in their heyday like Lauren Hutton, Ali MacGraw, etc. I also have a soft spot for Giorgia Tordini, an Italian street style star who just always nails it in my opinion and also French fashion blogger Jeanne Damas never gets it wrong.
Alex recently returned from a trip to Maui. Check out her adventures in the sun and follow her.