Caleigh Rykiss is a powerhouse. A writer, producer, competitive boxer, coach, trainer and now gym owner at BOLO Inc., she's seeking to empower women by building a gym community where body love is celebrated – where you can spend the whole day at the gym (and not only get a killer workout but also linger after for a coffee with friends, get a blowout, and then head off to a date) all without having to schlep along a hundred bags. They will be offering a laundry service so you can have fresh gym clothes ready on-site for your next workout.
We caught up with Rykiss after she put us through our paces at a recent HIIT Box class.
SDTC: Can you describe your education/career trajectory?
CR: I actually started my career as a journalist. For ten years I was a writer/producer at CTV – first at eTalk and then The Social. It was during that time I became interested in boxing and fitness and began fighting competitively on the side. Slowly I started narrowing my focus in my content creation to fitness/wellness and empowerment.
Eventually I went freelance and got certified in all the personal training and coaching certifications, which I thought I would just use to write more informed articles, but eventually I started teaching and simply fell in love with it. Now I still do both – writing and training, and they serve one another so well. They keep me both curious and accountable.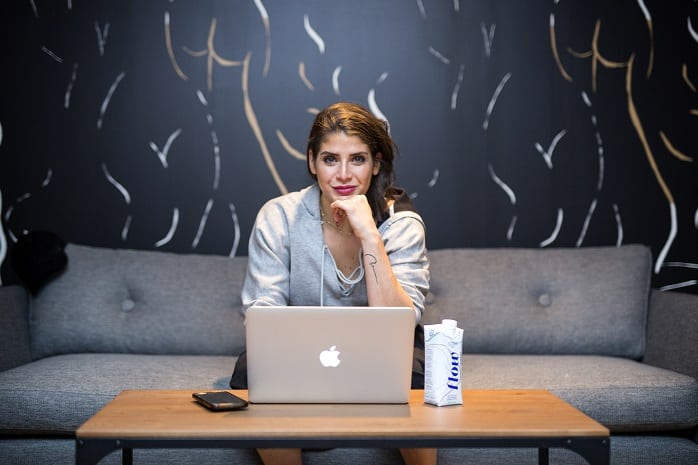 Walk us through a typical day in your life, from getting up until going to bed.
Every day is different – which I love. But these days I usually get up around 7 a.m., have a tea, play with my dogs, make a whey protein shake and head to the gym and train a few personal clients. If I know I have a crazy day, I'll get up an hour earlier and get my workout in before I start my day – it's one thing I do for myself that I simply won't compromise.
Mid-morning is usually when I start taking meetings. We are in the process of planning and staffing our permanent BOLO location so I'm meeting with marketing experts, prospective trainers, admin staff, lawyers and designers to make that happen. In the afternoon I usually have a few more PT clients and then have to get ready to teach group classes in the evening. If I haven't gotten my workout in yet, this is the time I usually get that in.
Usually I'm at the gym for about twelve hours a day, give or take. I can't live without my meal delivery service. They allow me to eat well and get in my nutrients without having to think about anything; otherwise, I forget to eat and feel awful all day. No bueno. I usually get into bed around 10 p.m. and try to get at least eight hours of sleep. Not listed here but equally important in my day is my phone call with my mom, my (minimum) four coffees and my Instagram use.
What do you miss most about boxing?
I haven't competed in the ring in a few years because of health limitations and I miss it every day. I miss being able to test my skills – the irony is, every day I'm improving as a fighter but I'm not able to actually use my growing knowledge. Its frustrating. Teaching others is something that helps me stay focused and excited about the sport even though I can't actually compete.
What would you say to other young women who are thinking of making a big change in their career direction?
I would say it is probably the best thing you could ever do. I never wanted to live a life in fear of failure. I had a very cushy, well-respected and comfortable job at CTV and leaving wasn't an easy decision, but it was by far the most incredible thing I've ever done. Nothing worth doing ever feels easy. It's so f*cking hard sometimes, but that's where the reward is. I am so where I need to be right now, but none of it would be possible if I had been scared to take a risk.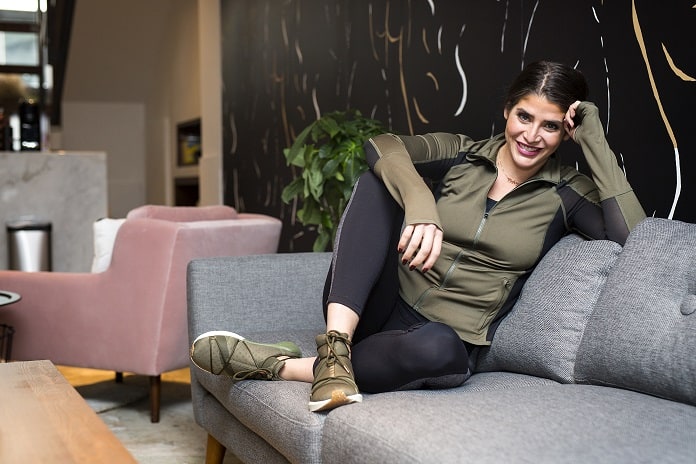 What was the impetus behind BOLO? What is your vision for this community?
I was inspired to create BOLO because of a lack of options for me as a professional and as an avid consumer. Everything these days feels so disconnected and disjointed in the fitness community – boutique gyms are very small and only serve the physical aspect of your workout. Even when they sell juices, they don't offer anywhere inviting to sit and enjoy it – and they're only open around class times so you know you need to get out of there ASAP.
Coffee has become a massive part of the fitness experience but you have to go somewhere else after your workout to enjoy one. Everything feels like such an inconvenient process, but we all need efficiency now more than ever. (#hustlerlife, right?!)
I was craving a cool place where I could work out and then open my laptop with a coffee afterwards and finish an article or answer some emails; somewhere my dad and I could eat after our routine Saturday spin class; somewhere my clients felt comfortable to stay after class and hang with each other. So the idea for a fitness club/social club hybrid came about. The permanent location (right across the street from the pop-up on Richmond at Peter St.) will have a full-service café and healthy eatery as well as a blow dry bar.
I am committed to giving people a well-rounded, convenient, efficient and cool experience where they don't feel like they're sacrificing anything to get a great workout.
What is the most rewarding part of your work with BOLO?
Some of the reward comes from simply paying forward the skill of boxing that gave me so much – body confidence, physical strength, community – and de-stigmatizing boxing for women. It is not scary or intimidating; it is awesome and everyone should feel comfortable to come give it a try and reap the benefits. Some of the reward comes from being surrounded by like-minded people all day who are excited to challenge themselves physically and mentally. The rest of it lies in seeing my dream facility take shape. I am building a business I hope will be a game changer for people. It will allow them to do more, more efficiently, without compromising their health, comfort, glamour or caffeine levels. I still squeal in excitement when people stay after class to hang out or when clients come in early to use the social space to study. It makes me so happy to bring something new, cool and functional to people's lives and see them enjoying it. It is my happy place.
Until the end of February, you can check out one of Caleigh's incredible workouts in #Boloknixhouse at 128 Peter St. BOLO is partnering with SDTC fave Knixwear for the next couple months; so you can scoop up some activewear intimates, and then sweat it out. Come March, BOLO will move across the street to a larger space. Register here.