With a focus on feminist creativity, thinking and art, GUTS magazine occupies a central position in Canada's feminist media landscape. On September 30th, GUTS Does the Internet will showcase some of the best work coming out of Toronto's feminist communities. The event will feature a zine and art fair, an installation by M. Mohamed called Black Girl on the Internet, and a dance party hosted by some of Toronto's best female DJs. We spoke with GUTS' co-founder Cynthia Spring this week.
SDTC: What was the catalyst to start GUTS?
CS: In 2013, after finishing our Master's degrees at the University of Alberta, Nadine Adelaar (co-founder of GUTS) and I were living together in Edmonton, looking for work and thinking about the future. As we set out on the uncertain path that often characterizes the post-graduate school job search, we wanted to keep talking and writing about feminist ideas and issues. So we decided to start up an online magazine where we could continue that type of correspondence with the people we had met in school and beyond.
We recognized that it was an ambitious project for two friends without any prior experience in media, publishing or web development. That is one of the reasons we called the publication GUTS – it's a playful assertion of confidence that helped to quell feelings of imposter syndrome. We also thought the title nicely encapsulated one of the goals of the magazine: to get deep into the messy inner workings of the oppressive and exploitative systems that shape all of our lives.
As GUTS has grown, one of the biggest challenges we've faced has been financial – it's very hard to make money in online publishing! While we've been able to start paying our contributors with the money we raise at events, our Patreon campaign, and through granting bodies, we are unable to consistently pay our editors, designers and administrators.
In our minds, this presents two problems. The first is that most of the team is always balancing their volunteer work at GUTS with their professional and personal responsibilities and commitments, and this can sometimes be very stressful and draining. We work hard to create an online working environment where we all feel comfortable communicating what we can and cannot take on, supporting each other through difficult times and, when necessary, finding alternatives together.
The other problem is that, at least for our editorial team, working on GUTS becomes a privilege. Many folks can't afford to work for free, so a volunteer-run editorial board actually functions as a barrier to people we would love to work with. This is why one of our ongoing goals is to develop a funding model that would allow us to pay our editors.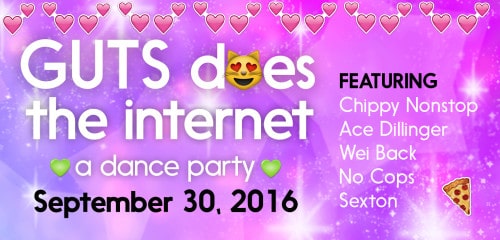 How would you describe the state of feminism in Toronto in 2016?
I think that the state of feminism in Toronto is pretty great. There are so many groups and individuals contributing to and thoughtfully critiquing feminist movements, and there are so many cool things going on, including the Feminist Art Conference, GyalCast, Shameless magazine, Drunk Feminist Films, cléo journal and Mice magazine. It's an exciting time to be a part of this community.
Of course, so much more needs to be done. We live in a time when oppressive systems like white supremacy, colonialism, cis patriarchy and ableism, are shaping our lives, whether it's on the street, in the workplace, at home, or in the classroom. The work of articulating and resisting these systems needs to continue. It's so important to recognize that feminism has often been an exclusionary movement, denying trans and non-binary people entry, ignoring the specific concerns of racialized folks, and legitimizing xenophobia as a step towards "women's rights."
We know these dangerous tendencies are not a thing of the past but an inheritance we need to confront and resist every day, as editors of GUTS but also as feminists living and working in Toronto.
What can we look forward to reading on the site this autumn/winter?
We're really excited about the LOVE issue. It's going to be released in November and will cover topics ranging from finding self-love on the internet to anti-capitalist critiques of monogamy and coupledom. We had a huge number of submissions for the issue, and we're really excited about the incredible writers and artists who are going to be sharing their work with us. We're also going to be launching our redesigned website very soon, and we're throwing a party September 30th!
What's the best thing about being a part of the GUTS community?
I get to work with a group of really smart and generous editors. I can always count on them to critique and/or support my ideas and feel comfortable and motivated to do the same in return. Working with new and recurring writers is also rewarding, if in a slightly a different way. At GUTS we treat editing like a conversation; it's our job to listen closely to what someone is saying in their own words and pose questions that might help to clarify our understanding. During this process, I'm always learning new things and confronting my own assumptions, which can be tough but is often incredibly rewarding.
GUTS Does The Internet takes place at Geary Lane on September 30th. More info. here.