Darlene Naponse is the writer and director of Falls Around Her, a new film starring Tantoo Cardinal. The film follows Mary Birchbark (Cardinal), a legendary singer who returns home to her northern reserve. Living alone in an isolated bush camp, Mary begins to sense that someone might be watching her. Unsure of what is real and what is imagined, Mary explores the psychological impact of her past as she carves out a new life for herself on her own terms. Falls Around Her opens in Toronto on March 29.
We spoke with Naponse this week.
SDTC: When and where do you feel most content/at ease?
DN: I feel the most content back home on the land.
Does the story in Falls Around Her reflect your own experience in any way? How so?
Falls Around Her doesn't directly reflect my own experience. I would say, we all have experiences that push us to overcome, or we need to fight. It is a reflection of many stories.
What's on your current reading list?
Currently, I am reading Eden Robinson and poets Sherwin Bitsui and Joan Naviyuk Kane. They are writing from community and the land, telling stories and letting words give beauty to the harsh realities and the wonder!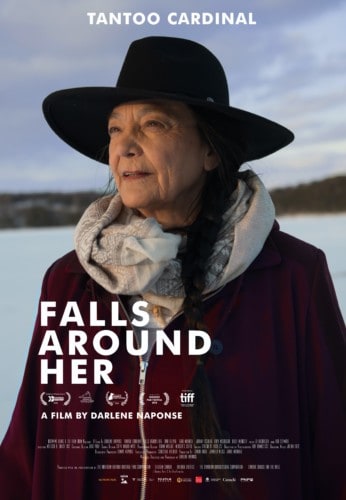 Your go-to coping mechanism/self-care?
Saunas, swim, hiking, friends. These are my self-care routines lately.
What's a childhood memory that always brings a smile to your face?
Growing up on the Rez. We were always outside—fishing, hunting, out at camp or gathering as a family or community.
What life philosophy is currently helping to guide your journey?
Changes happen. I am currently going through changes. My friend Krystal taught me life is always about learning. So I hope to keep learning.
One skill you'd love to learn/nurture/improve this year?
Patience! Humility!
What's a piece of career advice that has served you well?
Just create it.
What's a subject that is currently holding your attention? An issue that you're focused on?
Understanding the importance of community.
When you compare yourself now to where you were at ten years ago, what's a major change you can identify?
I'm proud of the amazing people I get to work with, that I have the opportunity to collaborate. I feel I have more tools to deal with anxiety and I'm trying to like me more every day!