Angela Pastor, co-owner of Toronto's beloved Fitzroy Boutique, takes us on an inside tour of London Fashion Week.
Welcome to the Street Style Olympics.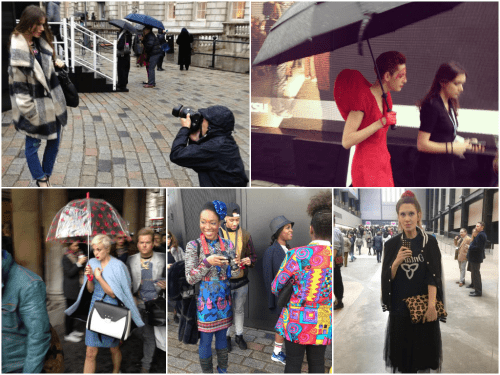 As it's my first time at London Fashion Week, I am cautiously over-prepared and lay out my outfit the night before. I'm pretty happy with the state of my current wardrobe, and for day one I piece together what I consider to be my chicest ensemble. One Teaspoon boyfriend jeans over heart print tights, chelsea boots, a plaid cape and a trucker hat. Feeling fairly confident, I head into the eye of the storm: LFW, Somerset House.
Upon arrival, my confidence disappears when I see what I'm up against. Everyone and I mean EVERYONE looks totally f-ing amazing. I'm surrounded by a sea of pink hair, Net-A-Porter's entire shoe collection and a rainbow of Celine bags. Bodyguards usher perfectly coiffed It-girls through throngs of photographers who have flown in from all corners of the globe to document every tiny detail of their outfits. Everybody here looks like they're somebody and I immediately feel like a giant impostor.
I'm actually considering going home to change when a Swedish photographer approaches me to ask for a photo. I'm genuinely surprised and flattered ("You think I have GRACE?") As she begins to snap away, another one joins her. Then another, then more, until I'm surrounded by them, crouching and shouting instructions at me. Chin up! Cross your legs! Walk towards me! A Japanese guy shoves a sign in my hand to hold. I have no idea what it says. They take close-up shots of my face, bag and accessories, and I begin to feel like a Kardashian. Some of them even ask if they know me from somewhere. "You most definitely do not."
For the next hour I cannot not take two steps without being stopped for a photo. My picture is going to be everywhere I think to myself, my plaid cape flapping dramatically in what can only be described as gale-force winds. Facehunter, The Guardian and Italian Glamour all take my picture. "Pastor–as in priest" I repeat over and over. This is my time!
Until I realize, it isn't.When I stop for a moment and look around, the exact same thing is going on literally everywhere I look. From teenage bloggers with iPhones to pros with the biggest lenses I've ever seen, they snap away incessantly. Except that people posing for these photos are the beautiful people. The naturally chic. The ones who didn't have to pre-plan their outfit. The ones who would look just as good on any random Tuesday. The ones who look good for a living.
A week later and not a single one of the 500+ photos taken of me on day one has surfaced. They're lost somewhere in the streetstyle memory-card deadpool, along with thousands of other stylish shots that for whatever reason simply didn't make the cut.
The designer showrooms are a lonely place.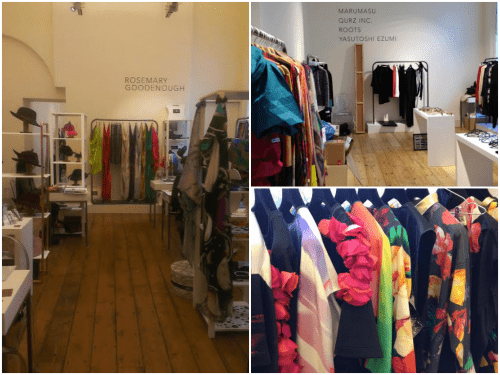 We tend to forget this in all the glamour and excitement, but Fashion Week is technically an industry event. Not being a celebrity, part of the media or a guest of a sponsor, the only reason I'm there is as a buyer. I'm meant to be meeting designers, making contacts and ultimately placing orders for my boutique. So on day two, happy to escape the madness outside and worst-hair-day-of-your-life weather, I flash my pass and head into the designer showrooms, which span two floors of the impressive historical venue. What I see when I get there is kind of gut-wrenching.
Room after room, rack after rack of beautiful clothes, without an audience. A lonely designer or sales rep sits next to them with a clipboard and an expectant look on their face. It's a nice place to come if you want some peace and quiet, basically. But I'm sure that wasn't in the brochure.
I walk through the rooms and some are busier than others, but none have more than a handful of people in them. I wonder in my head how much it must cost to exhibit here. A fortune. Fashion week is supposed to be about the clothes, and here they all hang, beautiful works of art waiting to be touched, photographed, examined up-close! But they can't compete with the glitz and glamour of the runway shows, which people will happily queue half an hour in the rain to get into, or the chance to see-and-be-seen in the fray of VIPs and street style paps by the entrance.
I make my way to the Romance Was Born showroom, a cool Australian brand I've had my eye on for a while. Tumbleweeds. Downstairs the MAWIshowroom is quite a bit busier (us girls are drawn to sparkly things like bees to honey, typically) and in general the accessories wing is a bit more promising. I find tables of drool-worthy pieces, including one leather handbag with a fully functioning camera/display screen hidden under a flap. But before I can indulge my Soviet spy fantasies any further I have to dash across town to a buying appointment. As I fight for a cab in the downpour, I wonder how many people here are actually part of the industry, and how many are just along for the ride. Not that I can blame them.
You can't see everything.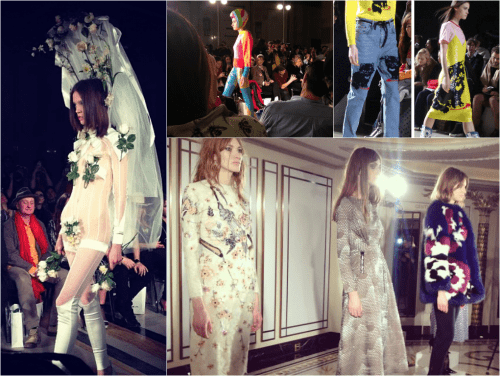 I'm disappointed not to have a ticket to the big shows, obviously (WHATEVER, Tom Ford, I don't need you either! ) but as a first-timer and virtual unknown at this shindig, I'm happy to take whatever I can get. As it turns out "whatever I can get" ends up being more than enough to satisfy my sartorial cravings.
Some shows are more memorable than others. I see some of the prettiest dresses I've ever seen at up-and-coming Chinese designer Hushian Zhang's presentation—which also requires a trip to and breakfast at the decadent Dorchester Hotel (well, if I have to). I fall hard for a yellow sequined dress with a kitten on it, the matching kitten print denim (OMG) at Ashley Williams, and the python print coat of my dreams at Simone Rocha. But by far the most interesting, creative—thrilling, even—thing I saw all week was the Pam Hogg show.
Part of the off-site schedule, her show took place at the Fashion Scout venue, LFW's cooler little sister IMO. The people waiting to get in made the crowd over at Somerset House look like a bunch of Sunday school teachers. An industry veteran and longstanding member of the British punk rock scene, Hogg has dressed and cavorted with just about everyone in the music industry. Her signature technicolour sheer bodysuits, pastel wigs and sky-high headpieces were nothing short of jaw-dropping, and the energy in the room was electric. A political art show loosely disguised as a fashion show, Hogg stacked her catwalk with drag queens and dedicated it to the members of Pussy Riot. Cue thunderous cheers and applause from an audience made up of what I'm guessing was London's entire art scene and the more respectable half of its music scene. I felt lucky to be there.
I also got to see some pretty amazing venues, the most dramatic by far being the Turbine Hall at the Tate Modern, which with its endless miles of runway and five story height feels like it was was made for fashion week . On the other end of the spectrum, I loved the intimate feeling at Amanda Wakeley's show, held in her gorgeous new two-storey flagship townhouse in Mayfair. Sleek and sophisticated, it's the opposite of the tacky nightmare I find at the Sanderson Hotel. Walking into the lobby feels like entering a bad mid-90s club in the Entertainment District I can't wait to get the hell out of there.
For the shows you don't have a ticket to, there's a huge screen set-up in the main courtyard of Somerset House that's live-streaming from the runway. But like everyone else, I'm too distracted with people-watching to notice.
New talent abounds.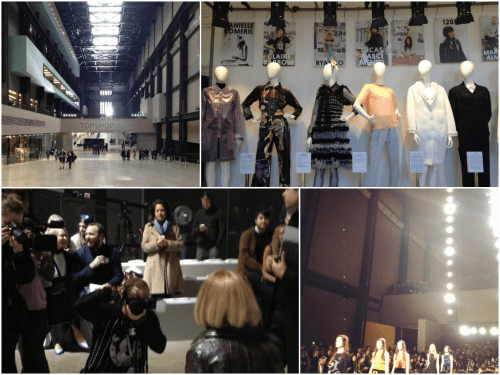 One thing I'll give the UK fashion industry a huge amount of credit for is the way they nurture their up-and-coming designers. There's Fashion East, a not-for-profit initiative that each season gives three young womenswear and menswear designers a chance to present a catwalk show at LFW, and exhibit their collection in Paris. Former recipients include Jonathan Saunders, House of Holland and Meadham Kirchoff.
Another instant career launch pad (if you can get it) is the NEWGEN program, funded by Topshop, which sponsors young designers at the beginning of their careers, providing them with guidance, financial backing and a venue for catwalk show at LFW. The genius of the scheme is that the same person can win it more than once, giving them a real opportunity to develop their look, make a name for themselves and gain a following in the industry. For aspiring designers who have the talent but not the exorbitant amount of money required to launch their lines, NEWGEN is a gateway to an international career, and probably explains why we see so much young design talent coming out of the UK these days. Why UK fashion always feels so fresh, so new, so now. It's a commendable initiative, and one the industry on our side of the pond could really take a hint from. Alexander McQueen, Matthew Williamson and Christopher Kane are all alumni. Anna Wintour sits front row at the NEWGEN shows (I'm within spitting distance of her bob!) and my heart smiles for the future of British fashion.
Crazy always wins.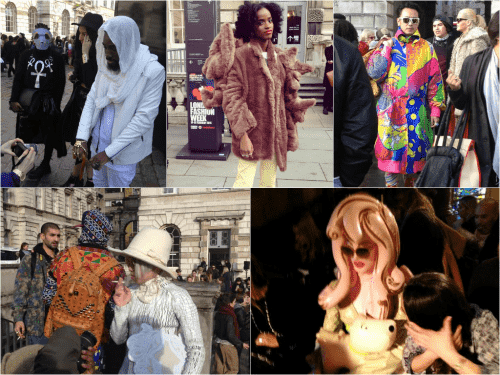 London is not known as the fashion capital of the world for nothing. Living here, I see it every day on the streets. This city has creativity coming out the yang, and literally anything goes. Now, get every well-dressed person in town together for what is essentially an everybody-taking-pictures-of-everybody five-day extravaganza, and you can see why it would take A LOT to stand out in this crowd. So how do people do it? They take things to the NEXT LEVEL. This is after all the home of Susie Bubble, one of the first and most outrageously-dressed fashion bloggers. There's the guy in six inch stiletto Louboutins wearing an inflatable face and carrying an inflatable dog. He sits front-row at all the shows and no one bats an eye. I mistakenly refer to him as a blogger and am quickly corrected by the twitterverse; "That's PANDEMONIUM, he's an artist, not a blogger." My bad. There's the older woman with a family of stuffed-animals adorning her hat, who also sits front-row, furiously sketching all the shows in brightly coloured chalk. I see My Little Pony bodysuits, fluoro-metallic cross-dressers and a guy with a really scary mask that will probably show up again in my nightmares. But there's something comforting, even inspiring, in the fact that no matter how crazy you look, the London fashion world will embrace you.
For the last day of the shows I decide as an experiment to "take the piss", as they say over here, and put together the most ridiculous outfit I can come up with. It consists of a calf-length tulle skirt, sparkly red loafers, frilly white socks, my Ontario sweater, and a varsity bomber jacket, topped off with a red velvet scrunchie. It's Back To The Future meets Heathers, I decide in my head. I do love all of these pieces, but when worn together the look could be considered a bit much. Nonetheless, in the spirit of things I decide to just go with it and see what happens. Perhaps I should've thought twice about this, because the next day I wake up to find my Insta feed full of photos of me, at fashion week, wearing a scrunchie. And I can never go back in time and take it off.
Check out the Fitzroy Boutique blog, shop online and follow Angela on Instagram.