Vancouver writer, producer, and director Monika Mitchell has a longstanding career in the film and TV industry. She recently directed episodes for the hit series Virgin River, and is currently working on Season 2 of Firefly Lane. I spoke to Monika about Brazen, the romance-thriller she directed, starring Alyssa Milano, that is based on the bestselling novel Brazen Virtue by Nora Roberts.
Nora Roberts is one of the world's all-time successful writers. Forbes estimates the American author's net worth at $410 million. For decades, her books have hogged the shelves at drugstores and airport gift shops. Before chatting with Monika, I had never read one, but was always curious about the appeal.
Before making Brazen, Mitchell admits that she had never cracked open a Nora Roberts book either, but once she did, she instantly understood her success.
While on a beach vacation, Mitchell packed a bag of books, most of them business books, but ended up only reading Brazen Virtue. "I loved it so much. I thought it was so clever, so insightful. The story was so gripping that I wound up reading Nora's book three times, and not reading any of the other books that I had brought. It was addictive," she tells me.
Her review was so glowing, that the following day, I braved a snow blizzard and ventured to my public library to borrow a copy (in my 42 years, it was the first time I ever found myself in the romance section).
I, too, devoured Brazen Virtue. Cozy in bed, with tea by my side, I spent a frigid Saturday getting lost in Norah's 1989 book. It was as Monika said: delightful escapism.
The story is titillating and fast-paced, but one of the reasons Monika also loved Brazen Virtue was because of the progressive protagonist. "Even though the book was from 1989, there's a lot in it that was refreshing: the independence of the main character, the main character being a woman… the lack of judgement of what would be perceived as sex work," explains Monika, who knew Alyssa Milano would be perfect for the starring role as Grace.
Grace has always had a close relationship with her older sister, but it is strained. As a hugely successful crime writer, fame and money has always come easy for Grace, whereas Kathleen teaches at the same high school she attended, and is rebuilding her life after a messy divorce. Summoned by her sister, Grace returns to Washington D.C. for a long overdue visit, but within a couple of days of her arrival, Kathleen is murdered, and her double life as webcam performer, known as Desiree, is revealed. Like Nora's page-turning book, the film weaves jealousy, romance, lust, and thrill into just about every scene.
Monika shares that one of the biggest challenges she and the team of writers had, was updating the story to fit the modern day. "At the time, it is a phone sex girl, in our movie, she's a webcam girl," says Monika. Other markers of 1989 in the book include way more smoking, landlines, and a noticeable ease in air travel (sigh, we miss that era).
While more submissive in Nora's novel, modern-day Desiree is a dominatrix, and her clients enjoy being disciplined by her. The set design for Desiree's secret S&M dungeon is notably fun. "I have to give 110% credit to Sean Kirkby, my production designer; he and his team went all the way down the rabbit hole," she says, sharing that whips were the chosen prop on set, because of the satisfying sound they make when you slap them.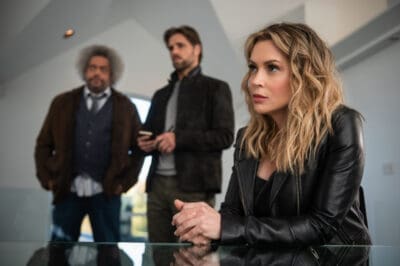 When I asked Monika about working with Alyssa Milano, she admitted that she never watched Who's The Boss? "I had really earthy crunchy parents and they barely let me watch television," says Monika. "For me, she [Alyssa Milano] was in my consciousness because of her role as an activist. Grace in the book is headstrong. She's determined. She says what she thinks regardless of whether it's going to be popular or not… she doesn't mind pissing people off. She's tenacious, like a dog with a bone. You think of the exact same things when you think of Alyssa Milano. I can't imagine anyone else as Grace," she says, adding "I'm glad I got to know her on this show. I feel privileged to know her now."
Shot in Vancouver, one of the best parts of Brazen is the exquisite scenery. "Two of the places in the world that are famous for cherry trees are Washington, D.C. and Vancouver. We were able to shoot right when the cherry trees were blooming. Even if I could have shot this anywhere in the whole wide world, I would have shot in Vancouver."
During the pandemic, we've all gravitated to different genres for escapism. Some of us have been pulled towards period pieces that take us hundreds of years into the past, others have found comfort in comedy, or true crime. With over 145 million books sold, Nora Roberts has figured out an infallible formula for escapism that people love; it makes sense that Netflix would flip one of her bestselling hits into a film, especially in an era when we're all desperate to take a break from real life. "If you want to escape, the pages of Nora Roberts is a place to do it. And I only say that because you've already seen the movie, otherwise, I would tell you the place to escape is the movie," Monika says with a smile. I did both.