Artist Project is returning to Toronto! The annual art fair is running from April 21 until Sunday, April 24 at the Queen Elizabeth Building at Exhibition Place.
200 independent Canadian artists will be showcasing their work at the gallery-style event, where visitors will have the chance to purchase artwork from the artists directly.
After adapting to pandemic restrictions last year by displaying virtual exhibits on their Instagram, the beloved art fair is back in-person.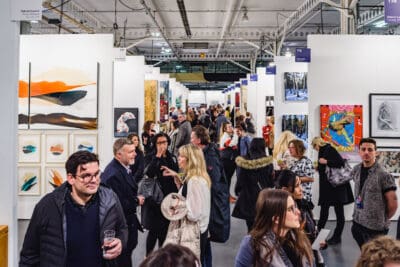 What's special about Artist Project is the personalized shopping experience they foster. Interaction between artists and viewers is encouraged — it's an opportunity to engage in conversations with local artists and learn about the story behind the artwork. Definitely more meaningful than clicking "add to cart."
"Our mission is to help represent and provide independent and contemporary artists with a professional platform to showcase and sell their work through unique installations and physical spaces," says Emma Fried, Exhibitor Relations Lead for Artist Project. "Art is instrumental in helping us navigate and understand our actions as citizens of the world. Ultimately, it is a reflection of our human experience."
As part of the mission to amplify the work of up-and-coming artists from across the country, eight artists ranging from collage artists to painters will compete in an Emerging Artists competition. Discover the talent of the next generation as they launch their careers!
Or if you're in the mood for a spectacle, Fashion Art Toronto will be putting on a fashion show at the event! Tonight, April 21, at 7pm, two emerging local designers will make their debut. Ayimach is a fashion brand that draws on Indigenous materials and colour palettes, while Meesh repurposes vintage fabrics for their designs.
Artist Project is a perfect chance to stroll amongst some stunning artwork while supporting emerging Canadian artists, no matter if you're a first-time art buyer or a seasoned art connoisseur.
Explore the featured artists and purchase tickets on Artist Project's website.