Every month, Eleanor Bothwell of Bothwell Farrington Design scours Craigslist for the latest listings to see what furniture or home decor items have great potential, either as pieces that can instantly refresh the look of a room, or pieces that with a little DIY love, can be easily transformed to suit your taste.
Thrifty and with a terrific eye, Eleanor's 'pulls' are affordable and will surely spark your creativity.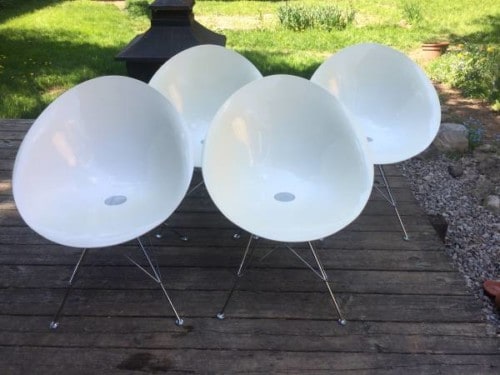 4 White Dining Chairs Attributed to Philippe Starck Ero|s| for Kartell – $400
They seem repro, but not bad for some outdoor furniture, or even indoor if you're so inclined. Easy to add to pretty much any style of room except French Provincial. Which, if that's what you're still going with and you don't live in Provence, you're going to need more than a few chairs to sort out…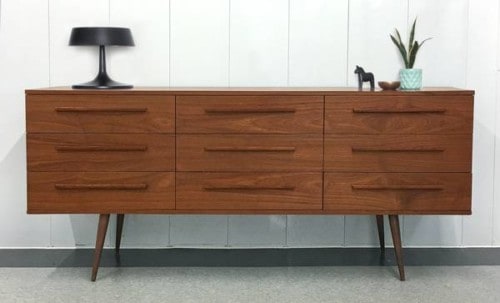 Can we first just point out how nicely this piece is staged? You don't get quality pieces like this at this price looking this cool very often, so 11/10 for curb appeal. This could be a fabulous addition to a bedroom set or dining area, maybe even a hallway console? It's not the cheapest piece we have ever featured, this is true, but it's still very competitively priced for MCM walnut and an excellent starting point if you're wanting to spend some money adding some more permanent pieces to the home collection. Just make sure you have coasters. Cause you KNOW Uncle Steve is going to put his drink on this and walk away.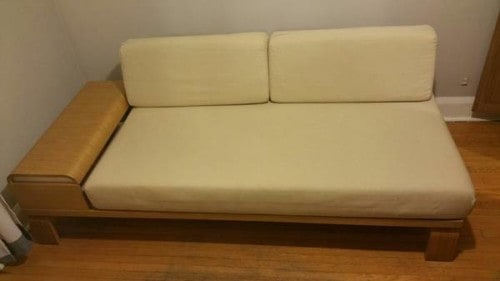 Love this with the bent wood arm rest and legs, but the arm rest also moves to become the pillow when you remove the back pillows to convert this into a bed. Good for a multifunctional room that needs to be an office by day but a potential someone's too festive to drive home crash pad/ snore escape locale. Would be easy to make or have covers made for the cushions too! A nice palm leaf print, perhaps?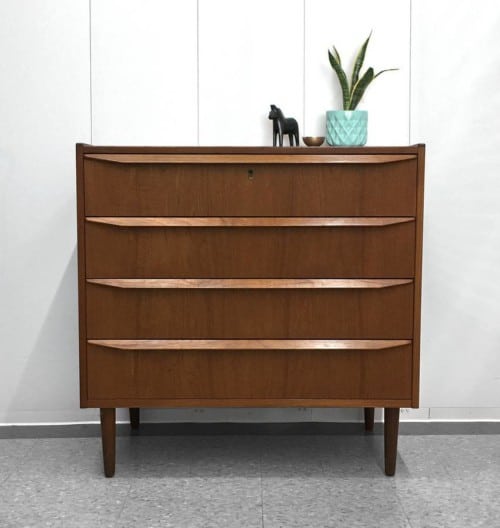 This is a genuine Scandinavian piece so you can't go wrong when it comes to quality and reputation. This could easily be in a bedroom or living room depending on your storage needs. And easy to vacuum under. Yes, I just wrote that.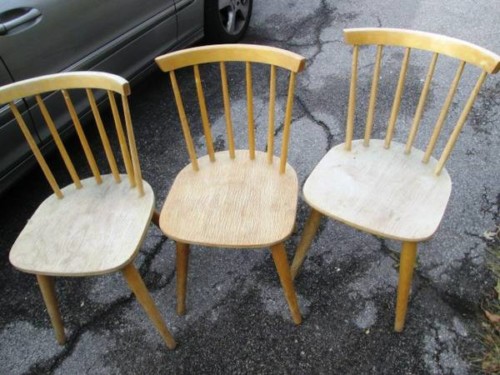 Need extra guest chairs? Got some extra red, orange or yellow paint? Maybe even some Scandi inspired light pink or mint paint to switch up the everyday home palette? The world is your DIY decor oyster, for $30. Uncle Steve can put his glasses all over these and who gives a shit about the rings? Wipe 'em right off your shiny upcycled chairs ans focus on more important things, like finding out who has been feeding the dog tinsel.