Flower crowns, sweet treats, and expert advice—what better way to get over a long hump day? Last Wednesay, Etsy hightailed it to Soho House to ring in their latest application: the affiliate program. The new tool gives bloggers a "blog shop" that directly links readers to featured Etsy products. By sharing a curated list on your website, you can even earn commission if a reader clicks through! Way to help out the little online guys, Etsy. Power to the people! The event brought in a bevy of Toronto bloggers and shop owners.
We were introduced to Jordan De Ruiter, a Canadian DIY and Etsy extraordinaire. She rocked her very own black and white animal print dress (not just the stripes or spots—the actual woodland critters) and led the flower headband tutorial like the pro she is. It could not be more simple…if you have the goods. And Jordan De Ruiter had the goods. The best thing she brought to the table was the crown's base: strong but bendable wire coated in green, with loops at the end for prime ribbon tying.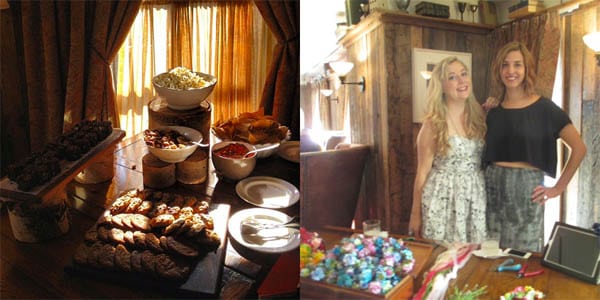 On our own, we did good. Tables were laden with flowers upon flowers. We got to work and everyone came out of it with stunning crowns that they can treasure for the rest of the summer season. Pop it into your brand new "I buy from real people" Etsy tote gift bag brimming with goodies, and you're on your way!
In Toronto, you can grab Jordan De Ruiter's (professionally made) crown and pretty dresses at both Coal Miner's Daughter locations and Bicyclette. And, of course, you can also buy her stuff online!