The mission of Soapbox Science is twofold—to promote women and non-binary scientists and their research, and to visit public spaces to share these discoveries— in ways that all will understand.
Dr. Sara Mazrouei is a planetary scientist and organizer for Soapbox Science Toronto, whose work has been featured in the New York Times and National Geographic. She's passionate about making science more accessible and inclusive, and is an advocate for women in STEM, which led to her involvement with Soapbox Science.
This weekend, the group will be part of a super cool pop-up at Evergreen Brickworks, hosted by Word on The Street. The scientists will be speaking about a ton of interesting topics: 4D-printing, water on Mars, and X-Ray vision, to name a few. We love how Soapbox Science is supporting women in STEM in a meaningful way, and making it easy and accessible for us all to learn about the mysteries of the universe.
Here's more from Sara about this weekend's pop-up event and the impact of using storytelling in science.
In short, what is Soapbox Science?
Soapbox Science is an unconventional outreach platform to promote women and non-binary scientists and the work that they do. With no PowerPoint or slides or lecture hall, the scientists engage the audience with their research by using small props. This is a great opportunity for folks to interact with a real-life scientist, learn about their research and discoveries and have their questions answered.
Why did you decide to get involved?
I had the opportunity to participate as a scientist at the 2018 Soapbox Science Toronto and I had a fantastic time talking about my science (lunar cratering) with people of all ages as they stopped at my Soapbox. One of my aspirations in life is to make science more accessible for everyone and I truly believe Soapbox Science is a great avenue for doing that—that's why I decided to get involved as part of the organizing committee this year.
What's happening this Saturday at Evergreen Brickworks?
Toronto's 6th Soapbox Science event is happening as part of Toronto's Word on The Street Festival. We will be celebrating women and non-binary researchers in STEM and are very excited to return to an in-person event after holding Soapbox Science online for the past two years. This event is free and no registration is required. Soapbox Science is happening between 12-3 pm.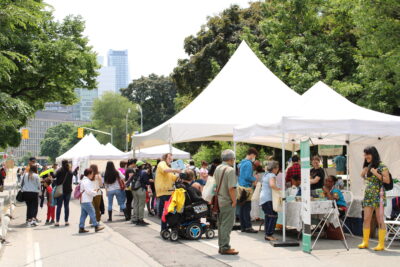 Can you share with us a favourite moment or connection that has come out of your involvement?
Almost all scientists love the research they do and are very passionate about it. Sometimes, when asked to share that research and excitement with folks outside of their discipline/ science, they think their work may not be interesting or fun for others to listen to. It has been incredible to work with this year's Soapbox Scientists and see their faces light up when they find a "hook" to engage anyone without necessarily a scientific background in their research.
What scientific issue is currently driving your work?
I currently work as an educational developer and a science communicator. My goal is to make science more accessible for everyone and create environments where everyone can engage with science, regardless of their age, gender, race, etc.
What's your best advice for parents wanting to nurture their child's interest in science?
All children are born curious and that is the core of science—foster that curiosity. There are many free events and opportunities for kids to get involved with science across the GTA, as well as reputable web resources. For example, local libraries, Science Literacy Week, and Soapbox Science!