When Jen said we were going to the "Dufferin Mall Fashion Show," I had no idea what to expect. I thought the catwalk was going to be in the mall, maybe by the food court. Then we started walking towards Queen Street. Then we went under a bridge. Then I asked Jen where we were going: "To some loft space in Liberty Village." It was all a bit confusing, but then I saw the light. And the glamazon models dressed in neon pink holding Dufferin Mall helium balloons. Like the trail of candy for Hansel and Gretal or whatever, they showed us the way.
When we walked in to the dimly lit venue (Locus 144), we were greeted by a lovely lady with a tray full of Dufferin Mall spring cocktails. Gorgeous people, endless hors d'oeuvres, trays of bright green drinks, and a long runway with bright green letters that read: "REALLY Runway." Really!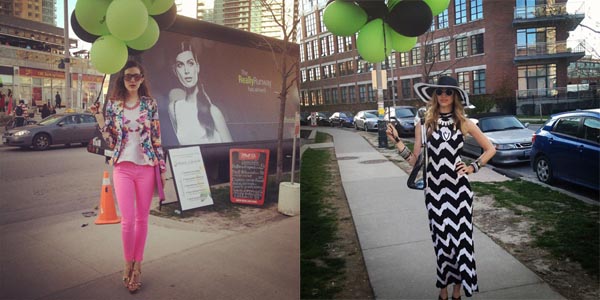 There was a mini fashion show that showcased spring's top five trends: black and white, mod, floral patterns, bright colours, and the daring crop top/maxi skirts combo. All the trends showcased were from stores in Dufferin Mall, and I have to say I was pleasantly surprised when I found out some of my favorite items were from affordable stores like Sirens and H&M. (Check the pics! All the looks were, like, under $200. HEAD-TO-TOE, yo!)
I left the show feeling fully confident in my spring trend knowledge; now I'm ready to revamp my wardrobe at the Dufferin Mall! First stop, Sirens for neon lightning leggings. Really.