mimiTENS are described as "very rad mittens and booties for kids," and we definitely agree with that statement.
Once you become a parent, you sometimes (often) ask yourself, "Who thought this was a good idea?" For me, it happens when I'm struggling to help my son put something on, and in a moment of frustration, I wonder if the person behind the design ever worked with children. Or while I'm watching some horrendous kids program, I question just about EVERYTHING to do with it, be it the storyline, the language or the violence. Or when I'm reading a kids book, I will think about how poorly structured it is.
The point is there are a lot of shitty products out their aimed at children, often positioned at their eye level, with bright colours and characters with big eyes. So when I come across something with a lot of thought behind it, I notice and appreciate it. As soon as I first picked up a pair of mimiTENS by Torontonian Anna-Maria Mountfort, I thought, "THESE MAKE SENSE." And they're adorable too.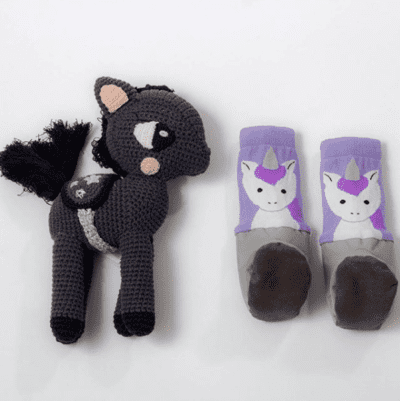 Dressing a toddler for winter can be a challenging exercise of patience. Keeping those winter layers on is the second level of difficulty. (You got them on, but will they stay on?) mimiTENS' cool designs (e.g., smiling dinosaurs or pensive unicorns) and elongated cotton/lycra cuffs that extend up soft little legs and arms make these mittens and booties very smart indeed.
Since those early days, Anna-Maria has allowed her creativity to flow and flow, adding to her portfolio Some of the Parts: a small accessories line that reacts to busy city lives. Hats, backpacks, neck-warmers, stroller sacks, and the original mimiTENS can all be found in the new east-end flagship, located at 1112 Queen Street East.
Beyond the clever clothing/accessories collection she's built, all of which are made in Canada, we love the personal messages, from parenting wisdom to politics, that Anna-Maria shares on both the @mimitens and @someoftheparts Instagram feeds.
SDTC: What was the job you had before you started your business?
AM: Before I started mimiTENS and Some of the Parts, I was the Regional Manager of Communications for Service Canada. My files were youth, homelessness and seniors. I also managed the translation unit. At the time, we had ninety-four Service Canada centres to help with their communications. I kept working in the government for the first few years of getting mimiTENS going.
Why did you start your business?
I got the idea in 2006 and pursued making a decent prototype for a few years. When I saw the prototype, I saw the potential and just could not let the opportunity pass. My inner desire to be creative was bigger than I thought.
What are you most proud of?
For better or for worse, I call the shots. I was approached by two venture caps, and my biggest vulnerability to them was the cost of making the mittens. So I am proud that I continue to manufacture in Canada.
I am also proud that mimiTENS has had such influence over the kids mittens category.
I am proud that I have never paid for press. I have never paid anyone to say they like or respect what I do.
I recently was awarded the patents for mimiTENS in Canada and the USA. That is huge and very rare for fashion or clothing.
The fact is that mimiTENS has taken me places I would have never imagined, and I am proud and grateful for the whole adventure.
What are your hot sellers for the holidays? Gift ideas that you're excited about?
We shall see what the hot sellers are. It is always a bit of a surprise. Having said that, the dino mittens and the unicorn mittens are crazy sellers.
I am really happy that my Some of the Parts bags are selling. People are loving the custom-made straps on them. I am going to launch a Some of the Parts backpack, and that is really exciting. People who have seen and tested the prototypes are freaking out.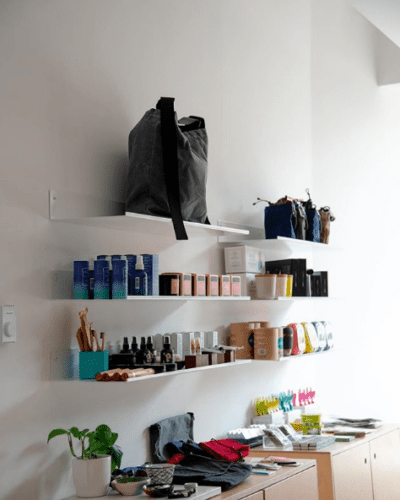 How has motherhood shaped your business?
First of all, there would be no mimiTENS if I hadn't had that moment realizing that kids mittens were disappointing. I was that mom who could not find mittens that stayed on my kid.
Motherhood has also shaped my ideas of success. When I worked for the government, I left for work at 6:45 a.m. I never saw my kids. They noticed, and it broke me. It is devastating when your three year old is surprised that you have time to spend with her. So for me, the opportunity to wake up my kids and pick them up from school was my success. It is very important to note that my husband has been so kind and supportive. So really, it is family and parenthood that have the biggest impact on the shape of our businesses.
What's a lesson you learned this past year that has helped you as an entrepreneur?
This has been a very up-and-down year. Some of it I have asked for, and some of it has been dealt to me. What I am learning is to try to manage my feelings and reactions. I need to get out there more. I have to trust my skills and the value of design to solve problems. So I am going to design wonderful things and stay ahead that way.
What's a holiday (or wintertime) tradition in your home that you've grown to love?
We go for a good walk in the woods on New Year's Day. I love that. We eat Chinese food out on Christmas Eve. I am just looking forward to being together.
I will bake a million cookies with my kids and hopefully catch up on reading or movies.
With Canada Post on strike, what's the best way someone can purchase holiday gifts from mimiTENS or Some Of The Parts?
Come see us at 1112 Queen Street East. We're open Wednesday to Sunday, but will likely be open more in December.