In honour of Etsy Made in Canada's fifth birthday, we're chatting with some of the awesome makers who specialize in one-of-a-kind craftsmanship and create products ranging from hand-cut paper cutting designs to leather goods and woven wall hangings (WE LOVE ALL OF IT).
For this instalment, we caught up with Amelia Houghton of BoundLove to learn more about her graphic design and paper creation company.
SDTC: Tell us what you make.
I make stationery goods like calendars, posters, greeting cards, art prints and custom pet portraits.
When and how did you discover your talent?
I've been taking art classes all through school, and I went to York/Sheridan for graphic design.
How does creating make you feel?
I love how relaxing and therapeutic painting the moons are; I can get lost and spend hours and hours painting them.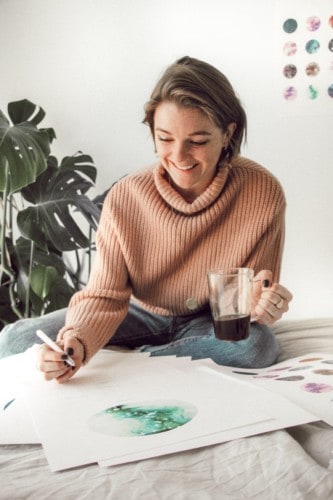 What are five objects in your home that you love?
My plants, my cat Juniper, my gallery wall of my favourite photos, my comfy couch, and my boyfriend!
Do you have any particular Etsy transactions/connections that have become a beloved story in your life?
I've had a lot of people ask for custom pet portraits to gift their friends who have recently lost their furry loved ones. I think it's really special making something for someone in their time of grief.
What discovery have you made, either personal or about crafting/humanity, since you joined the Etsy family?
I've learned that it takes long hours and hard work to have a successful shop! If you really love what you're doing, keep at it, and it will eventually pay off.
Is this your side hustle? Your main gig?
I work 9 to 5 four days of the week as an in-house graphic designer. I hope that eventually BoundLove will be my full time job, but until then, it's just a side hustle!