In honour of Etsy Made in Canada's fifth birthday, we're chatting with some of the awesome makers who specialize in one-of-a-kind craftsmanship and create products ranging from hand-cut paper cutting designs to leather goods and woven wall hangings (WE LOVE ALL OF IT).
For this instalment, we caught up with Sabrina Chin of Love at First Blush to find out more about her company, which has specialized in leather feature jewellery and leather statement cuffs since 2009.
SDTC: Tell us what you make.
SC: I make leather jewellery that is inspired by flora and fauna. Our signature piece is the Leather Feather Necklace, which is one of the first pieces I made for my Etsy shop back in 2009.
When and how did you discover your talent?
I've always loved creating things from my hands and working with colours. I went to school for fashion design, so I knew early on I wanted to be involved in a creative field.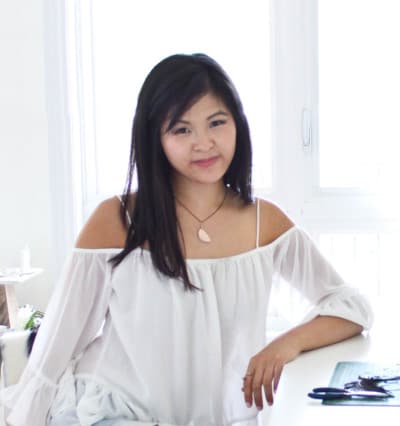 How does creating make you feel?
I feel deeply satisfied once I finish a piece I'm working on. The best feeling is when you can bring joy to a customer when they try on your pieces.
What are five objects in your home that you love?
My ceramic bear mug from Creations Li, an art print I recently bought from Santorini, my Hinkleville succulent planters, my hand tufted wool rug from West Elm, and my bed.
Do you have any particular Etsy transactions/connections that have become a beloved story in your life?
I customized a necklace for my sister for her birthday. I sent a drawing of my sister's little lovebird to MaryMaryHandmade, and she cut the piece out in silver. It was such a lovely personalized gift, and she was happily surprised.
What discovery have you made, either personal or about crafting/humanity, since you joined the Etsy family?
I love that the Etsy community has fostered a marketplace of unique expression and a chance to purchase from those artists. The Etsy Made in Canada show is one of the highlights of my year, as I get to connect with all of my customers in person and hang out with some of the most talented Etsy artists and designers in Toronto.
Is this your side hustle? Your main gig?
This is my full-time gig, and I love every minute of it.