We've teamed up with Etsy Canada to showcase some of our favourite local designers in a regular new feature called My Etsy Shop. Each month we will focus on vendors that fit a particular theme; February is all about looooove!  Whether it's romantic love, friend love or pet love, we want to celebrate it allll with these quirky cards from Sea & Lake Paper Company!
Sea & Lake is based in Toronto and run by Alicia Kelly & Christina Stanoulis.
SDTC: What do you make? 
AC & CS: Hand-lettered and illustrated greeting cards, journals, notepads, gift tags, art prints and mugs with quirky (imperfect) sentiments! We stay true to our personalities, so while you'll find stuff that is definitely out of the norm for most greeting cards, we keep our cards mostly respectable, with the occasional F bomb or poop emoji thrown in for good measure. Our products are us on paper, and no matter how busy we get, we still get super giddy every time someone actually wants to buy something we've put our hearts into.
SDTC: How has your business grown over the years? 
AC & CS: We've only just celebrated our first anniversary as a shop, but in this year we've worked our butts off creating constantly and participating in tons of local markets. In turn, our business has grown rapidly. We work as a team coming up with ideas for new products, and this coming year, we're planning to focus on expanding our current lines (more journals! more notepads! more mugs! and as always, more cards!), but we're also sourcing out a few new products with local manufacturers (hopefully tote bags will be coming soon!).
SDTC: What are your top sellers? Who is buying them? 
AC & CS: Our overwhelming bestseller at local markets is our "You're a Weirdo and I Like It." card. Online, it tends to vary quite a bit, but currently it's our "The Only Way I Could Love You More Is If You Were Pizza" and our "I Love You Butt Tons" cards. We sell to customers around the world, but the majority of our customers are Canadian, or from the US. Etsy Wholesale has also opened us up to a whole new market! You can find our cards in a selection of indepedent retailers in the United States and Canada.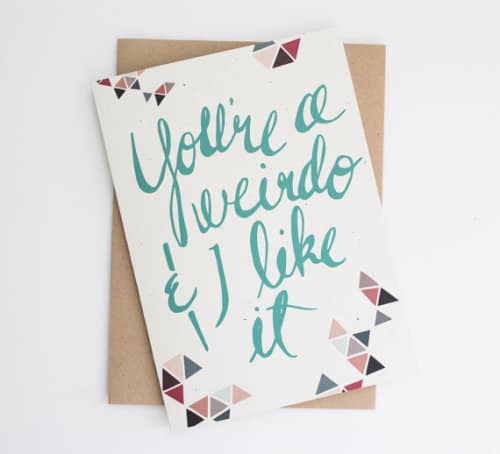 SDTC: What do you love most about being part of the Etsy community? 
AC & CS: Etsy has allowed us to start our own business, and be successful, two things we never thought would happen simultaneously! We're so grateful for the opportunities it has presented to us, and for the people it has enabled us to connect with. We never thought the silly things we say (mostly to each other) would resonate with so many people! Honestly, we didn't open our Etsy with the intention of it being a real business, we just thought we'd put up a couple of our designs and see what would happen. It's so amazing that Etsy has allowed us to turn our hobby into a full-time job. We also don't think we'd be as successful if it weren't for the wonderful community within the Etsy forums, we learned A LOT about operating our shop directly from other sellers, and we love it when we're able to return that favour!
SDTC: What would be your idea of a perfect date night in February? (Whether with a partner or friend) 
AC & CS: Well, if you've seen our shop, I think it's pretty obvious that we both really enjoy hibernating, especially in February. Inside, cuddling on the couch while marathoning our current favourite TV show, or playing a board game with a couple of drinks sounds pretty great to both of us.
SDTC: What is your favourite(s) love story film? 
AC: The Princess Bride.
CS: Definitely, Maybe (don't laugh at me please).