Fashion week kicked off with a lesson on how to use the f-word at Holt Renfrew. Read about this and Robin Kay's inability to use a toaster HERE
Later that night Kay took the mic hostage and slurred out the epic history of VIA RAIL. During the illogical rambling meltdown – Jeanne Beker began a mime show which we'd like to title "how do I escalate each twitch to seem more angry." Read about this HERE.
The Pink Tartan Spring collection was a shout out to valium popping sexed up 1960 housewives a la Betty Draper of Mad Men. MANGO was a sloppy parade of fall clothing that is already available in a mall near you.
Later that night we hung with Fefe Dobson at Spice Route and had a grand time pissing in their luxurious bathrooms.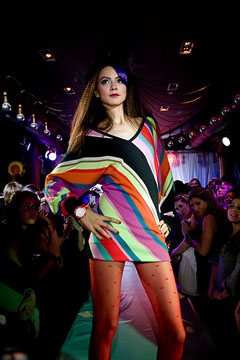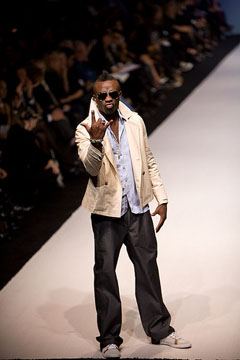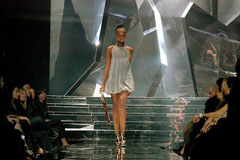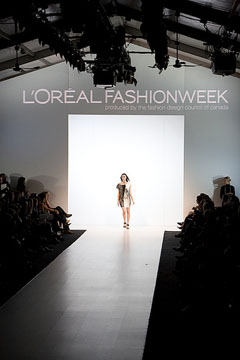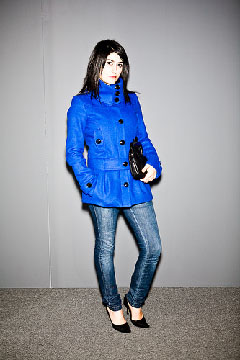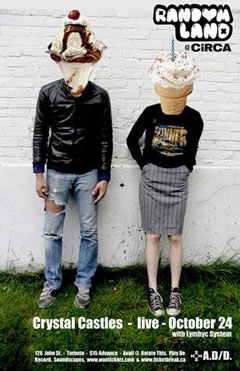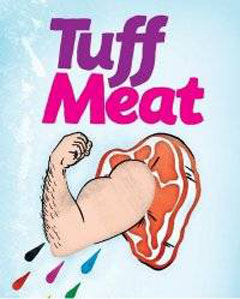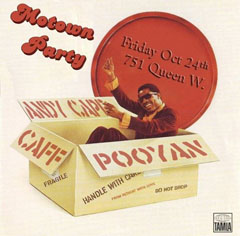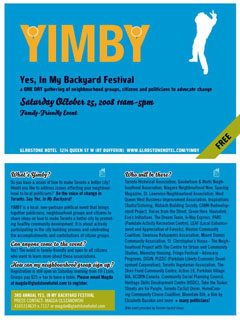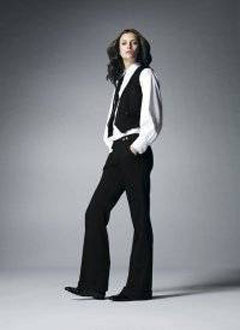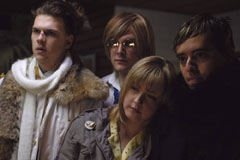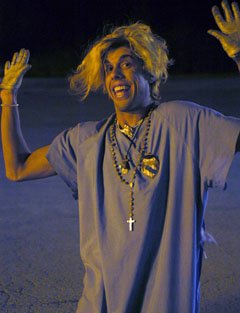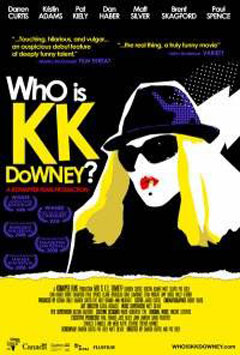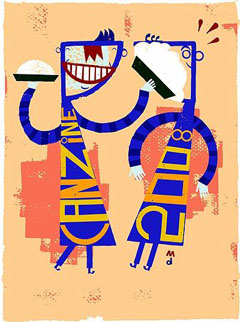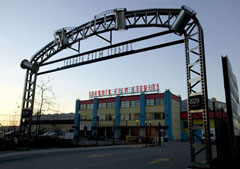 On Tuesday we caught up with Jessi Cruickshank at the Shedoesthecity bash, and she gave us her two cents on Hilary Duff.
However, it was the Evan Biddell blitz at the Borrough Lofts that took the strangest turn. We aren't sure whether guests were more excited to meet Biddell, his mom or simply badger the rat man. (Jesse Ship, photographer and journalist that released Toronto's most exciting dim sum rodent tale to date.) The vodka shot rat race got wild at 3AM when it was decided that fourth after party of the night need be found. Clearly, an address mix up occurred when after ringing the door bell of a Dundas and Bathurst house – a young man answered in his jammies. Apparently there was no official party happening in his home but he was keen to have one. Inviting three raucous strangers in, the night was capped off playing the fiddle on the bed of our welcoming host- and fiddle is not some perverse analogy, but in fact a violin.
If you aren't feeling like a fashion victim, here are some zingers to hit up:
FRIDAY
CRYSTAL CASTLES @ CiRCA
For a chance to win guest list for the Crystal Castles show tomorrow night at CiRCA, e-mail Matt Sims: matt@dopplehertz.com.
We have twenty spots on g-list but if you aren't in the first twenty to respond, we will get you on reduced list. This is a win-win Crystal Castle thrash thrash situation – so e-mail Matt.
Earlier this week we sat down with a cathedral pop band from London called WHITE LIES. Very young and playful, while interviewing them in the booth at the Rivoli, they rubbed their arms and hair all over the table like tactile alley cats. They are being likened to Joy Division, although were never even remote fans before forming. Anyhow – they did a really cool re-mix of Crystal Castles &ndash that would play the perfect back drop to a disturbing scene in Trainspotting. It's been too long since we've heard some new gritty dark beats that go well with wigging out in wet Glasgow lanes with dirty fish and chips. Purf.
Check it out: http://www.myspace.com/whitelies
SALACIOUS ART SHOW AT CUTEST BAR IN THE CITY- Margret
The Junction is hot and
Margret
is wet and open for your business. Seriously impressive interior that feels like
Sweaty Betty's
sexy cousin. This Friday, the
Tenderloin Gallery
(located in Margret's basement) is holding it's debut art show,
Skin Job
Billed as "an adventure into pop art and pornography." Go meet your new best friend Maggie.
2952 Dundas St. West
To read more: http://www.shedoesthecity.com/nightlife
TUFF MEAT @ Chelsea Room
A night of muscle flexing, knocking back pints with no bull.
Music you may hear: The Kills, The Ting Tings, NYPC, Datarock, Pixies, The Smiths, Kings of Leon, Hot Chip, Cut Copy, Santogold, Dandy Warholds, Shout Out Louds, Teenagers, Strokes, The Knife, Ladytron, The Postal Service, M.I.A.
Less indie, more mo?
Motown Party @ 751
Ike & Tina, Curtis Mayfield, James Brown, Percy Sledge and Sly & The Family Stone – fall in love all over again.
751 Queen St. West
SATURDAY
YIMBY
Feeling politically charged?
The third annual Yes In My Backyard (YIMBY) festival will be hosted by the Gladstone Hotel on Saturday October 25, 2008 from 11:00 a.m. to 5:00 p.m., connecting politicians, citizens and neighbourhood groups to make Toronto a better living space.
YIMBY is a one day festival that invites groups and residents to turn the tables on policy makers.
Founded in 2006 by Christina Zeidler, president of the Gladstone Hotel – YIMBY stemmed from her work with neighbourhood groups who were responding to widespread unchecked development in the Queen West triangle. She realized that many groups were unfairly labeled Not in My Backyard, when so often, they were the individuals who were networking, sharing information and ensuring people do not get left behind in the city building process.
For more information about this free public event, please visit the YIMBY website:
http://www.gladstonehotel.com/yimby/
Has Fashion Week left you feeling creatively inspired? Do you need some cloth?
PINK TARTAN FABRIC SALE
27 Bathurst
10 – 4
Check out our photos from the Pink Tartan 2009 show here
WHO IS KK DOWNEY??
While at Concordia University in 2000 – I met a crowd of guys who liked to talk about penis, poo, pubes, puke and porno. When I began to do my SOUND major they did FILM. While my destiny in sound dwindled fast, their talents were quickly recognized – and KIDNAPPER FILMS was formed. This Saturday will mark the Toronto premiere of Who is KK Downey?? A hilarious spoof comedy where a couple of half baked starving artists ditch their unsuccessful life work and decide to instead invent a celebrity to fool the world. KK Downey is a deranged Warhol mixed with loaded Lohan and a sprinkle of Napoleon Dynamite. The film will be playing at the Royal Cinema all week , starting Saturday at 7. Essentially – these guys are the Canadian version of Jackass &ndash but they get their beer from the Depanneur.
Check out the trailer on site:
www.shedoesthecity.com
Premieres in Toronto at the Royal Cinema at 7 PM and 9 PM – playing all week.
How many of you are in a desperate state to find a Halloween costume?
MOVIE WARDROBE SALE
Toronto Film Studios, 629 Eastern Ave
9:00 am – 4:00 pm (This Saturday)
Costumes plus bargain contemporary and vintage items.
$2
Hipsters head west, deconstructors of hip – head east.
"Deconstructing Hip" is a sociological investigation and cultural excavation, a romp into the lineage of hip culture from Ginsberg to Williamsburg, scene to mainstream, hepcats to hipsters.
Three artists joined me on Sunday night for wine and controlled conversation on the notion of the contemporary hipster and beyond. We yacked about American Apparel, Cory Kennedy, Opium, Romanticism, Bob Dylan and apathetic youth. Check back on site later today for the elaborate hipster report.
This art party will smack your senses sideways
RSVP REQUIRED – info@labspacestudio.com
(Guest List will be in Effect)
Cost: $10 after 9 PM
Labspace Studio
2A Pape Ave
Toronto, ON, M4M 2V6
info@labspacestudio.com
416-836-1516
www.labspacestudio.com
SUNDAY
THE LAST P.S. KENSINGTON BEFORE JACK FROST BITES US ALL ON THE ASS
The Theme: Halloween: Honouring our ancestors. Messages to departed loved ones, Halloween parade at dusk, lots of music and spooky surprises. 1-7pm (until 10pm on North Augusta).
Share messages with departed loved ones to be carried to the heavens, bang your head to local punk and hardcore at Kensington Rocks or sign up for the Halloween fashion contest (2-3pm) and strut your stuff on the runway at 5pm (Kensington Ave.), stick around for the Halloween parade at dusk, and go on a special journey where you will meet Papa Legba at the crossroads to the underworld. (okay you kooky Kensington hippies)
CANZINE @ THE GLADSTONE
Go for brunch and then hit up the Gladstone to peruse through tables and tables of angry girls and their angrier zines. We will be there to say hi and give you some candy and sex advice. Zines are way cooler than blogs.
1214 Queen St. West
1PM – 7PM
ALL WEEKEND LONG
Bang, f*ck, screw, shag, do it, hump, ram, romp, boink, boff, plough, bone, copulate, fornicate. Getting some action and getting laid. Wanna know more? Sex show is happening at the Direct Energy Centre this weekend. Expect pole dancing, a fake orgasm contest, an erotica fiesta and a dungeon. Local friends Oyster Boy, Aradia Fitness, Come As You Are and Good for Her will also be in the sex den. Go on a date and then bring the fair home. Tix are $25 – more info:toronto.everythingtodowithsex.com
Throw Like A Girl – theatre in a garage
Toronto art collective transforms a downtown garage into a performance space to explore new work that is experimental, feminist and immediate
THE GARAGE at Bathurst & College, Saturday and Sunday– 2:30PM, PWYC admission ($5 – $10 suggested), Doors open 30 minutes before each performance, Limited seating: to reserve in advance send an email to rsvpthegarage@gmail.com
THEATRE PRODUCTION – SOULLESS CONTEST
505 Productions Equity Co-op Presents
SOULLESS by Aaron Bushkowsky
Factory Theatre Studio, November 5th – 23rd 2008
Soulless is a poetic and darkly humorous piece questioning our worship of the almighty dollar.
"We have become so completely immersed by the external image and the way others perceive us, we have neglected and diseased our internal realities. The characters of Soulless are not unlike our neighbours, our friends, ourselves… struggling with the ethics of living in a big city." Kelly Straughan, Director.
I struggle with this every day. Or at least Sundays. Well, when hungover google photos of farm country.
To win two tickets, e-mail: contests@shedoesthecity.com subject line "I've got soul but I'm not a soldier" – and then get that KILLERS song in your head for six hours.