When I see a film like Little Orphans, I want to shout about it loudly to ensure as many people as possible check it out, especially Canadians—it's a homegrown cinematic gem.
Directed by Ruth Lawrence, Little Orphans takes place in St John's Newfoundland (where most of the cast and crew are from), and captures the tension and drama that lead up to Janet's wedding, the youngest of three sisters who reunite for the occasion.
Ruth was overjoyed to direct Little Orphans, her first feature film, for numerous reasons. She has known writer Emily Bridger (who also stars as Gwen) for many years, and had followed the script since its infancy, and was immediately hooked. Ruth also related to several of the themes in the story, as well as each of the sisters, even though they are all totally different from one another. "I'm from a family with three sisters and five brothers. There was a big crowd of us! But there was something about these three women, they had such similarities and yet their differences made them so far apart. It really intrigued me."
The sisters are close, but there is a palpable tension within the walls of their childhood home. "The really interesting story is the relationship they have with each other because it was so troubled. They'd been left at a young age by their mom and brought up by their uncle and aunt and really didn't have a sense of what a family was," says Ruth, who also credits the tension to the fact that the supremely talented actors are friends in real life, and work well together.
Like Ruth, I also connected with all three, but in very different ways.
From the get go, we quickly understand that drama and disasters follow Kay (Rhiannon Morgan) wherever she goes. She has a problem with drinking, which isn't hidden—everyone knows, but it's also accepted. Her alcoholism is shown and dealt with differently to the story we're used to seeing onscreen, which I appreciated (as both an audience member and alcoholic). "There is often such a push to create a villain when it comes to any story but in particular women stories. And I didn't want to vilify Kay, and neither did the writer." Everyone—both the audience and characters in the film—know that Kay will cause problems, but likewise there's a deep sense of empathy and love that surrounds her, and a testament to the writing, acting, and directing.
Gwen (Emily Bridger) is the sister who always has to pick up the mess that Kay leaves behind. Gwen is serious, but she's also forgiving. Returning home, from her new life in Toronto, she's confronted with lots of uncomfortable feelings. "When I look at Emily, there's that sense of being away, living away and feeling free of your past but then when you come back home, you are coming back to all those same things again. People hold you to your past. There's a pressure to be the person you were instead of being the person you want to be or are," says Ruth. Anyone who's ever left home, or even attended a high school reunion will know the feeling well.
And then there's young Janet (Marthe Bernard), the peacekeeper, who simply wants her wedding to go smoothly. She's not a princess with grandiose expectations, all she wants is a nice day that isn't riddled with complications. But that's not what happens.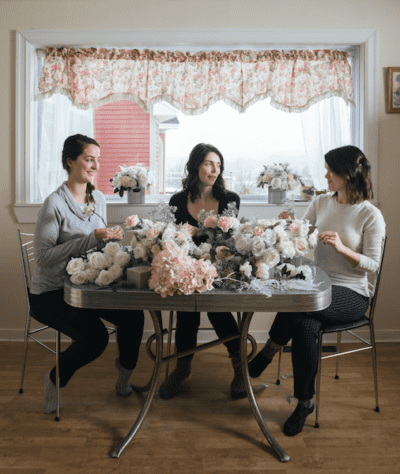 "I'm drawn to that uniqueness and yet universality of family stories," says Ruth, and there's something about this story that is very relatable, even if the family doesn't look at all like your own. We can all relate to the stress and strain that occurs when tumultuous relationships come together under one roof.
Beyond the backdrop of St. Johns, there is a mood that feels authentically east coast that pulls you in. At times, it was as if I was a wedding guest, immersed in the rowdy party overflowing with lively music."We are known as being party people," Ruth laughs. "Historically, I think that comes out of living difficult lives. Every piece of music in it was created by a Newfoundland artist. Music is such a part of our lives. Our houses are filled with music. Music is so vital for us—it's a life force."
From the riveting performances to the complex characters and soundtrack loaded with local musicians, Little Orphans is intimate and endearing. It also happens to be a completely women-led film, from the writing to the cinematography to the producers, which we love to see.
Little Orphans is now available to watch on VOD. You should definitely check it out.