If mosquitoes and sleeping bags aren't your jam, send the kids to a different kind of summer camp. At Rooks to Cooks culinary camps across the GTA, kids can hone their cooking chops with understanding instructors that accommodate their individual learning goals, AND they'll have a blast.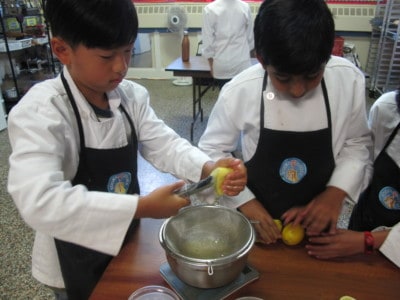 Geared to kids aged 4 and up, these hands-on, team-based camps will help your kiddos become more independent, both in and out of the kitchen. Through small group sizes, they'll meet new friends, socialize with other aspiring young chefs and learn to safely navigate a kitchen and handle food. Bonus: there's no need to pack a lunch or snacks as the kids will make all of their own meals at camp.
The best part is that at the end of the week, Rooks to Cooks transforms into a pop-up restaurant for family and friends. Campers run the entire show. From the chefs to the servers to the bartenders–they do it all. The camp emphasizes themes of healthy eating, and teaches students how to live a fulfilling, healthy life.
Register here.