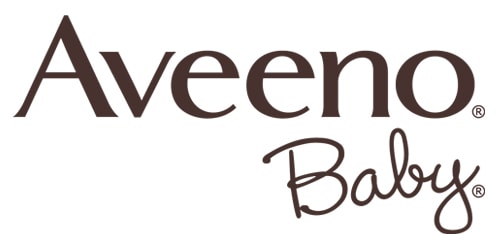 Before I had a baby, I never really appreciated how many steps there were to each and every task. Putting a baby in a car seat is not just putting a baby in a car seat, exiting the house can often take 30 minutes, and lunchtime often means that sweet potato puree explodes in 29 different directions. Like all daily rituals, bath time has its own set of challenges, but songs and splashes, and gently washing baby is a wonderful way to end each day.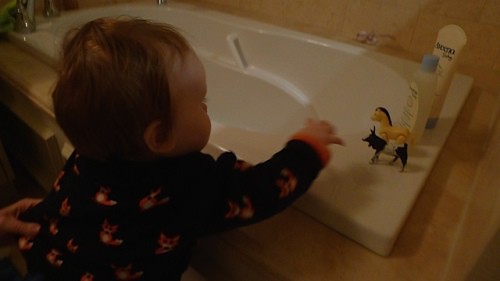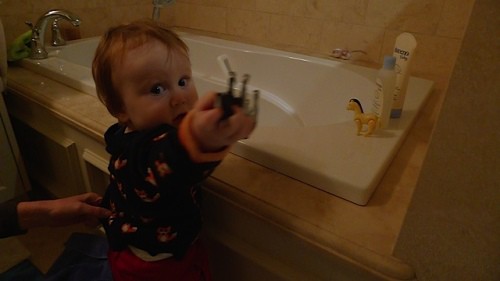 I was asked to test out AVEENO® Baby Wash & Shampoo and AVEENO® Baby Daily Lotion and share with you my thoughts on the product. However, since I've been using both since Baby Boo first arrived home from the hospital, there was nothing to test. Instead, I want to share with you the ever-evolving story of bath time. Every few weeks, as my son develops, bath time looks a bit different. The only constant has been AVEENO® Baby! Well that and his love of water.
The story of bath time. (Although all photos are from the other night.)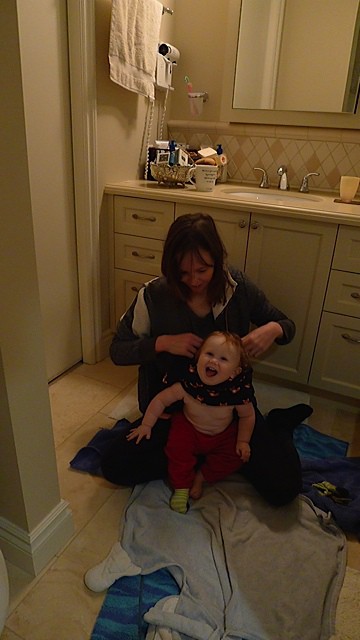 When Baby Boo first arrived home from the hospital, we were very nervous about giving him a bath. (Like, TERRIFIED.) Before filling the infant bath, we would cautiously arrange everything that we needed: fresh diaper, towels, wash, moisturizer, clean onesie; we even had a special thermometer to test the water temperature.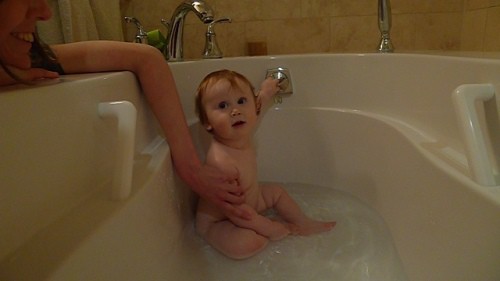 We knew that some newborns disliked being submerged in water, and got cold when removed from the bath. So, like nervous new parents we would put his towels in the dryer beforehand so that they were toasty warm for the big transition.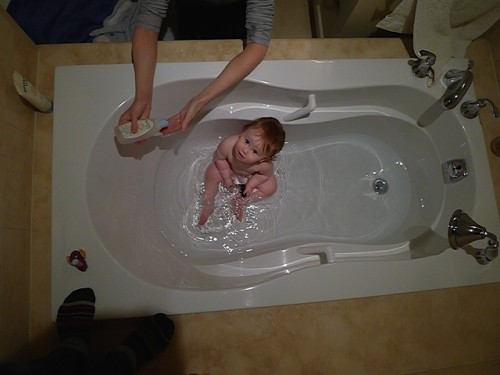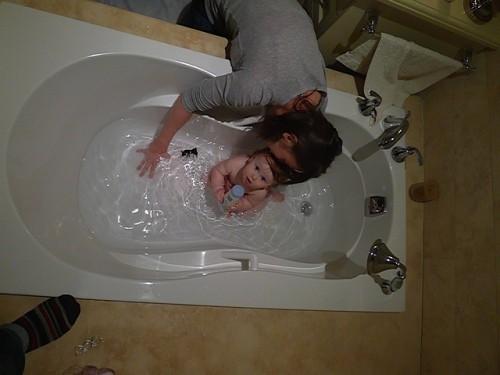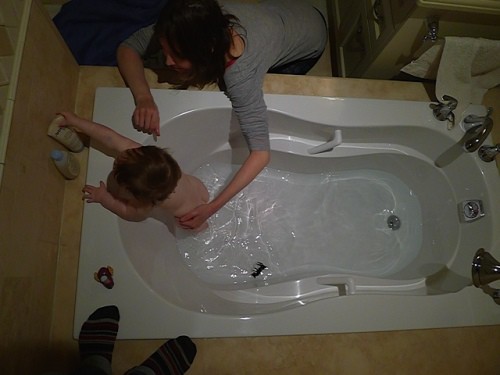 Since those early days last spring, we've hit countless stages. At around week 6, when everyone was a teensy bit more comfortable with bath time, we introduced a nice baby massage with moisturizer, once he was out and dry. At around 3 months, we got him a rubber duck to play with. (He mostly chewed it, still does.) I can't recall when he first noticed his reflection in the taps, but that has remained an exciting highlight of bath time ever since.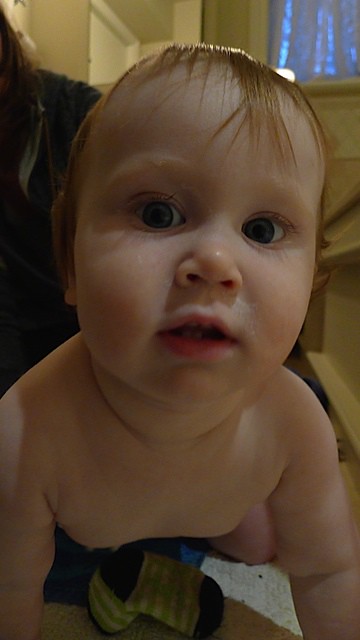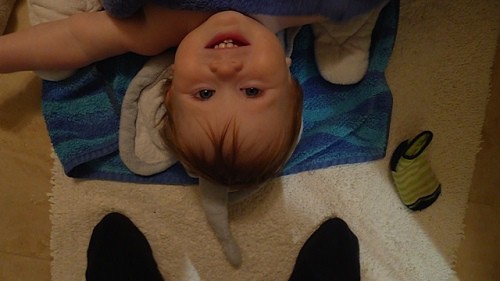 As Baby Boo grew, he noticed more and more fun bath time elements and activities; he began to watch as I filled the bath, he pointed at bubbles, kicked and splashed around. He enjoyed different sensations and laughed when water sprinkled on his little face. At 9 months, he started to pull himself up, so that he could take a good look at his bath water and plop a few toys in before I undressed him.
Now, bath time is much more active as he explores the washroom, excitedly pulling on the toilet paper roll, trying to open drawers, attempting to stick his hands into the toilet bowl and crawling at high speed out the door. While there are moments that are still relaxing, our bedtime routine has become a an increasingly physical exercise: me constantly chasing him, or holding him to ensure he doesn't slip when he stands up and tries to cruise around the bath tub.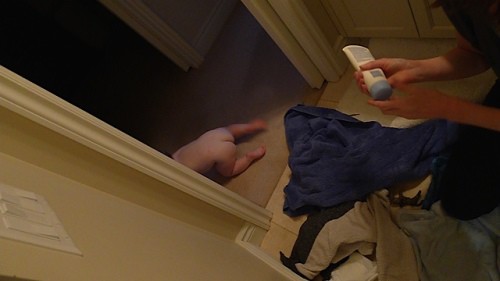 While bath time looks different with every few weeks that passed, one thing has remained the same: my trust with AVEENO® Baby Daily Care line of products. I've been using both the AVEENO® Baby Wash & Shampoo along with the AVEENO® Baby Daily Lotion since I first brought my little guy home from the hospital. The duo is the best natural choice for moms and perfect when used together for daily bath time. As a matter of fact, I've been using it for years to help with my eczema-prone skin. Knowing that my babe would likely have sensitive skin like me, I didn't want to experiment with unknown products. Instead, I wanted to use something that I knew would be gentle enough for newborns and irritant-free. The ACTIVE NATURALS® oat (with 5 active ingredients no less!) helps soothe and moisturize, and we're both big softies because of it.
For more product info, ratings and reviews, be sure to visit the AVEENO® website HERE!