With all the pretty soaps and beauty products lining the racks of every drugstore and department store, many of us who are first in line to buy organic local food don't think twice about purchasing mass produced lotions and potions.
We believe that's going to change in the future, and why wouldn't it?  When we are so careful about what we eat, why are we covering our bodies in mass-produced chemicals?  Luckily there are plenty of stylish, practical and local options out there to fill our bathroom shelves. Here are three of our favourite companies: 
Carriage 44 (pictured above)
Montreal-based husband and wife duo Oliver and Hannah Stenberg moved to Montreal on a whim after living in London, UK. Hannah, who is British, and Oliver, who is originally from Victoria, BC, started their line after discovering a gap in the market for beautiful and natural soaps and creams. With both coming from a design background, the packaging and presentation is beautiful (as one would expect) but what we really love is the creative scents. All scents are created using pure essential oils.  Most of the scents are single oils but some of their most popular soaps are an intriguing blend.These include No. 1 (their signature soap and a blend of bamboo charcoal, black pepper and ylang ylang), Mud, and Urban Garden. Many of their scents were created to appeal to both men and women, which is unique and welcoming.
Must try product: Mud Soap ($8.50)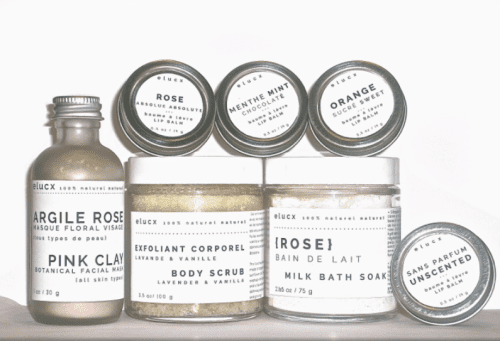 ELUCX 
Frustrated after searching for a non-chemical cream for her baby's troubled skin, ELUCX founder Duyen Nguyen created her own.  When the cream worked wonderfully for her own daughter, Duyen knew she had a good thing going and launched a line of natural skin care products, also based out of Montreal. All products are handcrafted in small batches to ensure freshness and quality, and each is formulated with a therapeutic purpose in mind. No artificial fillers or synthetic fragrances are allowed. Simply packaged and full of essential oils, her line not only looks fantastic but also is great for you with a list of ingredients good enough to eat.
Must try product: Miracle Balm ($25)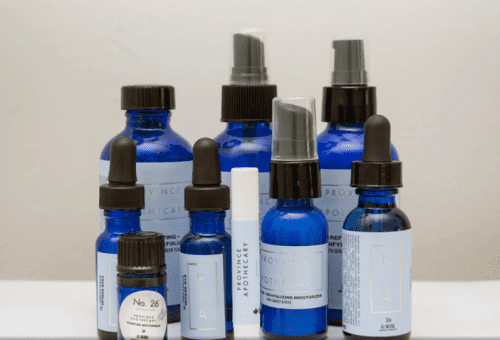 Province Apothecary 
Julie Clark started her skincare line as a means to translate her work as a Holistic Health Practitioner and Aromatherapist into skincare. Her background has allowed her to understand the properties of raw, organic resources and to use them effectively in her line, which works for even the most sensitive of skin.  She tries to source her raw materials from Canada's many provinces (hence the name), using, among other ingredients: algae from Nova Scotia, glacial clay from B.C. and maple syrup from Quebec. All products have been inspired by the needs of her clients including the Nourishing + Revitalizing Moisturizer which is an amazing combination of essential oils first developed for a friend who was going through chemotherapy. She even has a line of therapeutic roll-ons to introduce clients to the power of aromatherapy.  It's a perfect alternative for those who want to smell great but are allergic to the synthetic fragrances in commercial perfumes.
Must try product: Moisturizing Cleanser + Make Up Remover with Avocado & Raspberry $42