Have you ever been to an outdoor spin class? The fresh air, the sun rays stroking your face…it's exhilarating.
Last week, I was given the chance to try out the Outdoor Group Cycle class at CF Shops at Don Mills alongside some of my blogger pals. It was my very first time on a spin bike and I didn't know what to expect as cardio has never really been my thing.
Surprisingly, I made it through the entire class, and I felt elated AF for the rest of the afternoon. Who knew group cycle was this fun? I, for one, did not, but it's definitely something I would love to keep doing. Between the music, high energy and sore muscles (that's how you know it's working!) – I'm HOOKED.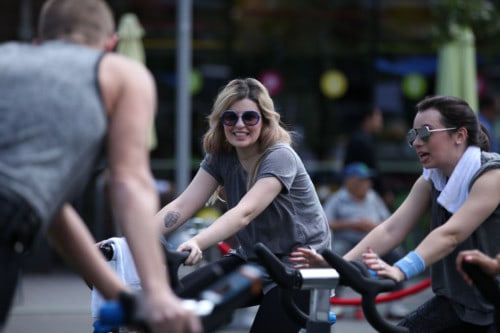 Unfortunately, I had to leave shortly after the class but came back this past weekend with my mama to explore the CF Shops at Don Mills a little further. We had a lovely lunch on the Taylor's Landing patio (the mac and cheese with brisket will BLOW your mind), followed by some light shopping (everything is on sale at Aritzia right now – you should seriously go) and a small but mighty grocery shop at McEwan Fine Foods (the artisanal chocolates melt in your mouth). I couldn't have asked for a sweeter day with mom, and it felt invigorating to spend an entire afternoon outdoors, which is something neither one of us gets to do often.
Sadly, we missed the yoga class because one of us slept in (me), but I will definitely be back; in fact, I can't think of a nicer way to spend a day in the city.
Wanna get active with me this summer? Here are the deets:
Outdoor Group Cycle (June 13th – August 31st)
Tuesday and Thursdays @ 9:30 am / 12:15 pm / 5:30 pm in the Town Square
$15 per 50 min class
Rain or shine
*Please bring your own running or spin shoes
Yoga (June 18 – September 3)
Sundays @ 10:30 am – 11:30 am in the Town Square
No admission fee
Shine only
*Please bring your own yoga mat
Sounds good, right? Register RIGHT NOW!
And be sure to share your sweaty adventures with us using @CFShopsDonMills and #cfshopsatdonmills. Trust me, you're going to love it.