It's near impossible to get away with cooking a great meal using just condiments and pantry foods. My brother's attempt at pasta sauce without tomatoes comes to mind (mayonnaise, ketchup and Sriracha does not a sauce make). But if you want to get away with making a seasonal, fruit-forward cocktail without any fresh produce, there is a way. The answer is jam. Especially if it's from Kitten & the Bear, my favourite jam artisans in Parkdale.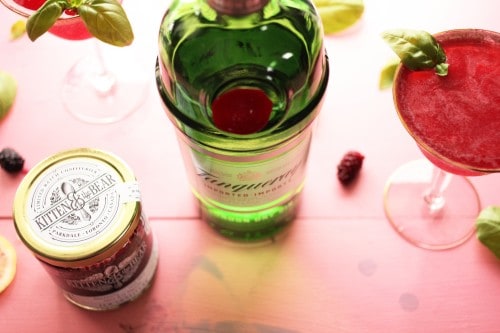 I made this cocktail using Tanqueray gin, honey simple syrup, blackberry and mint jam and – full disclosure – real lemon juice. I just can't bring myself to use lemon juice from a squeeze bottle, even if it's shaped like a lemon. The packaging doesn't fool me!
For a pantry cocktail, this concoction is actually quite regal. Tanqueray is the official gin of the Queen, and how British are jam and biscuits? Tanqueray is distilled with four botanicals that shine through and offer a complexity to this simple cocktail. Jam from Kitten & the Bear works the same way: its sweetness is subtle, with whole blackberries that are great for muddling. And the secondary mint flavour adds a herbaceous dimension without ever having to pick herbs from the garden.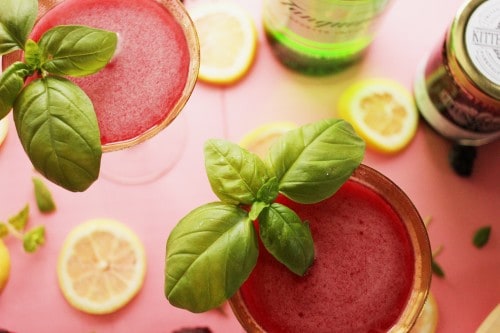 Method:
1 ½ oz of Tanqueray gin
½ oz of freshly squeezed lemon juice
½ oz of honey simple syrup (reduce ½ cup of honey with ½ cup of water on the stove)
1 heaping tablespoon of berry jam
top with soda
In a shaker filled with ice, combine all ingredients. Shake and strain into a coupe glass. I like my cocktails to be totally clean, so I double strain it to catch all the blackberry bits, but this is an optional step. If you've got soda, add a splash.
Jam is a great cocktail ingredient, especially for spontaneous summer hosting. Enjoy!