Musical Stage Company's 'UnCovered: Notes from the Heart' premiered last week and critics and audiences have been raving about the annual event's creative pivot to a virtual show.
It's a near-impossible feat to take the energy of a performance hall and try to recreate it for an at-home experience, but UnCovered: Notes from the Heart gives Canadians something deeply moving and memorable.
Over the past week, we've been featuring some of the big names behind this year's show. In the interview below, phenomenal vocalist Hailey Gillis, shares her excitement for UnCovered, and also opens up about how music has been helping her through COVID, and what it has been like to connect with audiences online.
'Uncovered: Notes from the Heart' – when you hear that title, what does it mean to you? What first comes to mind?
Something private, and true, and wondrous and unique. Having done these concerts live before, what strikes me most about the form is the creative team's openness to the artist interpreting the song, interpreting another artist's words and melody. Reza [Jacobs, Musical Director] often leads with "what are you hearing? Or feeling?". He always has a vision, and within that vision is room for other visions. That just blew me away the first time I was working on this concert.
Now, in this incarnation, we started imagining together but from a more isolated position and that's where the privacy comes from I think. A 'note' from my heart to yours, giving my quiet thoughts and musings flight so that they can meet yours, the audience. Also, song writing, in my experience, is a very personal endeavour and these incredible song writers that we as a team are able to give voice to were exploring the truth when they were writing. In my mind music/melody has a sort of magic quality, there are technical aspects yes, but when one can move past the math and allow the melody to carry the words, that combo to me is what strikes me with true childlike awe and wonder. Like, what is this magic?!?
This is the first year in our lifetimes where singing has been a forbidden act at school (due to COVID), how does that make you feel?
Oh wow, that's hard to stomach, but I totally understand the logic behind the rule.
I've done a lot of reading about times in history, and places in our world right now where music is outlawed, where dance is illegal, where self expression, where art, where culture is deliberately stifled. Because art is POWERFUL and the human voice is all at once so intimate and yet so revealing. This is a very hard, strange time, yes, but we still have music, we still have avenues to explore music and express ourselves.
I hope kids right now are listening voraciously to music, I hope when the masks and precautions become stressful they can put their earbuds in and listen to something that calms them, and excites them. I hope teachers are still using music as a tool in this way as well, and for themselves and their own hearts and minds. And then I really hope that when everyone gets home they open the door, or close their own and BELT OUT a tune. In my perfect world I'm imaging the whole city filled with singing at around 6pm, singing and dancing, and expelling, and expressing.
How has music helped you during the pandemic? How does it play a role in your home? (Are you always singing, do you listen to music, do. do you have any particular rituals?)
I find that music can immediately change my mental state. Even if it's not always to my taste (as are some radio hits right now – not to sound like a grump). Mostly, it aligns and inspires me, helps me breathe, helps me think. I find in this pandemic I have become much more exploratory in my listening. Rather than always going back to the old faithfuls, which I do often, I have been searching and opening myself up to as many new artists, new tracks, and new suggestions as I can. It's very inspiring to hear an artist trying something new, investing in their own unique style, or paying homage to artists' past. And so I have been ravenous for other's music, which has allowed me to invest in my own writing.
Contrary to what I've been exploring above, my writing ritual has been waking up to a morning of silence. No music, no news, no social media, just a nice cup of coffee, and some breakfast, and my home, and then I sit down to some dedicated writing/composing time. Just a side note to say I KNOW this silence is a luxury, my partner and I are expecting a baby in mid-December, and I know that that morning 'silence' time will mean something totally different. I'm preparing for that, and am OK with that, and I know it will be a beautiful, and hard, and worthy, big adjustment. Rituals change, rituals morph, personal rituals should ground and guide you and so the new rituals will reveal themselves I'm sure.
The winter ahead is making people anxious, how are you currently preparing for this time?
I'm really thinking about the winter as a time to hibernate. To store up on quality time, introspection, lots of food, and compassion, and writing, and reading, and wondering. But it's a very new time for me, and mostly it revolves around this little being that's going to enter my life really soon, and need me a lot. This time of pause feels to me like a gift to our new growing family. But I'm also not living in an instagram version of my own life (all ups and no downs), so I'm additionally preparing for feelings of helplessness, of isolation, of exhaustion, of feeling incredibly underprepared, of missing work and performing so much, of an adjusting body, and a shifting muddy brain, and, and, and…
How am I preparing for all this?… well I'm nesting like crazy right now (that's a real thing by the way and it hits you hard), so lots of organizing, and researching, and calling my midwife, and my agent, and my mother (three heavenly and very patient women in my life), many late night "what if" chats with my equally patient partner Mac, writing, teaching, pitching, sleeping, and a few 'coping' trips to IKEA (last time I just walked around for three hours, bought an ice cube tray, and a piece of pizza and went home much happier).
I do what I can, we do what we can. It's also been important for me to check in with those around me, near and far. I'll either go on a real live walk by the lake or walk with them down the street on a phone call. We all need each other so much right now and I don't want anyone to feel left behind, especially in this new chapter/season of our world in a pandemic. I think we can all find the new normal together but I don't think we can do it alone.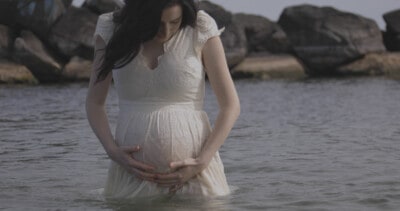 How has moving to online performances made you feel?
I miss the theatre so much, I miss sitting around a table in a rehearsal hall pouring over a scene, or standing around in a circle learning a new song. I miss the lights in the dressing rooms, and that sweet spot on stage where sound seems to carry forever. I miss the smell, I miss the camaraderie. SO I MISS LIVENESS. However, I also believe we are in a position with technology today that is really serving the live form. I know we are all 'zoomed out' but it has been pretty extraordinary to see how much can be accomplished over platforms like ZOOM.
I was a part of a couple workshops with Musical Stage these past months and the team was able to specify and work really diligently on two new musicals. Reza and I rehearsed online for Uncovered and were able to fully communicate in the way we had before, with inventiveness and agility. I've been teaching singing online and there are some hurdles but I can also work on targeted learning with the students in a way I didn't think was possible. And in many cases the audience base for theatres with online content has expanded, now the performances can be viewed from most parts of the world, that is pretty extraordinary. So of course it's not the same, I might go as far as to say it's not theatre at all, but the challenge has revealed some unique benefits and a new hybrid style of theatre/film that has the potential to be quite powerful and beneficial.
Why did you choose the song you chose – what does it say to you right now?
Well to be honest the team at Musical Stage chose the song and floated the idea to me, and because I trust them and their instincts so much I would have been happy with whatever they suggested. But when they told me they would like to explore Hallelujah by Leonard Cohen I was like, "Can I do that? Am I worthy of that song? And also, do we need another interpretation of that song?". And then Reza said… yes, yes, and yes, so we flew with it. I think – I KNOW that this is an extraordinary song, and one of Cohen's many gifts to the world, to the collective conscious. I felt like my job was to simply and without artifice, sing the song, let the lyrics lead, and find an emotional through-line within the melody. Ultimately allow the performance to be as organic as possible.
This song says to me right now; that life and living both exist in the sacred, and the profane. That the fluctuation of action and feeling between both of those things is what makes the days so full, the lows so hard, and the special moments so beautiful. That might sound vague but it feels really specific to me. I'm very lucky to have been able to swim around in this song for a while. I don't take that for granted.
***
The news headlines are hard right now, and we're all bracing ourselves for a second lockdown. A ticket to 'UnCovered: Notes from the Heart' will bring some much-needed music to lift you (or a loved one) from everyday pandemic life. Performances are running until December 6!