Andrea Scott is an unstoppable entrepreneur and a fifteen-year veteran of the skincare and beauty industry. She recently clinched the Veuve Clicquot Business Woman Award, which recognized her entrepreneurial spirit, innovation and strong leadership.
Andrea co-founded skoah, a membership-based, facial-only shop in Vancouver in 2001 and it has since grown to seventeen locations throughout Vancouver, Seattle, Boston and Calgary (coming to TO next year). She is on a mission to get people to work out their skin like they work out their bodies.
Walk us through a typical day in your life, from getting up to going to bed?
I love to be up before anyone else because as soon as the four kids and two dogs are up, it's noisy! I usually get up between 6 and 6:30 and have a double shot of espresso and check emails right away. I then take my two dogs for a trail run. Some mornings my oldest son plays hockey, so on those days we are up and out.
My husband is also my business partner, so we take turns going to work early or dropping the kids at school. Once at work, I always make a point to check in on those I work with. I like to gauge where everyone is at, not just from a workload perspective but also from an intuitive sense. I need to understand if they are enjoying their work, or what they need help with to move forward.
I have learned, from years of trying many different ways to stay productive, that I am best when I switch between tasks often. I also spend a ton of time each day on the phone. I like to pick up the phone and call people versus sending emails back and forth. So much gets lost in translation or wastefully goes back and forth waiting on responses. After 3-4 exchanges it's time for a quick call. Email gives us such a false sense of productivity.
I always work through my lunches because I often have to zip off to get to hockey, soccer, ballet or a school activity. And I like to make my kids dinner every night. Even if it's just sandwiches! But they love to help and I think teaching kids to make their own meals is important. It means I often have to catch up on things after the kids go to bed. I've also learned that it's usually better to leave the computer off and get it done first thing in the morning.
I live in a very tight community. Many of my best friends are people I have known since high school. And now our children are friends. So many evenings are spent at various friends' houses sharing dinner and of course wine!
If I am home, I love to catch up on Netflix. I love all of the documentaries. And I usually have about 3-4 series going at once. This helps me close off from the day so my brain can get ready for sleep.
What has been the most rewarding aspect of running your own business? Biggest challenge?
First, I have many people in our company who have grown immensely since starting here. I invest in people, not necessarily because of their experience or education. Sometimes it's a factor, but I believe most people are capable of what they believe themselves to be capable of. Sometimes it's just about creating those opportunities and giving some support and education. We generally have a "grow from within" mandate, which has created a culture whereby our crew are invested in our growth as it creates constant opportunities for themselves too.
Second, seeing customers have this new experience in their lives [is rewarding]. We only offer facials and we marry that experience with our proprietary product line, which has grown to over seventy SKUs. But we did not invent facials, nor did we invent skincare products. But we did create an extraordinary experience within this industry and currently there is no one doing exactly what we are doing: the monthly facial with a skoah Skin Care Trainer (estheticians) using our products. In a similar way Starbucks did this with coffee. They didn't invent coffee, but they did create a new experience with coffee. A more personalized, community-focused one.
The third most rewarding experience is franchising. I love creating an opportunity for people to become entrepreneurs. Yavanna Arnold, who is our North Vancouver franchisee, is an incredible entrepreneur. She is resourceful and inspiring and exceptionally naturally savvy. I love to see her evolve and succeed. It makes me so happy to watch her and proud to have her represent skoah.
Pete, who owns Boston, has a totally different background from Yavanna. He was a Yale Grad Lawyer turned skoah Boston owner. But like Yavanna, he has become an exceptional business owner. He has such an intuitive sense of his community, and a passion for Boston and for what we are all creating. I learn from every conversation he and I have. And we recently awarded a franchise to Sharon Landau, who will be opening in the GTA soon. I can't wait to bring on more franchisees who will help us grow and craft this company in a very personalized but united way.
The biggest challenge for us was when we first opened in Seattle. We were so naive! We opened several stores at once and had absolutely no personal network or community to tap into. We essentially banked on our success in Canada as translating into a new market. But Seattle is a unique community, a city where the local entrepreneur is highly respected and valued. We were behind the eight ball because we were not local. Plus, we had no sense of the people or community and were making guesses as to where our customers were. It just took so much longer to get our brand known.
Had I opened Seattle with a local owner like we did in Boston, things would have been so different. This was a tough thing to understand at first, but the benefit has been pivoting our growth plan into a franchise platform whereby local community-based entrepreneurs own their stores and realize success in their communities.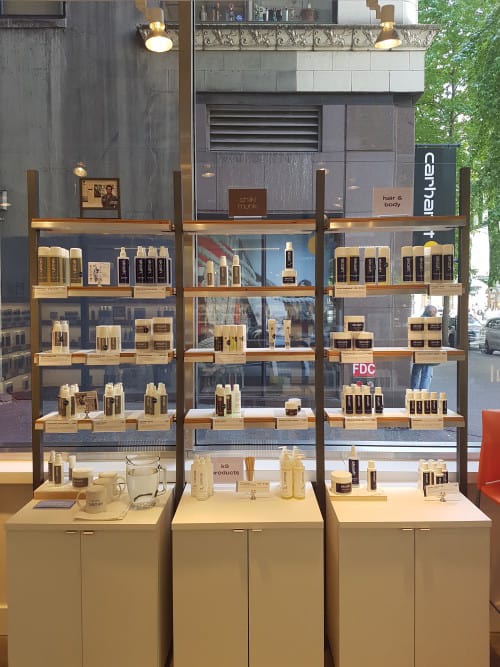 Any advice to those starting out in their own biz?
Listen. So often when we are unsure, our inclination is to talk and share what we know so as not to appear like we don't know. I've learned to become the opposite. I feel confident in what I do now and open to expressing what I don't. Most people love to teach us what they know. This is a real gift. Listen to understand and learn when afforded the opportunity. I also encourage young people to ask themselves, "Why not me?" Why can't you succeed? What is standing in your way? Is it a real thing or a fear? Is it an obstacle to be tackled or a real block? We are all just people, even the most successful people in the world. So why not you?
What can we expect to see from skoah when you expand to Toronto next year?
When it opens in Toronto, I believe those new to skoah will experience a truly empathetic and educational facial experience, one where you learn why and how to care of your skin and one where you feel positive and understood. I believe Toronto is a great market for skoah. It's been one of the most requested cities for a location. People in Toronto are smart consumers. We have many Toronto customers and they are so open and excited about us opening out there. They give us feedback and support and I believe it will be an important part of us becoming more well-known in the city. And Toronto has always been on my wishlist for skoah. I'm excited!