If you were blown away by our breathtaking series with Hallae, Kosi and Jessica, now's your chance to get in on the action. This fall, we'll be selecting three bold new subjects (all sizes and shapes are warmly encouraged) for their very own Womanizer (producers of the best orgasms we've ever had) x Scandaleuse Photography (ooh la la!) boudoir photography session!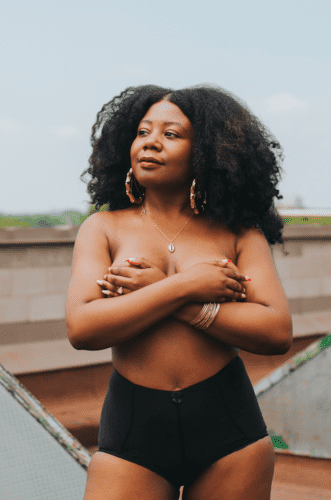 "I remember sitting on the floor in just a leotard and staring at the camera and having this moment where I felt so much more powerful than I had just a few moments earlier. Sometimes confidence is something that comes naturally, but sometimes we're thrust into situations that force us to uncork that confidence." ~Hallae
Think you've got it in you to show it all off? Your boudoir photography session will take place in the comfort of your own home, and we'll publish your gorgeous portrait alongside a feature story, sharing your secret to feeling good in your own skin, what you love about pleasure, and how your sexual desires, wants, needs, and overall confidence have transformed over time. Want to have fun, feel beautiful and inspire other womxn? If this sounds like something you'd be down for, email us short answers to the following:
Who are you?
How would you describe your sexuality?
When it comes to feeling good in your own skin, what advice would you give to your younger self?
What turns you on?
Got an IG channel we can check out?
Over the next two weeks, we will select a group of womxn to participate that we feel best showcases a variety of perspectives.
Send your responses to erotica@shedoesthecity.com by Friday, October 11.