How To Buy a Baby is a new comedy web series about a couple trying to make a baby, while struggling with their infertility issues (the "buy" part refers to the exorbitant fees it costs to undergo fertility treatments).
The web series comes from lawyer-turned-writer Wendy Litner, who first workshopped her pilot as part of Toronto's Women on Screen's Web Series Incubator program. She soon joined forces with producers Tanya Hoshi and Priscilla Galvez, and voila – the series was born.
Infertility is no laughing matter, but somehow Litner's wit and heartfelt honesty makes this series a modern day Mad About You, albeit with baby-making struggles. It's refreshing, smart and relatable. And we love that it features homegrown talent both on and off the screen (Meghan Heffern and Mathieu Bourassa star).
SDTC chatted with Litner, Galvez and Hoshi about the project, balancing fictional storytelling with truth and finding the humour in infertility.
SDTC: Tell us a little bit about yourselves.
WL: I was a lawyer on Bay Street for a few years but I always dreamed of becoming a writer and finally made the leap. Well, not quite! I write textbooks for a legal publishing company full-time and this shift from private practice has given me more spare time to pursue my own writing on the side. Before now I have been a personal essay writer, starting the blog SadintheCity and writing for such sites as The Huffington Post and xoJane. This is my first foray into script writing and I've enjoyed exploring my neurosis in a whole new medium!
TH: I am an associate producer at Mercury Films, a documentary production company in Toronto. I graduated from University of Toronto, where I studied cinema and then completed the Advanced Television and Film Program at Sheridan College, where I met my co-producer Priscilla Galvez.
PG: I am a producer and director based in Toronto. I met Tanya at Sheridan where she produced one of my first directorial projects. Since graduating from that program, I began a career in producing at the film and television production company Blue Ice Pictures. My ultimate goal is to produce and direct artist projects that focus on women's narratives and highlight contemporary female voices.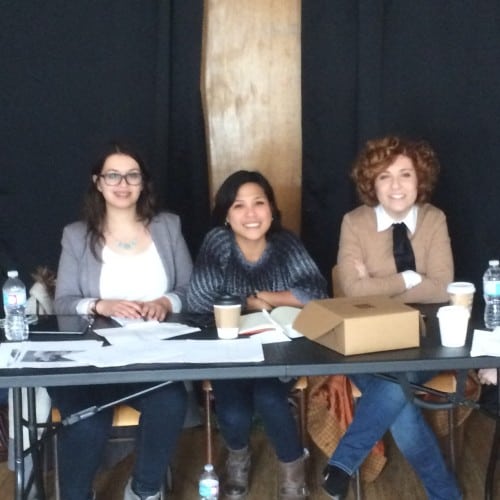 Can you share with us a little bit about your struggles with infertility?
WL: My husband and I hadn't been trying to have a baby the fun way for very long when we were diagnosed with infertility. We were told in no uncertain terms at our first doctor's appointment that our only chance of having a biological child together would be through IVF/ICSI, which is a costly and invasive procedure. This, unfortunately, hasn't been successful. We are moving on now to Plan D and are hopeful that some way, somehow, we'll eventually get to be parents together.
Tell us about the Women on Screen Web Series Incubator. How important was that in helping you with getting this project off the ground?
WL: The Women on Screen Incubator was to me what Judd Apatow was to Lena Dunham, except it's run by these incredibly talented and vibrant women, so WOSWI is even better! I feel so fortunate to have been selected for the Incubator, where I got to workshop the pilot script for How To Buy A Baby with a room full of brilliant female writers. These women provided invaluable feedback and support and were collectively louder than that little voice in my head that says shit like, "Who do you think you are, writing a web series!?" WOSWI also holds a showcase at the end of the Incubator where excerpts from our scripts are read by these incredible actors in front of an audience. Tanya and Priscilla were luckily at the event and I am so thankful they wanted to work on it with me.
What made you want to share your story?
WL: Statistically, everyone likely knows someone who has had difficulty having a baby, yet there still seems to be an overwhelming sense of shame talking about infertility. I certainly feel it, even though I know rationally that I haven't done anything wrong and it is a disease like any other. There have been so many strong women now that are sharing their experiences with infertility and their stories have helped me during some of my difficult moments in feeling like I am not alone in this painful journey to motherhood. I wanted to lend my voice to the cause too and find the threads of humour in infertility.
So obviously this series is partly autobiographical. Is it difficult to balance the fictional with the real stuff?
WL: It's difficult in that while I have written personal essays about my own struggles with, for example, depression and anxiety, but the story of my infertility is my husband's story too. I want to tell this story well and honestly but I also want to be sensitive to him and his privacy and be sure that I am protective of our marriage. He has been so incredibly wonderful and supportive and I want to provide him with the same support without him having to fear that what he says will end up in a script. While these characters are based on us, they have evolved into a new couple who is going through a similar challenge to ours, but not exactly, and are responding in different ways.
How has your experience been so far with the web series?
TH: It has been so overwhelming mainly due to how much positive feedback we've received from viewers. The infertility community has embraced the project and are excited to see more. We hope we can provide them with the entire series.
So you made the pilot. Now what?
PG: After witnessing the amazing response from the infertility community and audiences so far, we are starting to believe that there might be an appetite to see and experience this narrative in long format media. As a team, we have already begun discussing the possibility of developing the web series for TV or even a feature length film. The sky's the limit – so we will see where it can go!
Why should people tune in?
TH: How to Buy a Baby is a comedy series that can be enjoyed by everyone, as long as they are above the age of 18! It's about marriage and family, through the niche lens of infertility. It's a lighthearted series that will entertain people and make them laugh, while still educating them about a topic that isn't frequently spoken about.
What will people find the most interesting about infertility?
TH: That it's a billion dollar industry!