This past year, Shedoesthecity partnered with Special K to help spread the word about their inspiring #OwnIt campaign. In the days and weeks leading up to 2016, most of us will consider what goals we want to set for ourselves, and what changes we want to make in our life. While you're busy crafting your vision board or penning your resolutions, consider "More Doing. Less Doubting." And then think about that over and over again.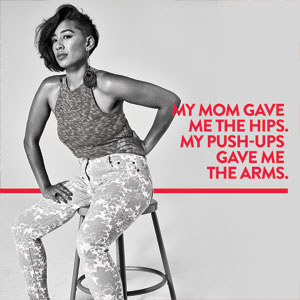 While it's easy to make excuses as to why we failed short on certain goals in 2015, it's often our inner critic to blame. You know, that negative voice that likes to chatter in your brain and tell you why you can't do something, why you suck, why you should be scared. Ugh, she's annoying.
In a recent Special K #OwnIt Body Confidence Survey, it was proven that this nagging little voice can really screw up a lot of things (good things like sex, your overdue promotion, or the way you feel when you see yourself in a mirror after a shower).
Here's how Ms. Doubt has been effing things up:
Missing out on love. 52% of women say they have skipped a date, a social function, or avoided physical intimacy due to lack of body confidence;
Silencing our aspirations. 24% of women have not applied for a job they're qualified for, or have not spoken up at work or in class, because of self-doubt; and
Slowing us down. 23% of women have avoided the gym or participating in sports, and another 23% have avoided dancing because self-doubt is holding them back.
Hmm. Here's what we have to say about that:
DANCE. LOVE YOUR BODY. ENJOY SEX. RAISE YOUR HAND. APPLY FOR THAT JOB. ASK FOR MORE MONEY. Stop listening to that little voice; she's not real and she's holding you back. #OWNIt in 2016 and good things will happen.
Here's to a 2016 of more doing, less doubting. Woman, be nice to yourself.
XO
Shedoesthecity & Special K