Sage Paul has been planning the second biennial Indigenous Fashion Week (IFWTO) for two and a half years. The show was all set to go in May, but the pandemic forced her to reimagine the event digitally. "It's like putting together a whole other festival!" says the artistic director. "Watching things online is a very different experience than in person, so we had to ask ourselves: how do we capture that essence of being at a live event?"
What Paul and team have ended up with is a powerful four-day lineup of short films (watch them for free!) that showcase the designers, and a stellar online marketplace where people can shop fashion, craft and textiles from 40 limited-edition Indigenous-made collections.
Paul's curiosity for fashion dates back to her early childhood. "I grew up in Native Housing in Toronto and our parents would always get kids together to do workshops that were culturally relevant to us," she says, sharing vivid memories of making regalia, and also a pair of skorts. "I wanted to have a pair of skorts! So I made them," she laughs. What Paul loved about fashion as a young child is still what drives her passion today: the coming together as a community.

While designers couldn't meet in person this year, the community was forced to come together more than ever in order to create a cohesive presentation from afar. Paul explains that the filming of the shows took place in August, and that trust and communication were key to pull it off: "I really want to do justice to the artists. They weren't with us here to do the film, so they entrusted us deeply to do good by their work. We want make sure we are presenting in a way that they feel proud. What makes us different from other fashion weeks is the grounding in community."
Each day of the fest will screen a different film with a variety of designers, and this year's event is centered on the theme of water. 'Tu Gh'eh Nah' (Water is Life), will explore protest for sovereignty, Tu Gh'el T'ilhn (Water Carriers) will celebrate women as water protectors. The films will show off the individuality of each designer, but also reveal how they connect back to the theme. In Tu Gh'eh Tl'e'th (Streams), Paul describes how the designers go deep to search the connections between rivers and their ancestors, "Those connections are like veins, this show feels really raw."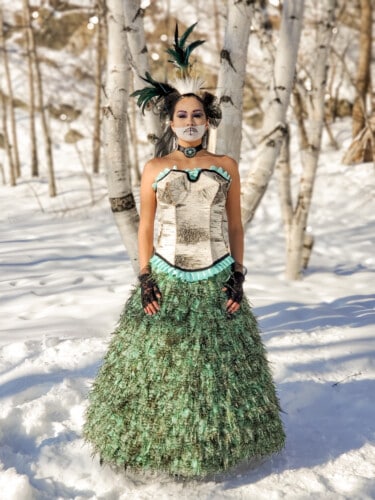 Audiences can look forward to strong collections from designers Lesley Hampton, Warren Steven Scott, Maru Creations, Skawennati, Mobilize Waskawewin, Miss Chief Rocka and more! Women's daywear, high fashion, avant garde as well as more traditional styles will all be showcased on the virtual runway.
Organizing Indigenous Fashion Week in a pandemic with a diverse group of designers hailing as far away as New Zealand has been an absolute challenge, or as Paul describes "a rollercoaster". But seeing it come together fills her with excitement and pride, "I feel a deep warmth in my chest, a deep sense of love and joy."