Vancouver-based Jessye Ashworth is the founder of Canadian-made agenda sleepwear brand Kinda. Her gorgeous sets and robes are the stuff of dreams; they're simple, modern shapes using ethically sourced fabrics that you'll want to change into as SOON as you get home. They're that good.
We asked her about the story behind Kinda, and what she's learned.
SDTC: So, how did you find yourself in the sleepwear design biz?
I kind of fell into Kinda. After graduating from Concordia with a degree in Film Studies and Art History I found it hard to get the kind of job I was after, or, more accurately, figure out what type of job I was after at all. I started working at Gravity Pope on Queen Street to pay the bills and met a lot of wonderful people there. I had never worked in retail before, but it made me interested in clothing design, and I learned a lot about what makes a piece stand out and work for the customer. I don't have formal design training, but I did complete a pattern drafting course at OCADU as well as multiple sewing courses at the work room in Parkdale, Toronto, where I was living at the time. In 2017 I moved to Vancouver and took a job at Neighbour in Gastown working on their sales floor and assisting photo shoots.
Moving back to Vancouver gave me the space I needed to conceive and start Kinda Sleepwear. I chose PJs over anything else because I liked that it didn't need to follow rigid seasons or trends. These are very personal items that can be loved for a long time.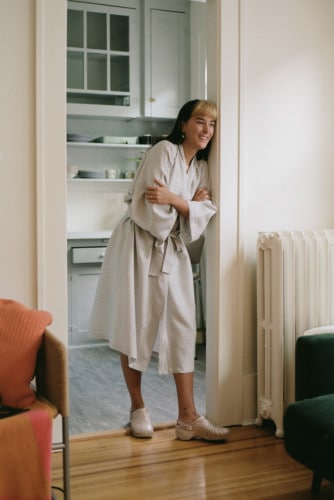 Why is decent sleepwear key to our overall well-being?
Well, I would definitely prioritize your 2.5 litres of water a day and as much sleep as possible over a good PJ set, but having one certainly doesn't hurt. I find having a full-length silk robe at home adds a bit of luxury to my day and is also incredibly useful. I love having a nice set of pyjamas for travelling, especially when I'm around other people, or for lounging around after work. There is nothing more essential than a good and comfortable set of PJs when you're sick.
What are you integrating when designing your pieces?
Thoughtful design and sustainability. I wear everything I produce and really stand by the comfort and quality of the product. All the pieces are locally made in Vancouver with high-quality designer run off fabrics in small-batch numbers.
What is your personal fave piece lately? What's your most popular seller?
The most popular seller is the Family Robe. It's a one-size robe with adjustable sleeves, so you don't have to get your cuffs wet when you need to rinse a dish or wash your face. I like the idea of lovers sharing it, or family members, with the robe moving from the back of one washroom door to the other. I wear the Billy Slip to bed every night because I like to be bottoms free, so that may be my personal favourite.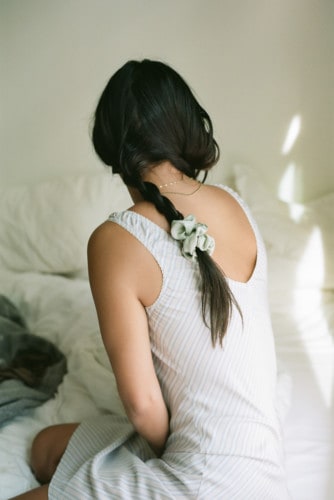 Walk us through a day in your life, from getting up until going to bed.
I have a different schedule every week between my part-time job at Neighbour, the costuming jobs I do, and working on Kinda, which is exactly how I like it. The only constant would be waking up in my Billy Slip, washing my face and then heading out with Daizy and my partner, Cam, to get a coffee. I spend a lot of time cooking and with friends.
Biggest challenge you've faced in getting Kinda off the ground?
Ohhh, there are many but I'll cop out and just say keeping myself motivated because I only have myself to push things forward.
Best part of running your own biz?
The collaborative aspects of the business are very rewarding. I love working with photographers and models and communicating with people about the line. It's really nice when some kind of creative collaboration gets involved.
Best career advice you've received?
I don't think I've gotten too much advice or maybe I just tuned it out? If anyone has some advice for me, please email info@kindalseepwear.com.