Over The Rainbow (101 Yorkville Ave.) has been my go-to boutique for back-to-school since junior high.This Thursday evening, to celebrate my longtime love affair with OTR, I've designed a mannequin and will be helping to host their Back-to-School Blogger Blowout!
Come swing by between 6pm and 9pm this Thursday, August 29 for snacks, refreshments, and shopping (15 percent off for one night only). The Over The Rainbow Style Panel will be there to help give you some fall fashion tips; plus, Casie Stewart, Julio Reyes from Fashion Nights, and I will be snapping pics of trendy shoppers and showing off our mannequins. Hey, you could win one of the outfits! Mine's a throwback to '90s grunge, you like?
Whether you're heading back to campus this September or just looking for some new pieces to add to your fall wardrobe, join us for snacks, refreshments, and shopping! Hudson Jeans, J Brand, Naked and Famous, Citizens of Humanity, 7 For All Mankind, and SO MANY MORE BRANDS YOU LOVE!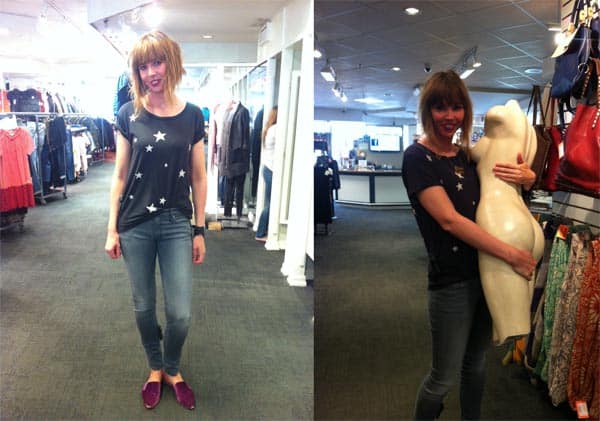 ENTER TO WIN!
To get a little BTS buzz going, we're giving away a $100 Over The Rainbow gift card on Twitter! For a chance to win, tweet "Dear @Shedoesthecity, I want to come to the @RainbowJeans416 party this Thurs! #OTRBTS"
Lastly, I would just like to say that my involvement in this is solid proof that YOU'RE NEVER TOO OLD TO GO BACK TO SCHOOL! 🙂
See you this Thursday!