"My mother has fantastic skin," says Christine Loureiro, Editor-in-Chief of The Kit. "It's virtually free of any sun spots or wrinkles. That and a big smile make her look at least 10 years younger than her true age. So although I have olive skin that bronzes nicely and rarely burns, I am no fool."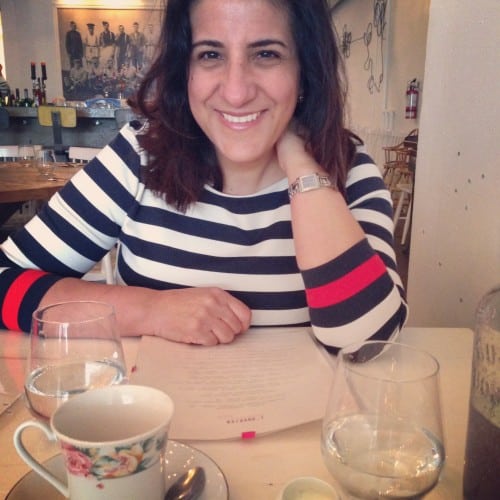 Loureiro knows pretty much everything there is to know about beauty. And as any cosmetics enthusiast will tell you, your summer makeup ritual is as much about keeping your skin safe as it is about keeping it beautiful. We asked Loureiro to share her five go-to products for keeping your face sun-safe from beach to patio to park-hangs to morning jogs.
"Even though I like a golden glow, I can fake it with make-up. Wearing SPF (and hats) lowers my chances of developing a skin cancer and boost my chances of looking like mom in 20ish years. Win-win. These products are in heavy rotation."
1.
SkinCeuticals Physical Fusion UV Defense SPF 50, $42, skinceuticals.com
I bought my first bottle at Gee Beauty, near Yonge and Roxborough, and have given several to family members who struggle with sensitive skin.
This is a lightweight fluid contains physical sunscreens titanium dioxide and zinc oxide, which protects skin by deflecting or blocking the sun's rays. I've used this for several years because it's not greasy and doesn't cause me to break out. Because it's tinted, on summer weekends it's the only "makeup" I wear.
2.
Smashbox Liquid halo HD Foundation Broad Spectrum SPF 15, $48.
On the other hand, sometimes I want to cover redness and dark circles. One of my brilliant writers always has luminous skin and credits this long-wear foundation in The Kit's recent One-Minute Miracles beauty awards issue.
3.
Fresh Sugar Lip Treatment SPF 15, $26, Sephora.ca
This is a tinted balm that punches above its weight. It's lightweight, smells great, has a slightly sweet taste and provides a little wash of colour. I use it in Berry.
4.
PC SPF50+ Kids' Sunscreen Lotion, Loblaws
For sun vacations or days spent outside, I like to wear a sunscreen with high SPF and without parabens, fragrance or PABA. I've always found kids' sunscreen a little less irritating than the adult versions.
5.
Clarins Sunscreen Stick for Sun-Sensitive Areas SPF30, $26, Sephora
Tube packaging and stick-sunscreen make this good for travel. The formula is non-greasy and contains moisturizing mango and shea butters and anti-aging vitamin E, making it just right for the lips, nose, under-eye area – any sensitive spot you want to protect with a product that's gentle yet powerful.