Kate Dickson and Sarah Hartkorn were both busy bankers on Bay Street before they launched
Primped
: a beauty app that allows Torontonians to get the beauty services they want, by local professionals, in the comfort of their own home.
After years of trying to balance a demanding career with scheduling appointments, Dickson and Harktorn felt there had to be a better solution for women who wanted routine beauty care, but we're struggling to find the time to book appointments. "We had super long hours and our schedules were always changing, so we found it difficult to fit in in our beauty and self-care because as many can appreciate, you're usually working around your salon/spa's schedules when making a booking rather than your own (ie. you take whatever appointment slot is available / whenever they can 'squeeze you in')," says Dickson. "We wanted a way to be able to book our beauty and self-care when we wanted it and in a location that was more convenient for us (home, the office) so we didn't have to worry about all the logistics of scheduling as well as getting to and from an appointment."
Promising "hassle-free beauty services"
Primped
has professionals lined up to help with hair, makeup, nails, eyelashes, eyebrows, and more. Once you download the app, you pick your service, you pick your date and time, request a pro, and Primped will connect you with the right person, and they will come to you! It's super easy.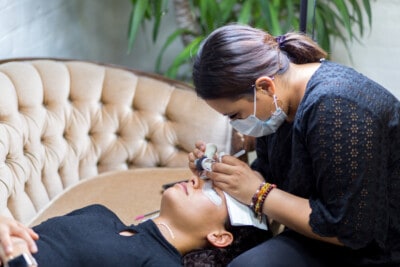 Since COVID hit, Primped has become a great alternative for those who are weary of travelling, or aren't quite ready to move into a salon space. "We're finding people are now using Primped as a way to lessen the amount of travel for their services as well as a way to come in contact with fewer people while receiving a service. If you think about a salon, there are a number of patrons and other professionals in your space that aren't contributing to your service," says Dickson. "With Primped, you limit your interaction to one – the professional completing the service."
Every professional is carefully vetted, and before working with any clients, their services are tested with a Primped team member to ensure a high standard of quality. Of course, all appointments are executed with COVID safety measures in place.
Even if you have nowhere to go, booking a service with Primped sounds like a really lovely way to pamper yourself.
Download the app today
, and select a service that will make you smile. Head to the App store or Google Play and look for the "P" in pink. Be sure to use
promo code SDTC15 to score $15 off
your first service.