Eighteen-year-old Kortni Kindree is motivated by a compulsion to help those around her; she's setting her sights on finding a cure for cancer.
One of five scholarship recipients of Tundra's Launchpad Project, Kindree will use her grant to attend U of T this fall to study biochemistry. "I especially gained a liking for the genetics portion of biology and the organic chemistry, which drew me towards the biochemistry field of post-secondary study," she says. "I find the intricate and advanced study of the cells on a molecular level so fascinating, as there is so much more to discover about our genetics and the cells, the smallest molecules which make up our whole existence."
We asked Kindree about what she's looking forward to, how she spends her days, and what advice has helped her along.
SDTC: What are you looking to explore within biochemistry?
KK: My dream career would be to study and do genetic research in chemical labs, while working with specimens and body cells in order to find a cure to cancer. I would love to use my passion and knowledge in order to find a cure for something so dear to my heart. There have been many people who I have watched suffer from horribly invasive forms, curable cancers, and rare forms of cancer and I wish to be the one to help end the suffering from this monstrous disease for human beings all around the world—for good! I would feel so honoured to use my passion to help others who may not be able to help themselves.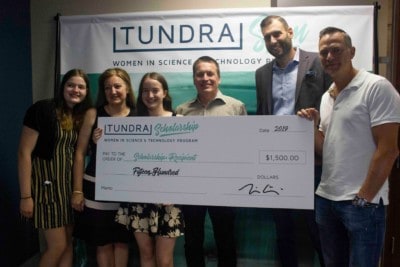 Walk us through a typical day in your life.
During the school year, my day begins when I wake up at 6 a.m., get dressed and ready for school and eat breakfast. I would leave my house at around 7:45 a.m. and drive myself and my younger sister to our school. I would go through my classes at school which consisted of all three sciences, math, calculus and vectors, religion, English, and dance (since I am a dance major), which were split over the course of a two-semester school year.
After I finished school, I would sometimes have dance rehearsals before I went home. After I got home, I would start my homework and eat dinner before leaving for an average of four hours of dance per night. This intense dance commitment allowed me to gain amazing time-management skills in order to maintain the top average in my school for all four years and always get all my homework and studying done when I got home from dance. Once I got home, I would shower, get ready for bed, and then finish homework and go to bed around 1 a.m.
What is the biggest challenge you've encountered in your life, and how did you get through it?
When I first became a competitive dancer at ten years old, I found it hard to manage my extra-curricular activities with school, especially as I was getting older and receiving more and more homework and assignments. As I struggled in the beginning, I was then able to learn time-management skills, where I would section off designated times for everything I had to do in a night in order to finish all schoolwork and studying that I needed to do.
Any plans for the rest of the summer?
Besides working at a local store, I am going on a family vacation to Florida and Disney World in mid-August!
What's your motto at the moment?
Success should never be measured by how much money you make but instead by how happy you are and how happy you are able to make others. Happiness should be the only value deemed able to measure success.
Best advice you've gotten? Worst advice you've gotten?
The best advice I've gotten would be to "not just get into cancer research because you want to help people; make sure it is actually what you are passionate about and stay true to yourself along the way."
The worst advice I've gotten is having older students tell me that I don't need to bother studying for a certain course because I'll pass anyway.
What does receiving this award mean to you personally?
This award means recognition for all of my continued hard work as a female in the STEM programs, and it gives me even further motivation to follow my dreams in the field. It also gives me validation that other women are behind the sciences and have the same goals and dreams as me. It is very honouring to be recognized by others who also support and recognize my passion for biochemistry.