For my first thirty years on this earth, I didn't exfoliate, wash my face regularly or take my makeup off. If I slept on my back and woke up with my makeup still intact, I found that exciting and not at all disgusting as it significantly cut down on my getting ready time.
Then I turned thirty-one and things started to go south. First my pores became a little more noticeable. Then I started getting rosy little spots around my nose. Next the texture below my eyes changed into something ever so slightly scale-y, but my mother assured me that I was only aging, and not in fact, turning into reptilian lady creature which was reassuring but also a little disappointing.
I knew it was time to start caring for my skin properly, so I began to research product lines and active anti-aging ingredients; that's when I discovered the CeraVe brand. I like that it's developed with ongoing consultations with dermatologists, and that ALL CeraVe products contain 3 essential ceramides and hydraulic acid. (My mom swears by this magical ingredient and looks like she's about 20 years younger than she is, so let's listen to her).
If you're like me and trying to establish a skincare regimen, let's start with these Skin Renewing products here: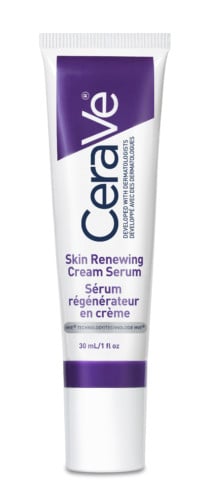 CeraVe Skin Renewing Cream Serum
contains an encapsulated retinol complex that works great for sensitive skin (LIKE, REALLY GREAT)
helps improve the look of fine lines and wrinkles while moisturizing like a boss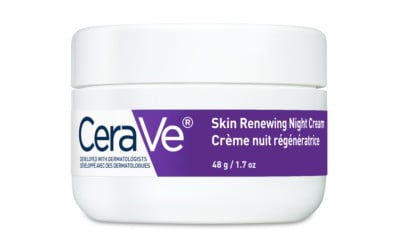 CeraVe Skin Renewing Night Cream
contains two biomimetic peptides that helps improve skin cell turnover and elasticity
works at night in synergy with skin's circadian rhythm, when skin is most receptive (ANOTHER REASON WHY YOU SHOULD GET A PROPER NIGHT'S SLEEP)
For opportunities to get free samples and skincare advice, check out CeraVe on Facebook (they have great dermatologist-led #DermWednesday Q&A sessions) or jump on over here for other skin care stories and learn more about the brand.
To ensure these products are right for you, always read and follow the label.
This post has been generously sponsored by Valeant Canada LP, the opinions and language are my own.