Mahsa Merci is a Toronto-based Iranian artist whose work has been exhibited worldwide including Hong Kong's Woaw Gallery, and The Other Art Fair in Los Angeles. We discovered Merci this past fall at the Toronto Art Fair; her dramatic busts drew lots of attention. Merci's first solo exhibition, Silent Stars, is currently on at Mayten's Project. The striking portrait series celebrates drag queens and explores themes of oppression and identity.
Growing up in Tehran, Merci was unable to express herself freely. "When I started to make art maybe around 10 years ago, I worked on gender identity, sexuality, and beauty. I was living in Iran and when some curators or galleries came to my studio, they told me I cannot show these works in the gallery because lots of my works were very sexual," says Merci, who hated being muzzled. "Art is like a river and I don't want to block it, I want to make time, give time to it, to find its own way."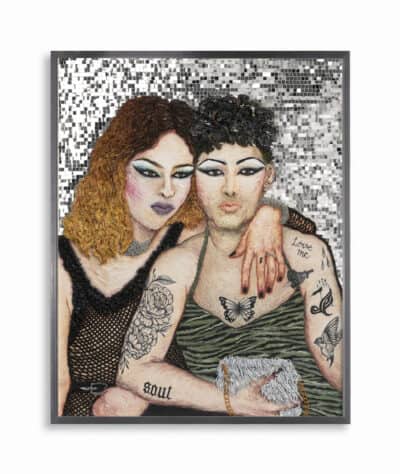 Despite being warned, Merci continued to make her art, and her art eventually led her to discover her own sexuality. "The day that I went to a psychologist and understood about my life, my body, my sexuality, and everything, it was… I don't know how to tell, it was a very strange moment," says Merci, describing the revelation when she finally understood that she was queer. "I went to my studio, I opened the door and I just looked at my works. And all of my works were talking to me. I was blind. I was deaf, I didn't see all of these things. And after I understood, I understood my work better."
In 2019, Merci moved to Winnipeg to study fine art at the University of Manitoba. The pieces exhibited in Silent Stars have all been created since arriving here. "In these two years, I was free. I was totally free. I didn't delete myself. After 29 years living in a country that's always thinking about limitation, suddenly, I was like, 'Is it real that I can do whatever I want?'. I couldn't believe that. But little by little I understood, yeah, Mahsa just go for it. You can do whatever you want and just don't think about it, just go and make it!" It was a game-changing turning point for the artist, who had always felt stifled and oppressed.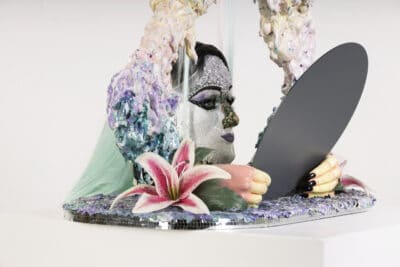 The portraits in Silent Stars range from human-sized sculptures to tactile paintings and video animation to show different aspects of gender, identity, sexuality, and beauty.
Merci examines the definition of male/female, softness/harshness, beauty/grotesque, and hidden/visible, wading into the in between spaces that most of us live in.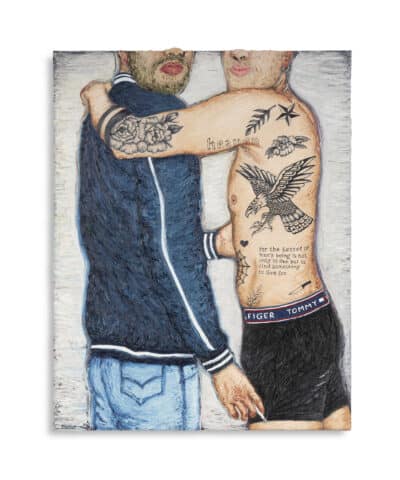 The subjects in the portraits are her friends and people she's met through social media. "We don't have any drag shows in Iran. If you are part of LGBTQ, it is very dangerous to live in Iran. You cannot come out. The biggest achievement I feel working in Canada, studying at the University of Manitoba, and having the solo show in Toronto is freedom." We're so happy she found it, and absolutely adore her work.
Silent Stars runs until January 15th. Mayten's Project is closed due to lockdown, but you can still schedule a private viewing. See their site for more info.