I have always been drawn to the monstrous. From the sexy, queer allegories known as vampires, to the call of the sirens, to the uncontrollable transformation of werewolves, to the misunderstood and maligned Gorgon Medusa, there's something that compels me about the rage and brutality and beauty and sharp teeth and claws of monsters.
Part of it, I'm sure, is because I grew up in the prime of Twilight and The Vampire Diaries, media properties that have made monsters even sexier. However, a bigger part of it is something deeper. Monsters have served as a metaphor and an allegory for the "others", and the misunderstood for so long, and I think that's one of the reasons I continue to be fascinated by them.
My goal, with this reading list, is to maybe make you a bit more fascinated by monsters too. But not just any monsters. The books I'm highlighting in this list are books that have made monsters from the marginalized. From the people and the communities that are so often "othered" and viewed as monsters in or on the edges of society, these books take things a bit more literally, and turn the tables. Reclaim the monstrous imagery. Channel their righteous rage and pain into something with teeth and claws and a little bit of magic.
From women with hunger and ambition, to survivors of trauma and violence, to queer and trans people, to children, these stories involve people who are so often relegated to the margins of society, showing us the ways they fight and claw and scratch and rage, in order to gain back some agency and subvert expectations.
This is a list of books about monsters — the ones we've made, and the ones that hide within us.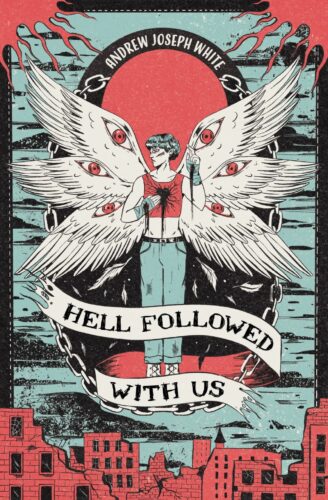 Hell Followed With Us – Andrew Joseph White
Andrew Joseph White's Hell Followed With Us is a beautifully written, moving, and deeply unsettling dystopian horror story. Brutal, gory, violent, and unsettling, it was unlike anything I'd ever read before. The book follows Benji, a sixteen-year-old trans boy on the run from the cult that raised him: A fundamentalist group that unleashed Armageddon, decimating the world's population. He's desperate and on the run, wanting to make sure the cult doesn't get its hands on him, or the bioweapon they infected him with. When he's cornered by some of the monsters that were born from the destruction, he's rescued by a group of teens from the local LGBTQ+ centre. As he starts to get to know this group, he also starts to fall for their leader, Nick, who's gorgeous, autistic, and a deadly shot. Nick also knows his darkest secret — the bioweapon he was infected with is also turning him into a monster deadly enough to end humanity once and for all. This book didn't shy away from gore and violence, but it also didn't shy away from the tenderness and beauty of found family, community, and rage against a world that's set against you, and people like you.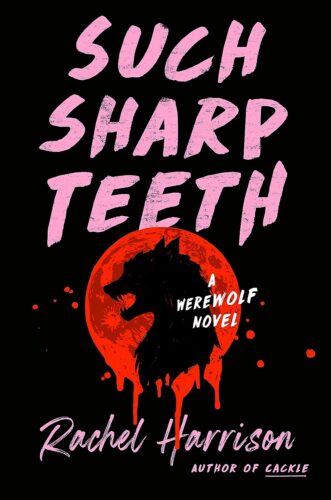 Such Sharp Teeth – Rachel Harrison
Rachel Harrison's Such Sharp Teeth is a fast-paced and stunning horror novel slash love story about a young woman named Rory, who isn't thrilled to be moving back to her hometown, even temporarily, to support her twin sister Scarlett during her pregnancy. After a night out at a bar where she runs into an old almost-flame, she hits a large animal with her car. When she gets out to investigate, she's attacked. Miraculously, she survives, but life begins to look and feel a bit different. She's unnaturally strong, has developed an aversion to silver, and suddenly she's under the moon's spell. She's changing into something else… something monstrous. Are these changes going to put those closest to her in danger? Or is embracing the wildness inside her the key to acceptance? This was a great story – full of rage, trauma, violence, and brutality. It's a powerful love story between sisters, mothers, friends, and lovers, and a meditation on the violence that shapes us, and the monsters it makes us. It was bloody and brilliant, though I'd definitely recommend checking out the content warnings before reading it!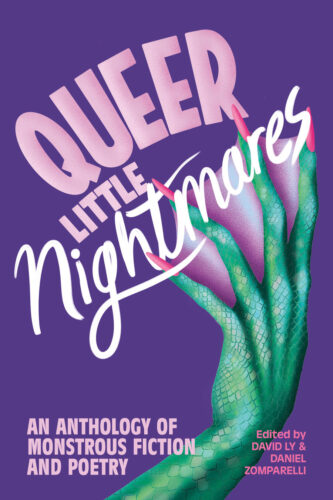 Queer Little Nightmares – Edited by David Ly & Daniel Zomparelli

I've spoken about David Ly and Daniel Zomparelli's collection Queer Little Nightmares a few times before, but I had to include it again on this list. This is an unputdownable collection of fiction and poetry reimagining monsters through a queer lens, subverting the horror gaze to celebrate the identities and ideas that have historically been feared in monster literature. Throughout history, monsters have appeared in pop culture to stand in for society's most marginalized. This collection includes works by authors including Amber Dawn, Kai Cheng Thom, jaye simpson, and more. The characters in the stories include a pubescent werewolf, a tender-hearted kaiju, a ghost of Pride past, and the Minotaur, camouflaged in a crowd of cosplayers.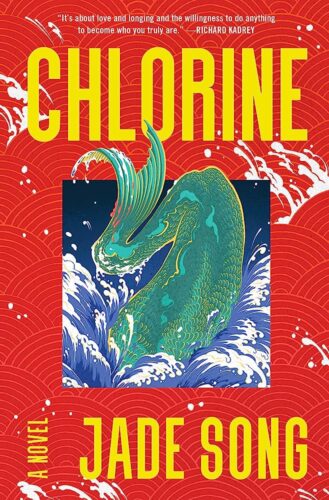 Chlorine – Jade Song
Jade Song's Chlorine is a dark, bloody, and grotesque story about queer love, friendship, and determination to succeed — no matter what the cost. This book blurs the line between a coming-of-age narrative and a dark, unsettling horror story. It focuses on the relentless pressures put on young women and their bodies, as well as the ways our desires can shape us (even literally). The story follows Ren Yu, a swimmer whose daily life starts and ends with the pool. Her teammates are her only friends, and her coach is her guiding light. If she swims well enough, she'll be scouted, get a scholarship, and go to college. But these are the concerns of those who are confined to land, with legs. Ren, however, is not one of those creatures. She grew up on stories of creatures of the deep, the ones that called sailors to their doom, the ones that dragged them down and drowned them. The ones she always longed to become: mermaids. Ren has always ached to be in the water. Dreaming of the scent of chlorine, and the feel of it on her skin. And she'll do anything she can to chase that feeling forever. No matter how much blood she has to spill to do so.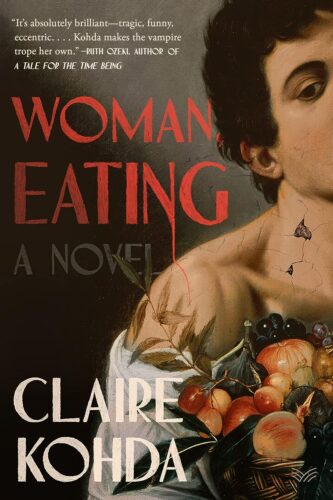 Woman, Eating – Claire Kohda
Claire Kohda's Woman, Eating explores the complexity of women's appetites, in a character-driven story of a young vampire, trying to find her way. She's just graduated, and she's trying to figure out who she is, while also trying to avoid her abusive and manipulative mother. As she develops, both as a woman and an artist, she learns she must reconcile the conflicts within her, between her demon and human side. But here's the thing… Lydia is hungry. She's hungry all the time. She's always wanted to try Japanese food, and is obsessed with YouTube videos of people eating, but she can't eat "real food", and sourcing fresh pigs' blood is much harder than she'd anticipated. Plus, there are also the humans — the ones she works with, the ones who have become her friends, the ones she's developing feelings for. The ones she knows are her natural prey, but she just can't bring herself to feed on them. But she's just so hungry.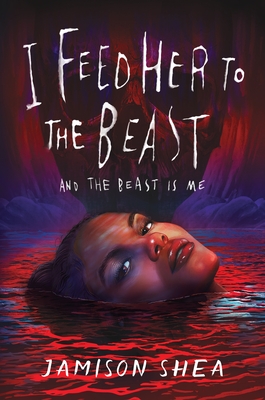 I Feed Her to the Beast and the Beast Is Me – Jamison Shea
Jamison Shea's debut I Feed Her to the Beast and the Beast Is Me is a dark "villain origin story" about a ballerina named Laure, who is a perfectionist with an axe to grind. Despite being constantly overlooked in the cutthroat, elite, and exclusionary world of the Parisian ballet, she will do whatever she can to prove that a Black girl can take center stage. So, to level the playing field, Laure ventures deep into the Catacombs and strikes a deal with a pulsating river of blood. This primordial power granted to Laure gives her influence, power, and adoration… all she's dreamt of and worked towards. With retribution on her mind, she starts to surpass her bitter and privileged peers, leaving broken bodies behind her on her climb to the top. But Laure soon discovers that she's not the only monster around. As her vicious desires begin to escalate, she starts to descend into madness, and into the underworld beneath her, she is faced with the ultimate choice: to either continue to lose parts of herself, and break herself for scraps of validation, or to succumb to the darkness, which wants her as she is: claws and all. That is, if the god-killer doesn't catch her first.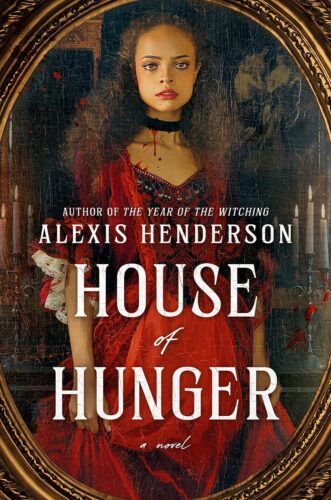 House of Hunger – Alexis Henderson
Alexis Henderson's House of Hunger is a dark gothic horror fantasy about a young woman who is drawn to the upper echelons of a society where blood is power. Marion Shaw has been raised in the slums, and deprivation and want is all she's known. She longs to leave the city and its miseries, but poor and without opportunity, she has no real hope to escape. That is until the day she spots a peculiar listing in the newspaper, an ad seeking a bloodmaid. Although she knows very little about the far north where wealthy nobles live in luxury and drink the blood of those in service, Marion applies for the job. In a matter of days, she finds herself the newest bloodmaid at the notorious House of Hunger. There, she is soon swept up into a world of dark debauchery, and at the center of it all? The enigmatic Countess Lisavet. Lisavet presides over the hedonistic court, and is loved and feared in equal measure, and she's taken a special interest in Marion. Lisavet is magnetic, and Marion is eager to please her new mistress. But when her fellow bloodmaids start to go missing in the night, Marion is soon thrust into a vicious and potentially deadly game of cat and mouse.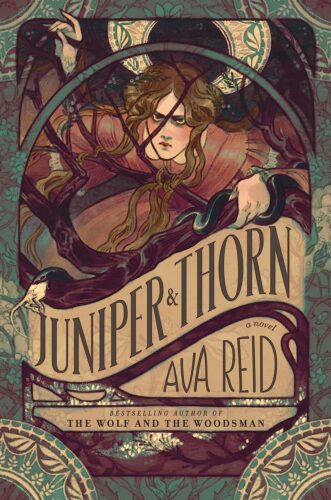 Juniper & Thorn – Ava Reid
Ava Reid's Juniper & Thorn is a dark, gruesome gothic retelling of The Juniper Tree. It follows Marlinchen, a young witch who is trying to escape her father's tyranny. She lives with her wizard father and her two sisters in a city that's on the precipice of change, from magic to industry. As the last true witches on Oblya, they're little more than a tourist attraction, divining secrets and treating clients with archaic remedies in exchange for a few rubles. All to try to satisfy their xenophobic, domineering, and vicious father. One night, Marlinchen and her sisters sneak away to enjoy the new ballet that's been captivating the city, where Marlinchen meets a dancer who captures her heart. As her late-night trysts become more and more frequent, her father's rages do too, leaving her caught in the middle, between love, magic, and monsters with insatiable appetites. This book was gorgeous, brutal, and strange, asking us to think again about who the monsters really are.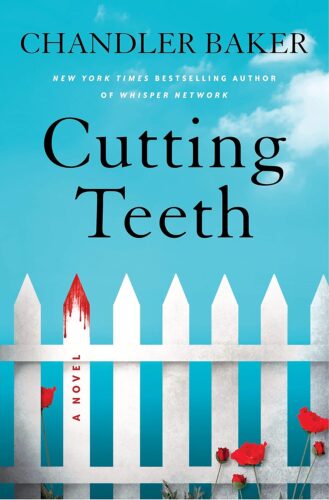 Cutting Teeth – Chandler Baker
Chandler Baker's Cutting Teeth is a gripping thriller about parenting, and parental love, asking "Is there anything a mother won't do for her children?" It follows three moms, Darby, Mary Beth, and Rhea, who are each on a personal quest to reclaim an aspect of their identities that has been consumed by motherhood, whether it's their careers, their sex lives, or their bodies. Their plans, however, are disrupted when an unsettling medical condition begins to go around the Little Academy – their kids are craving blood. Then, a young teacher is found dead, and the only potential witnesses are ten adorable four-year-olds…who love to bite. Soon, it becomes clear that the children aren't just witnesses, but also suspects, and so are their mothers. As the police begin to look more closely, their children's ability to bleed their parents dry becomes serious. Part murder mystery, part manifesto on motherhood, this book explores the standards society holds mothers to, as well as the standards we hold ourselves to. It also explores the things no one tells you about becoming a parent.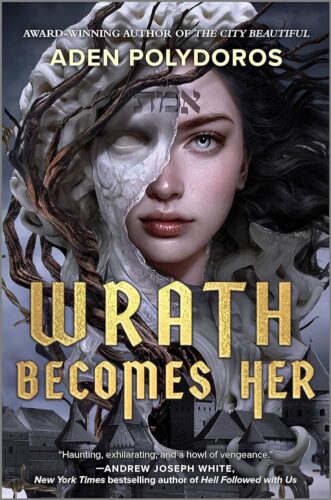 Wrath Becomes Her – Aden Polydoros
Aden Polydoros' Wrath Becomes Her melds together history and Jewish mythology, into a striking young adult story of love, grief, and vengeance. In Lithuania, in 1943, when his daughter is killed by the Nazis, a father is drowning in grief. He knows he can't bring her back from the dead, but he can use an ancient magic known as kishuf, in order to create a golem in her image— a golem who can avenge her death by killing Nazis. When Vera awakens, she can feel her violent purpose in her veins, but she can also feel glimpses of the life she once lived, full of tragedy and horror, but also tender moments, little joys, and stolen kisses. When she meets Akiva, she recognizes the boy from memories that don't belong to her… memories of warm kisses, and soft lips. Memories that make her wonder if she deserves a life beyond the revenge she was created for. Soon Vera realizes she'll need more than just a reason to fight… she'll also need a reason to live.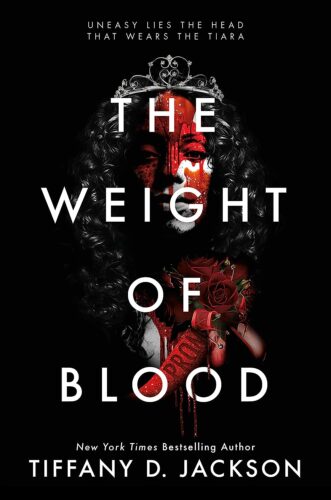 The Weight of Blood – Tiffany D. Jackson
Tiffany D. Jackson's The Weight of Blood is one of my favourite horror stories. This is a modern retelling of Stephen King's Carrie (one of my favourite stories about someone on the margins who becomes a "monster"). Set in an American town which is about to host its first integrated prom, this book is set over two different time periods, one following the events that take place leading up to (and including) what ends up becoming a tragic prom night, and the other, set in the future, following a true crime podcast. Our protagonist Maddy is a biracial teen in Georgia. She's been passing as white for years, because of her fanatical and overprotective white father. She'd always been a target for bullies, but things get worse, when after a freak rainstorm, the secret of her race is revealed. After a video of her being bullied goes viral, student leaders decide to try to fix their public image by hosting the town's first integrated prom, and the popular white class president tells her Black superstar quarterback boyfriend to ask Maddy to prom. All of this sets off a deadly and bloody chain of events. This is a breathtaking and loving retelling of Carrie with the added dimensions of race and the rage that can come from racial trauma.
–
Ameema Saeed (@ameemabackwards) is a storyteller, a Capricorn, an avid bookworm, and a curator of very specific playlists, customized book recommendations, and cool earrings. She's a book reviewer, a Sensitivity Reader, a book buyer at Indigo Books & Music, and the Books Editor for She Does the City, where she writes and curates bookish content, and book recommendations. She enjoys bad puns, good food, dancing, and talking about feelings. She writes about books, big feelings, unruly bodies, and her lived experiences, and hopes to write your next favourite book one day. When she's not reading books, she likes to talk about books (especially diverse books, and books by diverse authors) on her bookstagram: @ReadWithMeemz