If you're looking for a refreshing summer treat, Happy Pops has plenty of options that are flavourful and healthy.
Leila Keshavjee founded Happy Pops at the age of 23, freshly graduated from U of T. While in her classes, working towards her degree in kinesiology, she noticed just how many names there could be for sugar on an ingredient label. Drawing on her family's long history in the food industry and her passion for healthy living, Leila founded Happy Pops, with the mission to create a product that has ingredients people could actually recognize.
Happy Pops come in a wide range of fun flavours you don't see every day — like Lemon Mint, Guava, and Lychee Lemonade, plus the ice pops are all gluten-free, vegan, and handcrafted in Toronto. They're now sold at stores across the country — and you can find their treats at Canada's Wonderland!
This summer, Happy Pops launched a Nostalgia collection that's sure to remind you of childhood summers with three classic flavours: Oranges 'n' Cream, Cherries 'n' Cream and Triple Blast (made with three flavours of lemonade).
We wanted to hear more from Leila about running a successful Canada-wide business, and how she curated a delicious selection of ice pop flavours.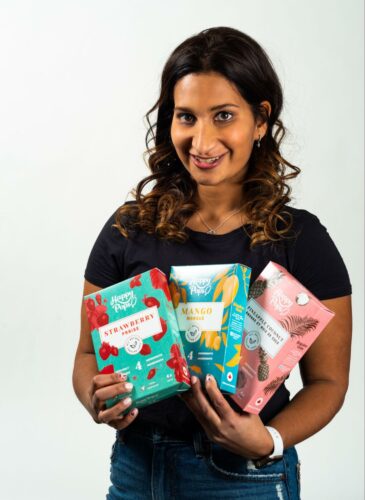 What makes Happy Pops unique from other ice pops out there?
When I started Happy Pops in 2016, I wanted to fill the gap in the market of healthy yet delicious treats (specifically popsicles), and I wanted to provide a flavour line up that didn't already exist. Happy Pops are crafted with all-natural ingredients and without the use of added colours or flavours. They are vegan, gluten-free, low calorie and available in many flavours so there is something for everyone.
We love all the cool flavours you offer! What is your best-selling flavour? What about your personal favourite?
My goal was to create a flavour line-up that would appeal to the diverse tastes of all Canadians. Lemon Mint and Chocolate are our most popular. I love Orange and our new Orange 'N' Cream.
Tell us more about the Nostalgia Collection — how did you reimagine these 3 classic flavours?
The Nostalgia Collection is something I have been working on for a while. These flavours have been around for a long time which means people are attracted to them. I wanted to create a better for you version – real fruit and nothing artificial. Creating a cream-filled pop that was vegan has required several iterations, but the combination of real fruit and vanilla cream is delicious. A red, white and blue pop is also a classic so we created Triple Blast made up of strawberry-raspberry lemonade, lemonade and blue lemonade.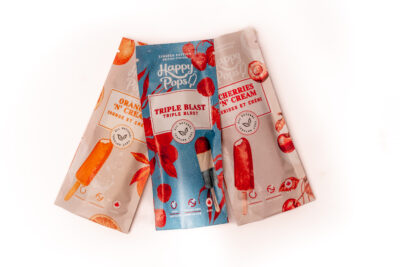 What is some customer feedback you received that stands out to you?
It's the range of feedback from people of all ages that makes me so happy. Now that we are in a few attractions, we are getting feedback from parents who are so happy their kids can enjoy something better for you but also allergen friendly.
What have been some challenges you faced in navigating the food industry?
It's been really challenging. It's not easy getting listed in grocery stores because the reality is, something needs to come off the shelf for a new product to come in, but we are getting there. The supply chain issues and increasing prices especially over the last 2 years has been really challenging. Packaging that used to take 2 weeks is sometimes taking 3 months due to the paper shortage. Pricing of some ingredients has tripled.
As an entrepreneur, what do you consider one of your smartest moves?
I would say taking opportunities and collaborating. Working with so many large companies over the years has really taught me so much and challenged me. Our collaboration with French's Ketchup to create the ketchup-flavoured 'Frenchsicle', or working with Canada's Wonderland were large scale but so rewarding.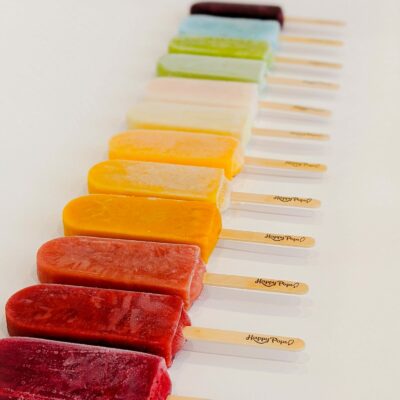 How does it feel to see your products sold and enjoyed across the country?
It is one of the best feelings walking into a store and seeing Happy Pops on the shelf or going to a place like Canada's Wonderland and seeing a family enjoy different flavours. It really makes all the long hours worth it.
With summer (and ice pop weather) in full swing, how do you like to spend this season in Toronto?
The last few months have been really busy because the last summer with events was 2019. We have grown a lot in grocery since then and with events back in full swing, I really have not had much time to enjoy the city. I do like to spend time outside when I can and recently got into golf and love it. An ideal day would be an outdoor activity and a patio dinner.
Happy Pops are sold at grocery stores and other retailers across Canada — find where you can pick them up.