In Season 2 of APTN's powerful documentary series, Skindigenous, we meet Indigenous tattoo artists from all over the world who are connecting with their ancestry and culture through traditional tattoo art forms.
From Nunavut to New Zealand this stunning and provocative series gets up close with the artists, exploring the richly diverse art form, and the significance and teachings behind it. In next week's episode (Tuesday, Feb 18th) the show introduces audiences to Audie Murray, a multidisciplinary Métis artist from treaty 4 territory.
Murray collaborates with her clients to find the appropriate markings and placement of tattoo, using both hand poke and stitching methods. Her art and tattoo practice draw from the duality in her life, especially her experience growing up in Regina and Lebret, in Saskatchewan, and then moving to Vancouver to pursue her art career.
We asked Murray how tattoos have played a role in her life, and what she's learned since dedicating her time and talent to an ancient practice that is having a robust resurgence, after nearly being buried due to colonization.
What was your first encounter with tattoos?
My mom has a tattoo of an owl on her ankle and I remember taking a big interest in it at a certain point in my life. When I was young I was only really interested in being an artist or a maker of things. Tattooing was always an extension of that interest. I used to write lists and doodles of what and where I would get tattoos before I was ever able to think about getting a tattoo. Alternative culture was a strong representation of tattooing when I was growing up and sometimes I really found solace in that, not because I thought of myself as 'alternative' but because I had a hard time fitting in during school. Probably because of the fact that I was visibly Indigenous in a school full of mostly white kids.
What was your first tattoo?
My first tattoo was on my foot, an image of an owl with prairie lilies surrounding it. It was done with a tattoo gun and I was super ignorant to the fact that it would hurt but it is still one of my favourite pieces and it didn't deter me! I drew the sketch out myself and the tattoo artist designed it in her style. It was inspired by my mom and her mom, I wanted to represent my love and respect for them without being too obvious.
What is your most significant tattoo, and why?
All of my tattoos are significant in some way. I feel like the more life evolves the more opportunity there is to receive tattoos that really resonate with my body. Each tattoo complements each other and provides a small reclamation and introduction to myself. I think of how when I first began receiving tattoos eight years ago, skin stitching and hand poking wasn't as available as it is today. Learning about Indigenous tattoo practices wasn't as accessible as it is right now. So each tattoo I have represents something important to me, but to be able to receive tattoos in a way that is relevant to myself is significant.
I've received work in various shops before and it is a completely different experience to getting a cultural tattoo. I think the most significant aspect of tattooing is being able to skin stitch and being able to create an environment that supports this way of working. Tattooing or being tattooed in nature is divine, it feels grounding and right. I realize this isn't something available to all people or to all types of tattoos either. The more I learn about myself and the more Indigenous culture as a whole becomes something that is not felt as shameful, the more opportunities there are to properly express ourselves and our souls. I see this running parallel in the tattoos I have. It feels so important being able to be part of this revitalization practice.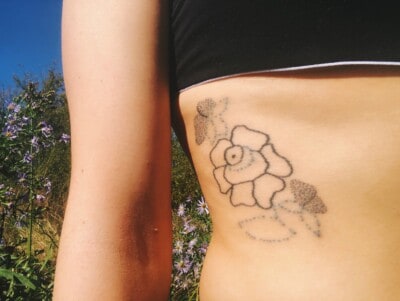 In your research into tattoos from your culture, what did you learn that surprised you?
Something that surprises me, but I understand, is the fact that many people don't realize that Indigenous peoples of Turtle Island have a cultural tattoo practice. I specifically hear my communities of the Cree and Michif almost reject the idea that tattooing is something our people practiced and was regarded as sacred and ceremonial. Tattooing was quickly lost during colonization and those who would have practiced it are no longer with us physically to share these traditions. Nothing really surprises me when researching cultural tattoos, lots of it makes sense to me. This research feels like a puzzle at times, there is hardly any concrete answers.
It's important to be critical of the anthropological lens, and be aware of the revivals of other Indigenous peoples practices around the world. Cultural tattoo workers do so much more than tattoo, we are working to understand and revive this practice. We are healing our bodies, and lifting our souls. That is what surprises me, the fact that this practice can really help our communities heal on so many different levels. The work that some people need to go through just to receive a tattoo, or the work they need to go through after receiving a tattoo can be immense. Of course this practice is something that was lost during colonization, it was obviously seen as 'savage'. I mean, we are still largely seen as savage so might as well rock our markings.
Which images/motifs are commonly used in your work? What is their significance?
Right now in my practice I am really focused on collaborating with the person receiving a tattoo. We work together to come up with a design. Lots of people may come to me with a familial design they would like tattooed and we will go from there. Others will come with an idea of a design based on their personal experiences. Others are happy to just receive a skin stitch or handpoke. I guess it really depends on where the wearer is in their life. There are symbols that are specific to each Indigenous nation but my practice isn't so much based on that right now. I think those symbols and those who need to be wearing those symbols will come naturally as we continue to practice our tradition and listen to our ancestors. I sometimes dream tattoos or see a tattoo on a person that they do not have. Cultural tattooing is really so much more than marking our bodies, it's about listening to ourselves and stating our agency.
What do you want people to know about tattoos?
Visible tattoos are something that is important to this practice. We want to be visible, so facial markings and hand markings are all significant to the reclamation of Indigenous tattooing. We also want to be safe, so I strongly urge those who are interested in tattoos to be mindful of the health and safety involved and do your research.
Watch the trailer for next week's episode featuring Audie Murray, and follow her on Instagram at @old.as.the.hills.tattoo and @_audie.m_. Head to the Skindigenous FB page to meet all the tattoo artists featured in this season.
Skindigenous
airs Tuesdays at 8:30 p.m. on APTN.