In Canada, the average bust size has swelled to a D cup – a big jump from a few decades ago.
If you're on the busty side of the boob spectrum, finding clothing that fits and flatters isn't always in the cards. Designer Miriam Baker is a woman on a mission to help those of us in this situation. As recipient of the Suzanne Rogers Award for Most Promising New Label, Miriam's Fall 2017 collection is dedicated to creating timeless pieces for full-chested women. Her designs accommodate this jump in chest size without compromising trends.
We asked her how she did it.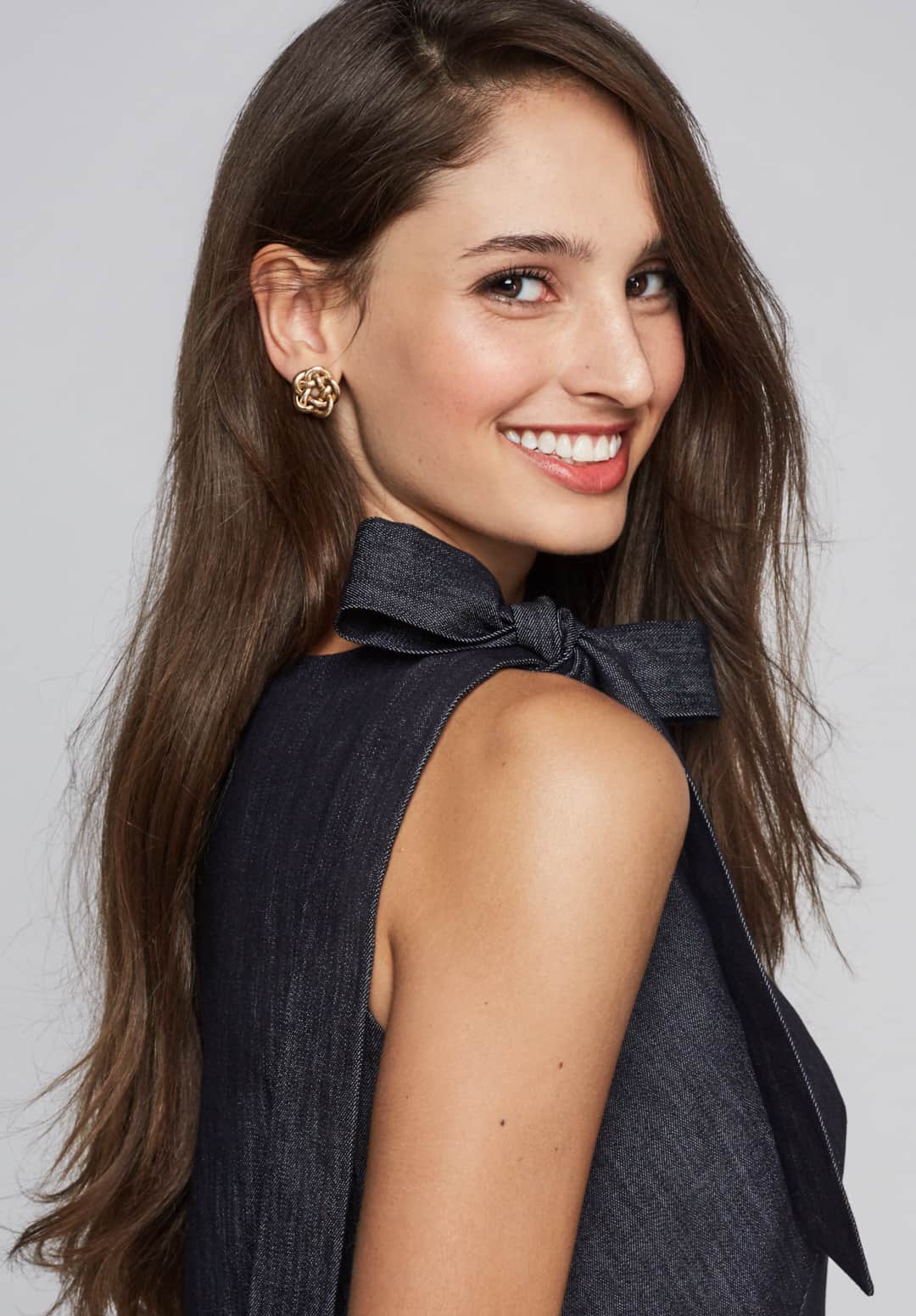 SDTC: What are the main challenges in designing for busty women?
MB: This is a very good question! In general, the curvier a woman is, the greater the challenge. Any designer can make a beautiful dress, but to create one that fits a woman with a high bust to waist ratio requires:
Clever dart placement
Extensive pattern manipulation
Several fittings
Specialized pattern grading (this is how we take a size 10-12 and 12-14)
As well, since we have a different fit, it requires different grade rules. For example, designers rarely take into account that as a woman's breast size increases, their bust point drops. That's why it's so difficult to find a blouse that fits – I simply could never wear one. The darts will hit you above the bust and that is never a good look!
Additionally, the shape of the armhole completely changes. Armholes are too tight for women above a C-cup. When you reach the D, E, F or G range, it can hurt to move. Reach for a can of soup and your armhole seam busts open!
What looks should busty women embrace? 
If you design for a specific body type you can make most styles work. You just need to find a brand that fits your body best and if you're busty, that's Miriam Baker.
Why do you think the industry has taken so long to respond to the change in average women's sizes?
It's definitely expensive to develop new size ranges and the design process is more complicated. Designers create clothes for the runway and grade up from that small sample size. It may also have to do with the rise of fast fashion over the past fifteen years. Clothing is now expected to be cheaper than ever before – how can you expect to find something that fits at such an unsustainable price? Women shrug off fit problems with throwaway fashion – you're probably only going to wear it for a season, right? If the market is consuming cheap fashion at such a high rate, why start complicating the size range? It's more work, more money. The customer needs to show these large companies that they do care where their clothes come from, even if there's a higher price tag.
What are your favourite pieces from your collection lately?
Spring 2017 is a modern nautical-inspired collection. It's a little playful with plenty of work-appropriate looks sprinkled in.
My favourite pieces are: The Clara Blouse, The Abigail Dress, The Audrey Dress, The Lindsay Dress and The Madeline Dress.
How do you approach your design process?
It all starts with an inspiration
Create a mood board with our inspiration
Choose fabrics and colours for the season
Create our prints
Illustrate potential looks
Choose our favourite pieces and begin the technical design process
Technical illustrations – these are drawings of the garments that we will reference throughout the design process
Pattern draft the sample based on the illustration
Create a muslin (also known as a toile). These are test garments that allow us to find problems and solve the problems. On average one garment will take three muslins to perfect
Next we cut the pattern in self fabric – otherwise know as the fashion fabric
And then we sew – this becomes our sample that we shoot the look book with and then present to customers