Adrian Murray's Retrograde is the very opposite of an action-packed blockbuster. It's quirky, quiet and thoughtfully explores the tense, awkward, and emotionally volatile moments in mundane everyday life.
The film stars Molly Reisman, who gives a memorable performance as Molly, a woman obsessed with vindicating her name, after being issued a ticket for "erratic driving", an offence she feels is outlandish and made up.
Retrograde is also a film about roommates, friendships, and finding one's voice and place in life as a young adult. The humour is smart and subtle, the acting understated but impactful, and the noticeably slower pacing allows audiences time for reflection, on both Molly's predicament and their own comical frustrations.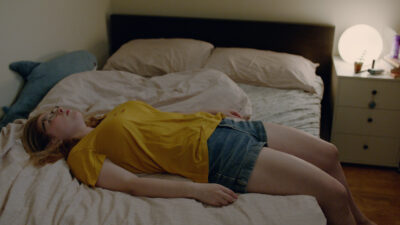 The film had its world premiere at Slamdance Film Festival last year, garnering an honourable mention in the Breakout Features Award category, and opens in select theatres across Canada on May 19th.
We connected with Reisman to chat about her role, and the questions and ideas Retrograde raises.
What did you love about this script? As an actor, what were you curious to explore?
I love how real all of these characters read. The dialogue is simultaneously so naturalistic and, to me, extremely funny and unhinged in so many ways. Adrian has an incredible eye for finding tension and conflict in mundane circumstances, and I was so excited to get to explore that duality.
What questions or ideas did this project make you think about?
To me, Retrograde is all about self-awareness, self-confidence, and perspective. The script is crafted with such nuance and neutrality that it took me at least 5 reads through to decide if Molly was in the right or if she was lying to herself. While filming this movie, I questioned what exactly I would be willing to fight for, or how far I would have to be pushed before fighting the uphill battle that Molly does.
When friends ask about Retrograde, how do you explain the film?
I tell my friends Retrograde is a movie about a young woman trying to regain a sense of control and agency in her life by fighting a traffic ticket.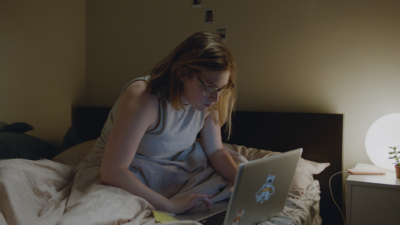 Does Adrian Murray's style remind you of other films/filmmakers? What would you compare Retrograde to?
This is a tough one! I sincerely think Adrian is in a league of his own in both the way he shoots and writes his films. I've never seen another movie like his!
When you look back on this film ten years from now, what do you think you will think about? Which memories will stand out?
I think when I look back on this film I will be so grateful that I got to make a movie with such a wonderful team. Filming this movie was a blast and I loved every minute. Even now when I think back on this filming experience, it feels kind of like summer camp.
What's your real-life sign, and how would you describe your relationship with astrology?
I'm a Sagittarius! December 2! That's pretty much all I know about my sign, other than the Sagittarius verse from Weird Al Yankovic's 1999 classic "Your Horoscope for Today", which I listened to obsessively when I was 8 or 9. I think I still have that memorized. While I don't spend a lot of time thinking about astrology, I absolutely LOVE hearing people who are into astrology talk about astrology. I could listen for hours. Tell me who I am! Tell me who you are! I love it.