One of the cool things about having children is that you end up connecting with your neighbours in a very meaningful way. Jana Reid and I have lived on the same block for nearly a decade, but we only started talking when our babies were born. Since then, I rarely exit the house without shuffling by her and chatting on the go.
Beyond our kids playing together, I also visit the Little Library on her front lawn to borrow and drop off books. Now, we're also connected through Modern Rascals: the totally fun kids clothing company Jana recently launched. One quick browse of the website was all it took for me to become a huge fan and customer. (Obviously I want my son clad in these radish and carrot print tops!)
I dig the brightly coloured clothes and imaginative patterns, but I also love outfitting my kid in fun fashion that directly supports a mom/family in my neighbourhood. (I mean, if I'm going to spend money, I'd rather it go to Jana than to a corporate giant.)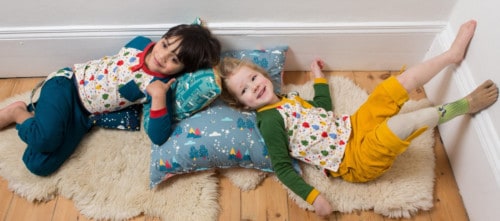 Making the move to self-employment is something that MANY moms with small children consider. So impressed was I by both her stock and the fact that she launched a successful e-commerce shop with an eight-month-old baby on her back (!!!!!) I wanted to share Jana's story of how Modern Rascals came to be, and why she decided to ditch her secure 9 to 5 job to explore the risky world of entrepreneurship.
Why did you decide to start your own children's clothing company?
Modern Rascals is the culmination of a lot of things. It is partly because I couldn't find a selection of great basic colours and prints at our major North American retailers. I don't like how gendered most children's clothing is, and I didn't personally connect with the boys sports- and superhero-themed clothes.
My online search for something better led me to Duns Sweden, the Swedish children's clothing company. From there I fell down the Google rabbit hole of bright, fun Scandinavian design. Every season I would order a few pieces from Europe and would mix and match them with basics. I had more and more people stopping me on the street and asking where I found my child's clothing.
While I was pregnant with my second, there was this build up that was happening. I was becoming increasingly angry at the misogyny I was experiencing in my corporate job. I wanted more and I wanted to make my life better. I knew something needed to change; I didn't want to suddenly be 65, angry that I stuck with the status quo because I was scared. So I quit.
One evening when our second was about three months old, I basically said, "Fuck it, let's do it." Between naps and wearing a baby on my back, I spent my second mat leave working on launching a business. (Note: I'm very lucky we're financially stable enough that I could trust things would be okay.)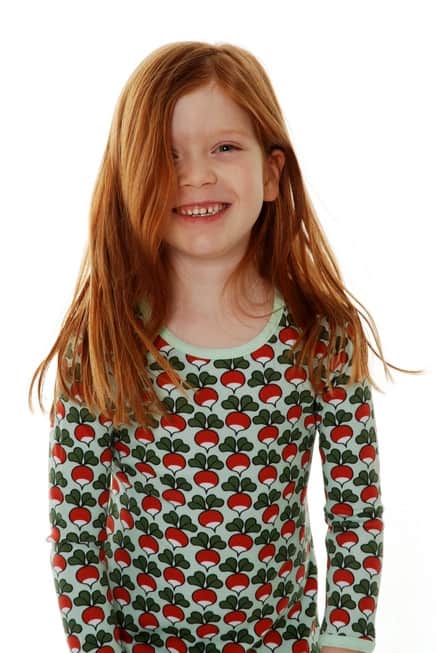 How has motherhood inspired or redirected your professional life?
After I had a child I realized that we have limits to our energy and our patience. It is okay to set boundaries about where we spend that energy and patience. As I learned more about how children develop, I began to prioritize my child – he needed and deserved my patience. My partner needed and deserved my patience. And I deserved patience.
The adults at work who implicitly wanted a work mom to organize their lives and make sure they got their work done? Well, I made the conscious decision that they didn't automatically deserve my patience just because they expected it. It ruffled some feathers, but it was so very freeing to use my energy on the things I wanted.
How do you go about choosing your brands?
My first focus when choosing a brand is the colours and patterns. Do they catch my eye? Do they make me smile? Can the clothes be passed down to a younger sibling, regardless of gender? I had a few brands I knew I wanted to carry because I'd ordered pieces beforehand and knew how awesome they were and how well they held up to play and laundry.
As I researched them more I realized that there is a strong connection between these fun, colourful brands and sustainable fashion. Almost all of them use GOTS-certified cotton (highest organic standard in the industry) and have strong labour practices. Others are entirely made in the EU so the manufacturers can ensure that there is no child labour.
What started as a love for all the colour has turned into a passion for sustainable fashion. Some of my personal favourites are Duns Sweden (who ensure an above-average living wage for their workers and perform unannounced annual factory visits) – their More Than a Fling basics line is my go-to.
I also love the playfulness of the rainbow stars from Boys & Girls Shop, because who doesn't love a good rainbow? I adore the great designs from Little Green Radicals, which makes heirloom-quality pieces out of organic cotton and with amazing attention to detail. And I love the patterns from the new label Moromini, especially the Organic Egg Shirt.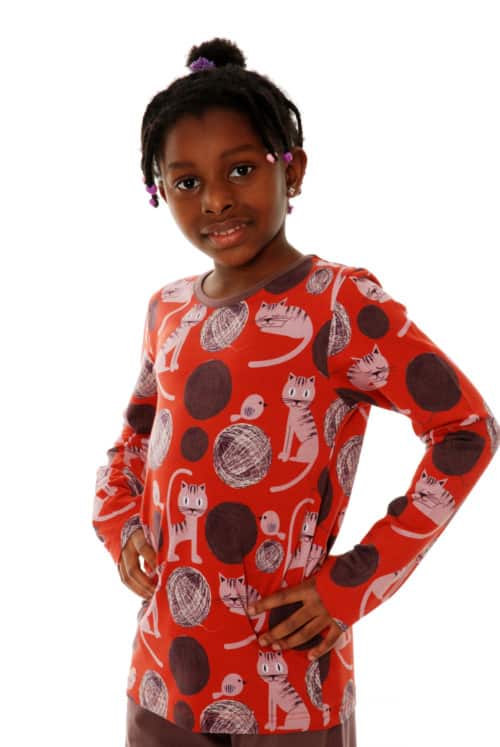 How has having kids enhanced your creativity? What have you learned from them?
My son loves to hang out in my craft room with me. It's very freeing creatively to take those innocent childhood questions and put it into my knitting and spinning and quilting. He'll help me pick fabrics that I never would have thought about otherwise. His use of colour is fantastic and very inspiring.
Even on days when I'm grumpy, the games they play will drag me out of my bad mood and into a land filled with laughter. I've learned that it is okay to have fun and be silly and that one of the best things you can do is to make people smile (even if it means the entire family is being a marching band playing instruments on the way to school).
What lessons have you already learned since launching your own company?
I've learned that if we focus on perfection, it is difficult to actually deliver. Sometimes we have to jump in, knowing that we'll make mistakes. Be open to feedback and fix things quickly.
Also, marketing, marketing, marketing. It's not something that comes naturally to me, but I know it's important, so I'm making an effort to learn.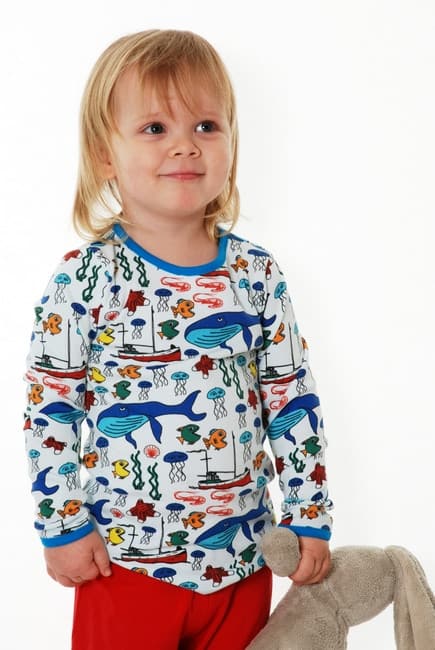 What philosophy is currently guiding your life?
It is better to get something done than it is to plan it perfectly. I apply this to pretty much everything – knitting, quilting, and especially my business. For Modern Rascals, this means that I went live without having my shipping costs figured out. I went with a price point that was in the customer's favour and absorbed the difference myself. The rationale was that it was better to go live earlier than it was to wait until it was all perfect and done.
I'm somewhere between a perfectionist and a realist. I want things done right, but I also can chunk out the work and evaluate the risks. And as long as I have a plan in place, I feel comfortable knowing that less urgent tasks can wait.
What's your advice to new moms who are feeling overwhelmed with the juggling act of parenthood and work?
Babies are great Zen teachers. They are who they are. If you are a Type A person like me, it can be so difficult to let go and go with the flow. Sometimes you have to give in and accept the new normal – that sleep is going to be difficult (for a while), that less stuff will get done, and that your house will very likely be a mess (most of the time). It is a phase, and this too shall pass.
When it comes to getting work done, my babe has shredded lots of rolls of toilet paper (and eaten the odd piece of crayon). But that's mom life.
What are you enjoying most these days?
Right now the thing I'm enjoying the most is watching our two children begin to interact. The first six months were rough, so now getting to watch the two of them play is the sweetest thing. Just last night they held hands and our older son helped our younger son walk around. They were both so excited and the giggles melted my heart.
Check out Modern Collections online or swing by Jill & The Beanstalk on Sunday, November 27th (11am – 4pm) for a special Modern Rascals holiday pop-up.