When I moved to Mile End at the beginning of January, I knew that there would be many, many sesame bagels in and around my mouth on a regular basis, in addition to Italian coffee and all the mojitos and cucumber gin n' tonics that Waverly and Sparrow can possibly serve me on a Saturday night. I had my game plan (eating + drinking = 2013), and I was ready for action.
No one prepared me for the margaritas. Or the tacos. Or all the attractive people in Mile End who like to hang out near the margaritas and the tacos.
Ta Chido (5611 Parc) and Restaurant Maïs (5439 St-Laurent), though vastly different eateries in terms of ambiance and décor, easily serve up some of the most creative Mexican fare in town, in addition to exquisite tequila and mescal-based beverages. Both restaurants opened within the past year or two, which explains my general ignorance of their existence until one month ago when, well, my weekly tequila and bean intake (you're welcome) spiked considerably.
Though it took me three tries to actually FIND Ta Chido (the first time I went there my roommate basically had to hold my hand and walk me to its door – it's tiny, okay?!), it has easily become one of our favourite lunch and dinner spots. They revamped their menu over the holiday break, and now have an incredible selection of soft-shell tacos and sandwiches, with killer meat and vegetarian options. And, like, cactus. Ta Chido also offers a wider variety of margaritas (hibiscus, lime, cucumber and more) in small Mason jars, as well as spiked lemonades and sangria. Their weekly dinner specials are also worth noting, including three tacos for $7 on Fridays after 8pm. The place is admittedly quite small, seating a maximum of 12 to 15 people at full capacity, but orders can be placed by telephone and picked up within 15 minutes.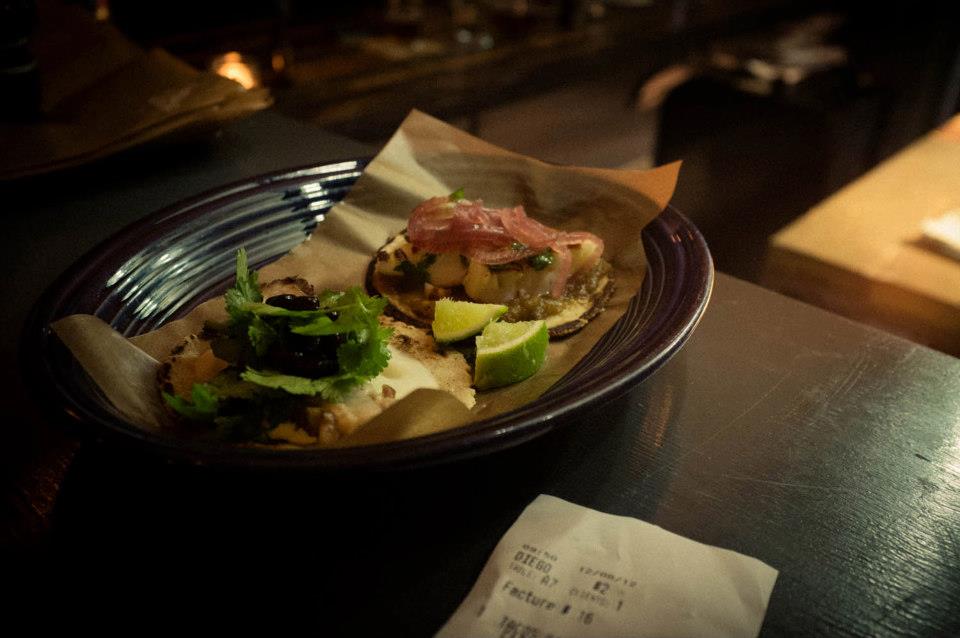 Okay, but then on Friday nights when you are wearing that new dress you bought on Boxing Day sales that has a low-cut back and lace where your cleavage should be and you want a margarita, you should go to Restaurant Maïs. Offering a more lounge-like, late-night feel, Maïs features a full bar with cute/vastly-skilled bartenders (Hi Simon!) who make everything from mint juleps to margaritas to spiked grapefruit lemonade. The lights are dimmed, the taco menu is out-of-this-world-delicious (a fish/pulled-pork herb and marinade bonanza, truly) and while this locale is also on the small side, the number of babes – both male and female – who frequent Maïs make up for the fact that you may be sitting cozily next to a stranger. Just have another margarita and he/she won't be a stranger anymore, amirite?
While drinks are slightly pricier at Maïs ($7.50 to $9), the tacos at both restaurants are equally priced, from roughly $3.50 to $5 each. So if you want to kill the rest of your winter blues with tequila, you can definitely afford to do so.
Check out the Facebook pages for both Ta Chido and Restaurant Maïs for weekly specials and contact information.